Waikiki Aquarium's "Whale Wednesdays" celebrate Hawaii's 45-ton winter visitor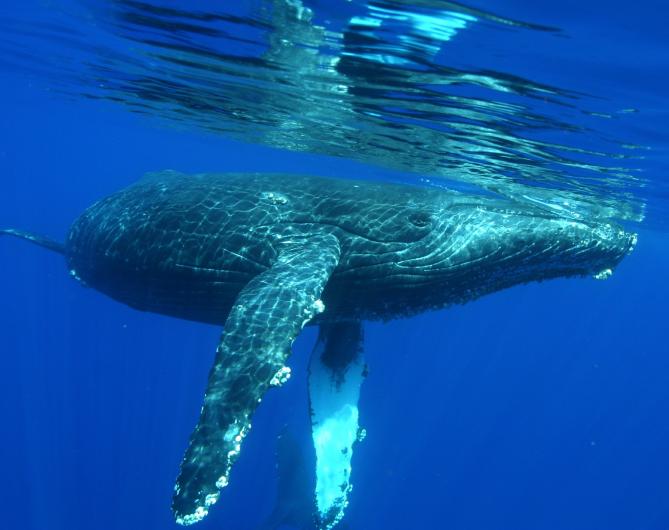 Want to learn more about Hawaii's favorite tail-slapping, 45-ton winter visitor?
During February, Whale Wednesdays at Waikiki Aquarium will feature educational talks and activities spotlighting the humpback whale. The events are sponsored by the National Oceanic and Atmospheric Administration (NOAA).

The first one is slated for 3 p.m. on Wed., Feb.1. The next three will be held at 10 a.m. (Feb. 8, 15 and 22); and the last, 3 p.m., on Feb. 29. The event is free with daily admission.
Scientists estimate that there are 20,000 humpbacks in the North Pacific. An estimated 12,000 of them swim to Hawaii's waters to mate and nurse their young, typically between late September and March. Since 2006, an annual census count has tracked a steady rise in the humpback whale population visiting the in the Hawaiian Islands Humpback Whale National Marine Sanctuary. The sanctuary, which lies within the shallow (less than 600 feet), warm waters surrounding the main Hawaiian Islands, is one of the world's most important humpback whale habitats.
The annual sanctuary census, dubbed Ocean Count, got under way last weekend with more than 950 volunteers gathering data on the shores of Oahu, Kauai and the Big Island. Participants tallied whale sightings and documented the animals' surface behavior during the Saturday survey.
Volunteers collected data from 61 sites. Here's the average number of whales sighted per 15-minute count period on each of the islands: Oahu, two whales; Big Island, three whales; Kauai, eight whales.
Two more sanctuary Ocean Count sessions are slated for Sat., Feb. 25 and Sat., March 31. For more information on becoming an Ocean Count volunteer, click here or call 1-888-55-WHALE ext. 253. A whale count on Maui is conducted independently by the Pacific Whale Foundation.
Hawaii is the only state in the nation where humpback whales mate, calve, and nurse their young. According to NOAA, humpbacks may find swim to our mid-Pacific area because of warm waters, underwater visibility, variety of ocean depths, and the lack of natural predators. During their annual visit here, mothers can be spotted breaching alongside their calves and males can be seen competing with one another for females in head-to-head battles.
For additional information about the sanctuary, which is jointly managed by NOAA and the Hawaii Department of Land and Natural Resources, click here.