Waikiki's iconic Ilikai shutting down hotel operations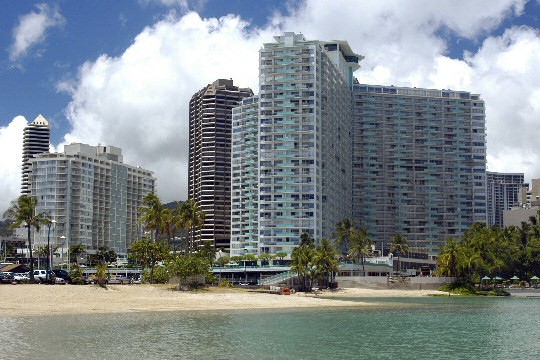 The New York-based owner of the Ilikai announced today that it would cease all hotel operations at the landmark Waikiki property on Thursday.
If you are holding reservations for the Ilikai, here's what you need to know:
In its statement announcing the shut down, Ilikai hotel operations owner iStar Financial said it planned to relocate current and arriving guests to other hotels for the duration of their reservation. Guests holding future reservations will also be relocated.
An Ilikai operator told HawaiiMagazine.com this evening that the hotel's executive office would begin answering queries from guests regarding their reservations on Wednesday morning. Call (808) 949-3811.
iStar Financial blamed the closure on mounting losses from the Ilikai's hotel operations. In May, iStar Financial purchased 203 Ilikai units still being used for hotel lodging—along with other common areas, parking, office and retail spaces—for $51 million in a foreclosure auction.
The units were previously owned by developer Brian Anderson who had defaulted on a 2006 loan he'd taken out with iStar to buy 343 Ilikai units. Anderson was sued earlier this year by Ilikai condo owners for not paying condo fees on the units he had purchased.
The 1,000-unit Ilikai property is also comprised of 806 condominium and timeshare units, which iStar said would not be directly affected by the hotel closure.
iStar assumes control of its Ilikai holdings on Friday.
Though the Ilikai's hotel operations had been on shaky grounds for some time due to decreasing occupancy and Anderson's continuing financial travails, new business plans to keep the property open were being proposed as recently as March. Hotel Business Magazine reported in April that Edition Hotels—a partnership between Marriott Hotels and global hotelier Ian Schrager—was angling to take over the Ilikai in 2010, converting it into a luxury boutique hotel.
The Ilikai had billed itself as "the first luxury high-rise hotel in Hawaii" when it opened in 1964 and remained popular with visiting celebs, dignitaries and other moneyed folk through the 1970s. The Ilikai's penthouse balcony was featured prominently in the opening credits of every "Hawaii Five-O" episode, as a helicopter camera zoomed in to meet square-jawed Jack Lord as Detective Steve McGarrett.