Waikiki's iconic International Market Place to close forever Dec. 31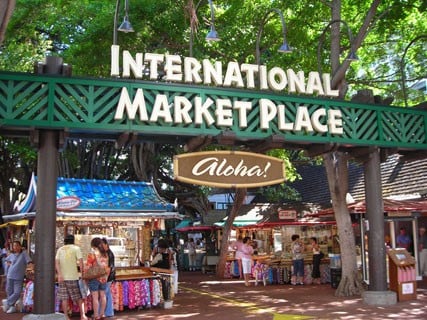 After 56 years on Kalakaua Avenue, Waikiki's iconic International Market Place will shut down forever at the close of business, Dec. 31.
Landowner Queen Emma Land Co. plans to demolish the maze of open-air souvenir kiosks known for its kitschy, old Waikiki charm into a modern, high-end, three-story retail complex that will include a Saks Fifth Avenue anchor store. The new project, which will house 360,000-square-feet of retail, dining and entertainment, is scheduled to open in Spring 2016. It will boast 60 stores—many of which will be unique to Waikiki—and a 750-stall parking garage spread over six acres of prime real estate on Kalakaua Avenue.
The sole survivor of the International Market Place's demise will be its massive Indian banyan tree, which will be preserved as part of the new development. In a news release, project developer Taubman Centers—a Bloomfield, Mich.-based operator, developer and owner of high-end retail centers nationwide—has said it has engaged a registered arborist to preserve and enhance the health of the tree. The arborist, according to Taubman Centers, has been monitoring and attending to the trees in the International Market Place for more than 40 years.
The rest of the market place and a couple of adjoining properties, however, will be demolished in January.
The International Market Place's closure marks the end of an era. Over its half-century of existence, millions of visitors have strolled its tightly-collected maze of retail stands selling all manner of mostly foreign-made Hawaii tchotchkes—from plastic tiki statues and discount aloha wear to writhing hula girl lamps and wood carvings—and dined in its random collection of eateries. Restaurateur Donn Beach—owner of the now long-gone Don the Beachcomber restaurant chain—once famously perched his office in the sturdy branches of the market place's massive banyan tree.
Since the International Market Place's 1957 opening, there have been no major renovations to the property. The newest building on the property was erected in 1970. But property developers have coveted the shopping district's central Waikiki location for almost as many years as the Market Place has been open.
In May 2010, Queen Emma Land Co. signed an agreement with Taubman Centers to redevelop the International Market Place property. Last August, Queen Emma Land Co. and Taubman Centers jointly announced that they would be moving forward to begin construction of the project.
Queen Emma Land Co. and Taubman Centers plans and building materials for the redeveloped market place property include water features, natural store, indigenous landscaping and an area honoring the legacy of Queen Emma, who was the queen consort of King Kamehameha V from 1856 to his death in 1863. The nonprofit Queen Emma Land Co.'s stated mission is taking care of the land bequeathed to the Queen's Health Systems by King Kamehameha IV and Queen Emma. All of the income generated by the land company is earmarked toward providing health care, education and charitable services, principally at Queen's Medical Center in downtown Honolulu.
David Thompson, senior editor of HAWAII Magazine sister publication HONOLULU Magazine, recently researched and wrote a feature on the market place's closure and history, "From Souvenirs to Saks: The Rise, Fall and Rebirth of Waikiki's International Market Place," for that magazine's December issue. It's definitely worth a read. Click the above link to read the feature in its entirety.
The International Market Place is expected to close at around 8 p.m. on Dec. 31, the time merchants of the market place, adjoining Waikiki Town Center and neighboring Miramar Hotel have been instructed by landowners to shut down and clear out. Demolition will begin in January.