Waikiki's Ilikai Hotel reopens today with discounted room rates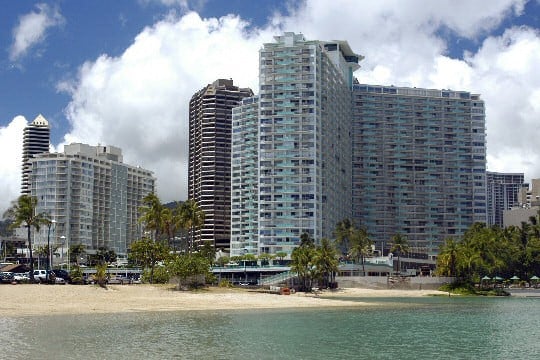 Waikiki's iconic Ilikai hotel, has gone through a volatile period as of late—closing, restructuring staff and announcing it would be reopening again—all in a matter of weeks. The hotel officially reopened to guests today, and with discounted room rates to boot.
On July 9, the Ilikai's owners, New York-based iStar Financial, shuttered the 203-room hotel portion of the property after just a day's notice, leaving guests and staff in the dark about the hotel's future.
A day later, iStar negotiated a new deal with the union representing the hotel workers, reviving the hotel almost as quickly as it closed. iStar announced earlier this week that the Ilikai would reopen today.
To announce it's back in business, the Ilikai is offering rates as low as at $97 for a city-view room.
The rates are available for middle-of-the-week-only stays in single and double occupancy rooms, and are valid only for reservations booked over the phone. Rates are also based on room availability. For more information, or to find out the status of a past reservation, call (866) 406-2782.
IStar has appointed Aqua Resorts as the Ilikai's new management company. Aqua is a familiar and expanding brand in Waikiki; its 12 properties include the Aqua Waikiki Pearl, the Aqua Palms and the Equus, all in Waikiki. Aqua also manages Maui's Hotel Wailea and the Aqua Hotel Molokai.
iStar also announced today that Aqua Resorts would immediately take over management of its 350-room Hilton Kauai Beach Resort in Lihue.
Aqua insists the Ilikai's iconic name will remain the same.