Watch: A Juvenile Whale Shark Sighting off Oahu's South Shore
Seeing a whale shark in Hawaii waters is a rare and special experience.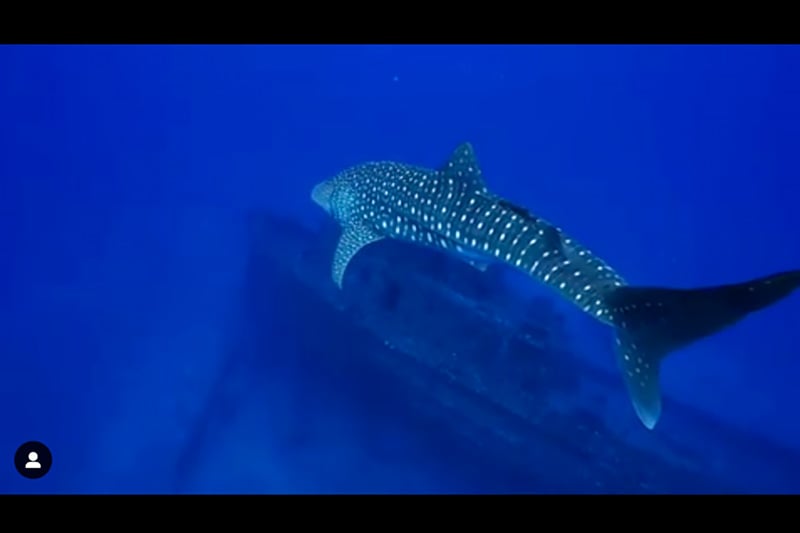 Several divers were at the dive site of a Navy tugboat south of Pearl Harbor, Oahu, Monday morning when they had a rare encounter with a young whale shark.
Underwater photographer Terry Flanagan (@whotippedmycow) managed to get a crystal-clear video of the majestic endangered fish making a slow pass, with the wreckage of the Nashua looming in the background.
"Got to dive with my first whale shark today," he said on Instagram.
The 109-foot Navy tugboat Nashua sits in 65 feet of water off the coast of Oahu. It was purposely sunk in 2012 to form an artificial reef and is now home to numerous species of marine life, including pufferfish, reef sharks, coral and octopuses. It doubles as a recreational dive site and active U.S. Navy training location.
It's rare to see a whale shark, the world's largest fish and classified as an endangered species, anywhere in the Hawaiian Islands, though sightings have been increasing in recent years.
According to the Hawaii Uncharted Research Collective (HURC), a nonprofit group dedicated to documenting whale sharks in Hawaii waters, there have been more sightings in 2017 and 2018—about 50 total— than any other years to date. Why? It may be simply because more people are bringing waterproof cameras and video devices on dives now. Or it may have something to do with the global whale shark population and its movements, which are the subject of study by HURC and other scientific organizations across the world.