Wave flicks rule at 10th annual Kona Surf Film Festival this weekend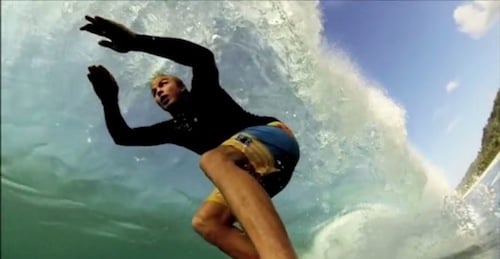 With monster waves pounding Hawaii's northern shorelines, there's really no better time to put on a surf film festival.
The 10th annual Kona Surf Film Festival, which happens today and tomorrow at the Courtyard King Kamehameha's Kona Beach Hotel on the Big Island, showcases independent, surf-inspired short and feature-length films by veteran and emerging filmmakers from all over the world.
"We are going to be doing some really different, cool installments," says festival founder and program director Chad Campbell on its website. "We are bringing the fest back into the heart of Kona … The 10th year is going to be really special."
Campbell, a surfer, filmmaker, and editor himself, founded the fest in 2003 to celebrate the art and sport of surfing.
Screen grab from
Se7en Signs,
screening at this year's Kona Surf Film Festival
Some of the highlights of this year's feast include a talk-story session with pro surfer Shane Dorian and filmmaker Bill Kiely of Chasing Giants on Friday night and the world premiere of locally made film Mana on Saturday afternoon.
This year's festival will also feature a sustainable art fair showcasing eco-friendly local art, design, fashion, jewelry, and surf equipment and accessories.
And since every good surf festival needs to have some live music, among the musicians slated to perform at the fest this year: island-style soul singer Kimie Miner and Florida-based artist Lindsay Perry.
The fest is a fundraiser for the Kona Chapter of the Surfrider Foundation and Na Kama Kai. Festivities and films get under way at 5 p.m. today.