We visit Kauai's newest resort, Koa Kea on Poipu Beach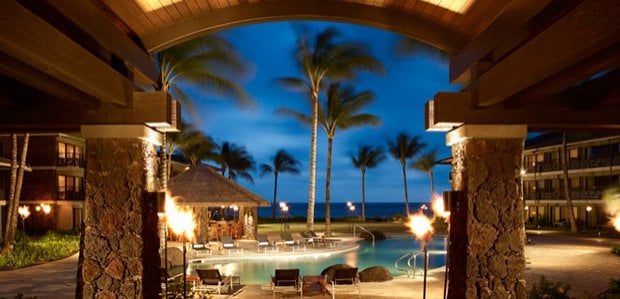 It's so new that it hasn't even had its grand opening yet, and its signage isn't all in place.
On the other hand, the Koa Kea Hotel & Resort harkens back to the old days on Kaua'i, and has the relaxed, intimate feel of the '60s resort it replaced.
The new Koa Kea is built on the footprint of the old Poipu Beach Hotel. Although all the interiors of the Poipu Beach were wiped out during Hurricane Iniki in 1992, the lava rock walls and foundations still stood. It was mainly financial considerations—insurance, ownership changes, a slow Kauai economy—that kept it closed for 16-1/2 years.
The good news: The new resort is beautifully done, but it's still small scale and directly on Poipu beach, in a way that only older resorts are still allowed to be.
The rooms now boast free wireless, tasteful furnishings, comfortable beds, marble showers and large flat-screen televisions. The lobby is opened up and comfortable, with a small spa and a serious restaurant, named for Kauai's famous Red Salt. (Don't neglect to order the New York steak with truffle butter and red salt fries.)
Despite the fact we were out and about much of the time, working on stories for HAWAII Magazine, we managed to relax a little in the easy-going atmosphere. It's the kind of hotel where if you leave something behind in the lobby, it's back in the room before you are.
We ran into veteran hotel manager Chris Steuri, who remembered us because we'd tracked him down nearly three years ago (it took eight phone calls). We were responding to a reader question about what was happening with the Poipu Beach Hotel, and Steuri had just been hired.
"I couldn't tell you much then," he said, "but it turned out well, don't you think?" You could tell he loved the property. It's a real hotelier's hotel, not a cookie cutter corporate chain.
"You know what the best thing is?" he asked. "It's 120 rooms, small enough that I can learn the name of every guest."