Weakened Tropical Storm Iselle makes Hawaii Island landfall. Hurricane Julio expected to pass north of Islands.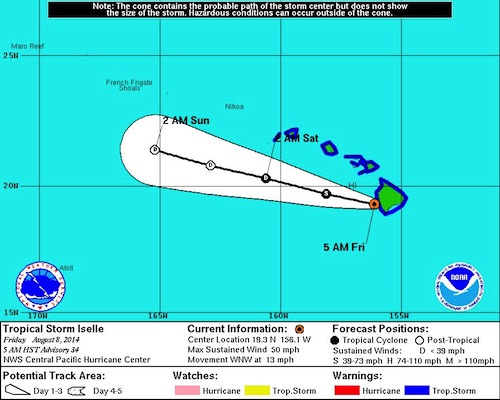 Hurricane Iselle was downgraded to a tropical storm before making landfall on Hawaii Island early this morning. Hurricane Julio is now expected to maintain hurricane strength on at least part of its current projected path just north of the Hawaiian Islands on Sunday and Monday (Aug. 10 & 11).
At 8 a.m. today, Tropical Storm Iselle was located about 85 miles west of Kailua-Kona on Hawaii Island, having passed over the southern half of the island overnight. Though significantly weakened compared to its hurricane force winds just a day ago, Iselle was still packing maximum sustained winds of 50 mph and moving west at 20 mph. Forecasters expect the storm's path to continue to take it south of the rest of the state on a west-northwest path today and for the storm to continue to weaken into a tropical depression by early Saturday morning. The entire state, however, remains under a tropical storm warning and flash flood watch today.
As of 8 a.m. today, Hurricane Julio was located about 870 miles east of Hilo on Hawaii Island, moving at 16 miles per hour. At that time, Julio had been downgraded to a Category 2 hurricane, packing maximum sustained winds of 105 miles per hour. Forecasters expect Julio will remain at hurricane strength through Sunday evening as it passes north of the Islands, and downgraded to a tropical storm by early Monday. Storm conditions resulting from Julio's current path could affect the north and windward shores of the island chain on Sunday and Monday.
For more information on both storms and how to prepare for them, visit the National Hurricane Center webpage.
For continuing, regular updates on Iselle and Julio, visit the Central Pacific Hurricane Center website.
Hawaii-based air carriers Hawaiian Airlines and Island Air are issuing wavers to customers with reservations whose flights may be affected by Hurricane Iselle. Both carriers advise all customers to check the Hawaiian Airlines website and Island Air website for the latest flight updates. For more information or to find out if you are eligible, check the travel advisories for Island Air and Hawaiian Airlines.
The storm paths of both hurricanes are subject to rapid change. We are following both storms closely, and will post updates as necessary here on this post and on our Facebook page.