Wear Your Vacation—Literally—with Jams World Apparel
These high-quality garments are all cut, sewn and manufactured in Honolulu.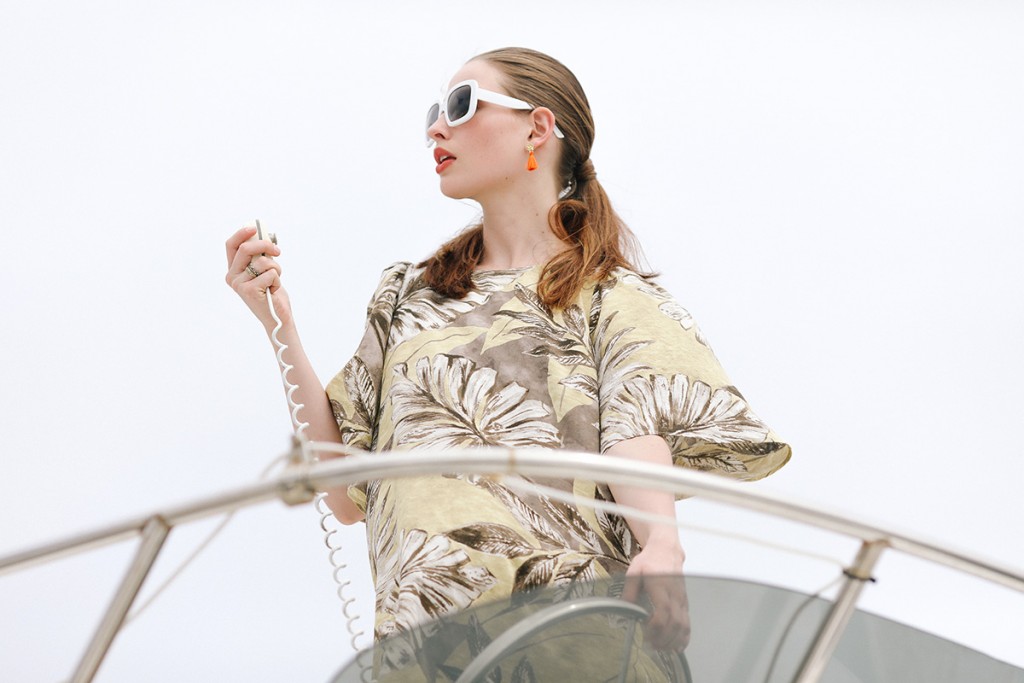 If you're looking for something unique to remember your Hawaii Island vacation, search no further than Jams World, an iconic local apparel brand with more than 50 years of rich history in Hawaii.
With stores at The Shops at Mauna Lani in Waimea and Keauhou Shopping Center in Kailua-Kona, Jams World is a one-stop shop for your clothing, accessories and home decor desires.
Built on a message of "Color, Freedom, Difference and Love," Jams World pieces are beautiful, bold and bright. Many of the designs are retro-inspired and feature blossoming tropical flowers such as hibiscus and anthurium. But others are based on Hawaii landmarks. Velzyland, a new print based on the surf spot on Oahu's North Shore, features swirls of sea-foam greens and blues that conjure images of the break's towering wave. Each print is an original hand-painted piece of art selected by the company from around the world. Even the buttons are handmade and match each print.
With a wide selection of contemporary women's silhouettes, premium aloha shirts for both men and women, children's apparel and striking Tagua accessories, there is something for everyone at Jams World. Women looking for the perfect dress to relax at the nearest pool bar or wear to a Monday meeting at the office don't have to settle for the same style. The cute and comfortable Hattie Dress ($133) boasts a deep U-neckline, three tiers of ruffles and T-shirt sleeves, while the chic Sherry Dress ($98) has an A-line style and cap sleeves for subtle arm coverage. The Hattie and Sherry dresses are only two of the many fun styles available to try. Not looking for a dress? Jams World has you covered with jumpers ($136-$144) and various pants styles ($80-$116).
There's more to Jams World than clothing and accessories. The company sells aromatic candles in scents like Jasper and Hibiscus Palm ($15-$30) and gentle handcrafted soap from the Wehiwa Soap Co. Wehiwa's natural soaps and scrubs lovingly made with plant-based oils are an effective alternative for adults and keiki with dry or sensitive skin. No matter where you are in the world, you can have a piece of the Islands with you.
Jams World is deeply rooted in 1960s culture. Company founder Dave Rochlen, a Santa Monica, California, native and avid surfer and beachgoer, married Native Hawaiian surfer Keanuenue Kaeo in 1953. In 1964, he opened a surf shop at Ala Moana Center called Surf Line Hawaii. Rochlen found inspiration for his widely popular Jams shorts in an unlikely place: a cover of Life Magazine. The cover featured a group of Russians in their pajamas. Rochlen got the idea to create surfing shorts by having his wife cut a pair of Hawaiian print pajama pants, which he called Jams for short.
Jams shorts quickly became a hit across the nation. In Japan, Rochlen developed exclusive spun-crushed rayon that the company still uses today, and the Jams World brand, which has been the main focus of the company since the 1990s.
Jams World has proudly stayed true to its roots in Hawaii by perpetuating a socially conscious commitment to quality and the local community. All garments have been cut, sewn and manufactured in the Honolulu factory since 1964.
Today, David "Pua" Rochlen Jr. continues his father's legacy by running Jams World as a multigenerational family business.
If you're visiting Oahu, be sure to check out the Jams World stores at Ala Moana Center and Ko Olina Center. In 2017 the company opened a Surf Line Hawaii shop in the International Market Place in Waikiki, offering a gallery experience that shares the history of the company and all of the brands that have merged into Jams World—Surf Line Hawaii, Original Jams, Pua Hawaii—since 1964.
And if you're not in the Islands yet but want to look the part when you arrive, simply visit www.jamsworld.com or the company Instagram, @jams_world to browse products and prints.
Keauhou Shopping Center
78-6831 Alii Drive Suite 150
Open Monday to Thursday from 10 a.m. to 7 p.m.,
Friday and Saturday from 10 a.m. to 8 p.m.,
Sunday from 10 a.m. to 3 p.m.
The Shops at Mauna Lani
68-1330 Mauna Lani Drive
Open daily from 10 a.m. to 9 p.m.