Weekend fest celebrates Hawaii books and music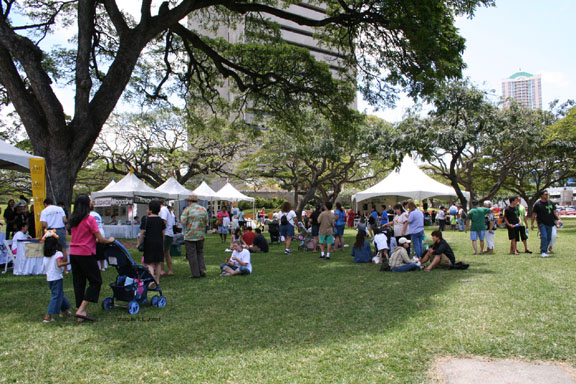 The Hawaii Book and Music Festival happens this weekend in Honolulu.
If you love literature and music written and published right here in Hawaii—and just happen to be on Oahu on Saturday and Sunday—the annual fest is well worth a visit.
First off, admission is free. Second, you won't find a larger gathering of Hawaii-based book publishers, authors and music distributors showing off their stuff in one location.
Third? Hawaii souvenir shopping for the relatives and friends back home.
Best-selling Hawaii, national and international authors and book illustrators will be on hand to sign books and participate in panel discussions. A kids stage will feature storytelling and plays. There'll be arts and crafts booths, food booths and a live music stage. Better still, should you pick up a book or two, you'll find lots of shade trees on the grounds to read under.
Some stuff of interest on the schedule:
• Hawaiian storytelling master Lopaka Kapanui (featured in HAWAII Magazine's May/June 2008 issue) doing what he does best, 11 a.m., Saturday.
• Our own HAWAII mag editor John Heckathorn in the food and cookbook booth with Chef Rodney Uehara (Beachhouse at the Moana), 1 p.m., Saturday; and Chef Russell Siu (3660 on the Rise), noon, Sunday.
• Hawaiian language expert Puakea Nogelmeier—the voice of our "How to Pronounce Hawaiian Words" page—reads from The Epic Tale of Hi'iakaikapoliopele, 3 p.m., Saturday.
• A panel discussion of the oral biography Don Ho: My Music, My Life with the late singer's music friends Benny Chong, Dennis Graue and Jimmy Borges, Sunday, 2 p.m.
The Hawaii Book and Music Festival runs from 10 a.m. to 5 p.m., Saturday and Sunday, at the Frank F. Fasi Civic Grounds at Honolulu Hale at Punchbowl and King Streets.
For a full list of Hawaii Book and Music Festival participants, events and a map to the festival, click here.