Weekend parades, ceremonies celebrate King Kamehameha I. Here's where to go.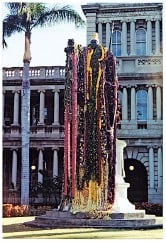 King Kamehameha Day was yesterday—June 11. It was a state holiday. Hawaiian royal societies held tradition-steeped ceremonies in the king's honor. Schools were closed. State workers had the day off. Street parking was free.
So why continue celebrating the holiday into the weekend? Well, we do love a good Saturday morning parade.
The annual King Kamehameha Celebration Floral Parade—with its flower-bedecked floats, high school marching bands, pa'u riders, hula dancers, musicians and apropos dignitaries—always happens in Honolulu on the Saturday before or after the holiday. This year, it's tomorrow. If you're here on Oahu, trust us, this is the parade your brand new digital camera was made for.
This year's 93rd annual parade starts in downtown Honolulu, proceeds down King Street, then onto Kapiolani Boulevard. The parade route takes a final turn onto Kalakaua Avenue, past Waikiki hotels and Kuhio Beach, before ending at Queen Kapiolani Park. Live entertainment and craft demonstrations begin and food and art booths open at the park at 9 a.m.
Over in downtown Honolulu, the floral parade begins at 9:30 a.m. The best spots to grab a curbside spot? On King Street, we'd opt for anywhere near Iolani Palace, the King Kamehameha I statue, Kawaihao Church or Honolulu Hale. In Waikiki, we like the stretch of Kalakaua Avenue fronting Kuhio Beach.
The Oahu King Kamehameha I statue, fronting Aliiolani Hale across from Iolani Palace, gets its annual lei draping for the parade today at 3:30 p.m. This is another Kamehameha Day tradition made for photos. Utilizing a cherry picker (or fire truck ladder) to raise them up to the great king's visage, volunteers carefully drape lengthy strands of flower lei over the king's outstretched arms. When the lei crew are done a few hours later, the king appears as resplendent as you see in the photo above. Accompanying the lei draping today—live music by the Royal Hawaiian Band and hula performances.
There are King Kamehameha celebrations on the other islands as well. Click on the island names below for more information.
Maui (courtesy of The Maui News)
Kauai (courtesy of TheGardenIsland.com)
Kailua-Kona, Big Island of Hawaii (courtesy of Big Island Visitors Bureau)
Have a great weekend!