Welcome to Buffalo's Big Board Surfing Classic, Hawaii's surfing Olympics
For more than four decades, this Oahu event has perpetuated traditional and modern styles of wave riding with a division for almost every kind of surfboard out there.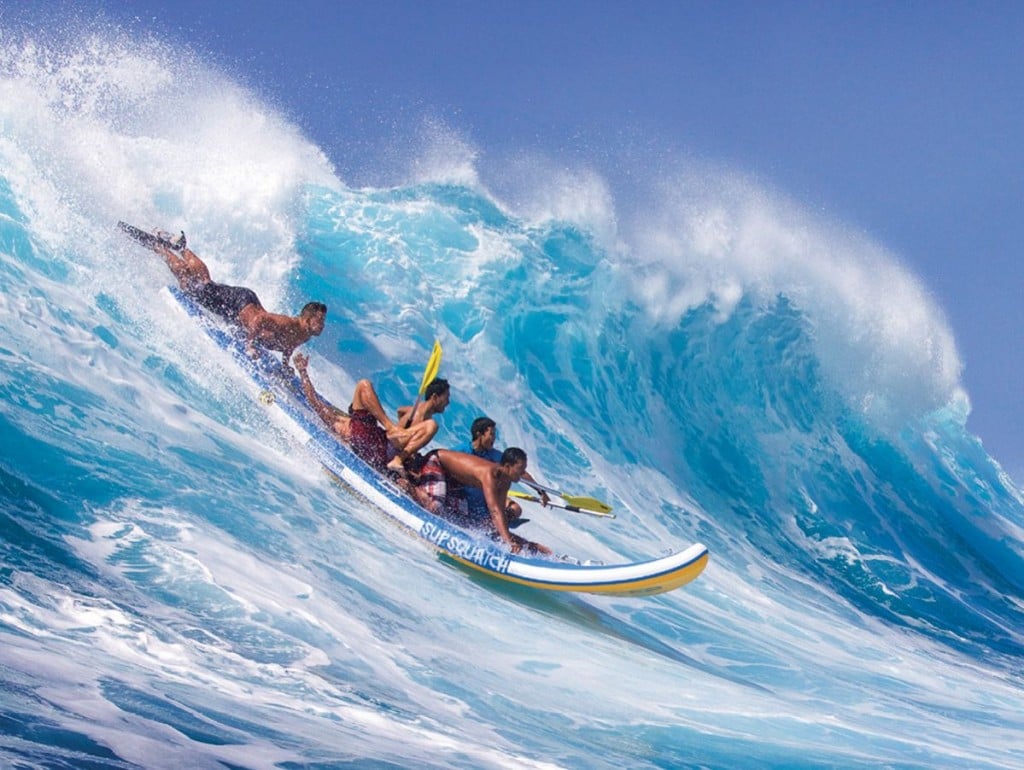 In Hawaiian, "Makaha" means "fierce," but, during Buffalo's Big Board Surfing Classic, this beach park on the west side of Oahu is the opposite of its namesake.
Aloha is abundant for the two weekends in the middle of February, when anybody can enter Buffalo's Big Board Surfing Classic. Unlike the pressure-filled environment of most surf contests, here you'll find emcees cracking jokes on the loudspeaker and, out in the lineup, men and women performing a series of humorously challenging maneuvers. Competitors smile and laugh while riding, and the beach echoes back with laughter.
"The vibe is totally ohana (family) style, the whole entire beach," says Haa Keaulana, who is the granddaughter of contest founder Buffalo Keaulana and has been coming to this community event for the past 23 years. "The DeSotos set up on one side, the Van Giesons set up on one side and the Keaulanas set up by the scaffolds. Everyone just walks into each other's camps and is like, 'Come drink and eat our food.' It's really awesome."
Those three surnames are the most prominent in Makaha and the names you'll most often hear on the loudspeakers. Although Buffalo's Big Board Surfing Classic is all about good times and laughs, the members of these families still want to win in whatever division they enter and earn the bragging rights that come with a victory.
This year is the 41st anniversary of the event that is regarded as the "Waterman Olympics" because of the diverse wave-riding styles on display. There's a division for almost every kind of surfboard out there: from the traditional alaia (finless, wooden short board) to the massive, newly-created 16-foot-long and 8-foot-wide "SUPsquatch."
Nowhere else in the world can you see a SUPsquatch being ridden in competition. Originally, this behemoth of a board was designed to be a water mat for transporting cameras and film crews during ocean shoots. Leave it to the Makaha locals to start catching waves with it for fun, and its popularity grew to the point of including it in Buffalo's Big Board Surfing Classic. Riding the inflatable SUPsquatch is an exhilarating team effort that can be done with two skilled surfers and up to five novices. The alaia, on the other hand, is a throwback to the surfboards that the ancient Hawaiians rode. Catching a wave on this traditional wooden surfboard is a challenging feat, and for a surfer to actually ride one of these finless crafts takes the utmost skill and athleticism. Yet, both of these surfboards have their rightful place at the competition, and there are numerous other wave-riding crafts that are only used in competition during this event.
The Event's Roots
Richard "Buffalo" Keaulana started the surf contest at his beloved Makaha, where he protected beachgoers as the head lifeguard from 1969 to 1995. Forty-one years ago, the burly 81-year-old was also invited to be a crewmember of Hokulea—the traditional, doubled-hulled Hawaiian canoe that has been an important part of the Hawaiian cultural renaissance—on its maiden voyage to Tahiti. Sailing without Western instruments, the crew of the Hokulea navigated from Hawaii to the South Pacific using a Polynesian star compass like their ancestors.
"What was neat about the whole inception of Dad's contest was when he sailed on the Hokulea in '76," explains Brian Keaulana, one of Buffalo's three sons. "He got in tune to his culture and what it means to be Hawaiian and then seeing how generations had lost touch with their culture."
Buffalo returned to Makaha inspired to share the Hawaiian culture, especially his kupuna (ancestors') greatest gift to the world: he'e nalu (wave sliding). Buffalo is an accomplished, ambidextrous surfer who can ride waves both regular and goofy foot (right foot forward or left foot forward). He honed his skills as a Waikiki Beach Boy in the '50s. Buffalo also won the 1960 Makaha International surf contest, which at the time was equivalent to the North Shore's Pipe Masters surf contest these days.
With his surfing prowess and passion to share the culture with the younger generation, Buffalo's first surfing event had a traditional Hawaiian procession with Buffalo and attendees wearing malo (loincloth), ahuula (feather cloak) and mahiole (helmet) at Makaha. But, it wasn't just the indigenous clothing that he was bringing back; more importantly, it was the aloha for the visitors and community on the west side.
"You had to be real mindful and watchful of your stuff or get beaten up back in the days so Dad took all the thugs and the thievery away … he turned all the crooks into cops and he made them security so he said, 'Watch all these cars when they come and enjoy so everything is safe,'" says Brian. "The whole thing was to change everyone's mentality that you can enjoy, have fun, not be a bad guy and show goodness in your heart … showing them what it is to be good, what it is to be Hawaiian and what it is to show more family values."
The contest started as a single-day, one-division surf contest featuring five competitors and has evolved into two weekends of competition, camaraderie, camping and comedy.
"It's funny because we have people that came once and returned every single year; once they come here they fall in love. Everyone who walks on the sand and swims in the water becomes a part of our family and just gets absorbed by the whole thing," says Brian. "When you see and hear nothing but joy and laughter, nothing but positive, it's a different feeling. I think the whole thing is getting people involved in the contest, not just showing them what you do, but teaching them what you do."
Part of the fun is watching the hilarity ensue when competitors take to the water in heats. Rather than judging a wave on a 10-point scale like a conventional pro surf contest, Buffalo Big Board competitors' waves are scored on length of ride and a growing list of 14 wild and goofy tricks. Surfers do various maneuvers that more resemble the hokey pokey than a ballet, and it's a riot. To win Buffalo's Big Board Surfing Classic is about creativity and being able to laugh at yourself.
"We all look like idiots out there," says Brian, "because we are all joking around and doing crazy moves and that's the thing—it's the creativity: If you think of a move, throw it in there. Sometimes people don't like to be laughed at, but, in this contest, too bad, because you get laughed at and you get laughed with."
---
The 41st annual Buffalo's Big Board Surfing Classic runs Feb. 18–20, and Feb. 25 and 26 at Makaha Surfing Beach. This year's event honors Rell Sunn. More info at buffalosurfingclassic.com.