We're on a boat! HAWAII Magazine goes snorkeling and sailing off Waikiki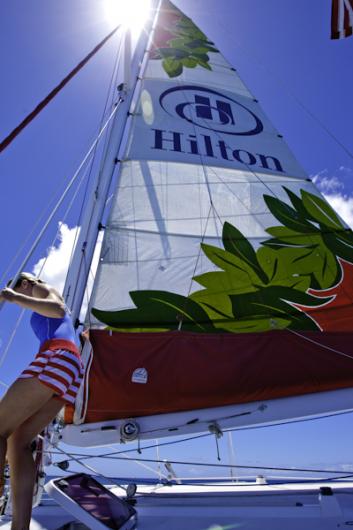 Though some of our readers might think otherwise, it's not every day I find myself trading a morning behind my desk in HAWAII Magazine's downtown Honolulu offices for a catamaran cruise off Waikiki. Really.
But some workdays are better than others. And on a recent sunny, blue-skied Friday morning, I was waiting—toes in Waikiki sand—at the Hilton Hawaiian Village's pier for a snorkel-and-sail excursion with Hawaii Nautical.
The Oahu-based activities company offers several catamaran sails in the waters off of the island's south shore and leeward coast: dolphin- and whale-watching, scuba, stand-up paddle boarding, sunset-and-cocktail sails and just plain hitting-the-water-and-seeing-where-the-wind-takes-us sails.
HAWAII Magazine photographer David Croxford and I opted for Hawaii Nautical's lunch-and-snorkel sail off Waikiki. The two-and-a-half-hour tour is one of four sails Hawaii Nautical runs daily for the Hilton Hawaiian Village on the resort's Spirit of Aloha catamaran in the warm waters off the world-famous beach and Diamond Head. A Friday-only Spirit of Aloha dinner sail offers an ocean view of the weekly fireworks show Hilton launches from its white sand beachfront.
Our sail promised snacks, lunch, an open-ocean sail and an hour or so of snorkeling at Turtle Canyon, a reef about a mile out from the Hilton Pier, where Hawaiian green sea turtles gather to feed and frolic. The closest I'd previously observed the federally protected species was from shore or the deck of a boat, as the honu rose for air and then disappeared under the waves. So I was intrigued, but skeptical, when a Hawaii Nautical crew member promised we'd find at least a half-dozen honu at one time while snorkeling at the reef.
"Remember to stay at least 10 feet away from the turtles while you're on the reef," said Matt, our captain. It is against state law to touch, chase or disturb Hawaiian green sea turtles. "If a turtle approaches you, give it some space."
Approaches me? I'll believe that when I see it, I mumbled to myself.
Photos and tales from Croxford's and my morning Hawaii Nautical sail start here and continue on the pages that follow:

Readying to board Spirit of Aloha at the Hilton Hawaiian Village Pier in Waikiki, 10:30 a.m.
The Hilton's 54-foot
Spirit of Aloha
catamaran, as the crew prepared for us to board.
The catamaran's enclosed and covered cabin was spacious, with lots of room for backpacks and personal items, two restrooms, a freshwater shower and …
… a full bar serving cocktails, draft beer, soft drinks, juices, snacks and, later in the day, lunch.
Before leaving the pier, Captain Matt and
Spirit's
three-person crew briefed us on the lay of the catamaran, snorkel and safety equipment, shipboard amenities, rules for approaching
honu
while snorkeling (stay at least 10 feet or more away from them), and how to signal to the crew from the water.
The view of Waikiki and Diamond Head crater, as we headed out to Turtle Canyon reef.
Photographer David Croxford and I were out on catamaran deck as soon as it left the pier. This is a view of the Hilton Hawaiian Village five minutes out of port.
Spirit
had lots of deck room for sunning and taking in the view.
The crew readies our snorkeling gear. Masks have to be returned at the end of the sail. But every snorkel is brand new—you get to take it home.
15 minutes out of port and a mile or so from shore, we were already at Turtle Canyon reef.
After anchoring
Spirit of Aloha …
… the crew handed out life vests we'd be wearing while snorkeling. Made of tough but lightweight material and requiring very little air to float, the vests provided superb mobility in the water.
The morning was so warm and sunny, everyone on board wasted no time getting into the ocean.
Getting to the reef required some swimming away from the catamaran. A crew member guided us to the reef, 30 ft. below the ocean surface.
Hawaiian green sea turtles rising to the surface for air as I approached Turtle Canyon. We didn't have the camera equipment to capture the action underwater. But gazing down through the clear water from the ocean's surface, I counted at least a dozen honu during my time on the reef—some feeding, some resting, many more just swimming by. Obviously not briefed on the "10 ft. of distance" rule, one curious honu on its way the surface for a gulp of air even hovered within 4 ft. of me as I bobbed on the waves and tried to get out of its way. Amazing!
After an hour or so of snorkeling, we were back on
Spirit
for lunch.
As we took our lunch on the deck, the crew began readying the sails to catch some wind.
From there it would be an hour of open-ocean sailing along the south shore, past the hotels and resorts of Waikiki …
… on our way to the waters off Diamond Head.
Another view of Diamond Head, minus its world-famous profile.
Capt. Matt took
Spirit
even further out to sea after reaching Diamond Head, picking up wind and speed that had the catamaran bobbing and kicking up spray as it rode the waves.
On our way back, we took a closer pass by Waikiki.
The ride back was also more leisurely, giving passengers lots of time to chill on the deck and take in the scenery.
Dozens of surfers were waiting for waves on the reef just off the Hilton pier.
To say I didn't want to head back to the office would be an understatement.