Whale-watching season's final Hawaii "Ocean Count" census effort slated for this weekend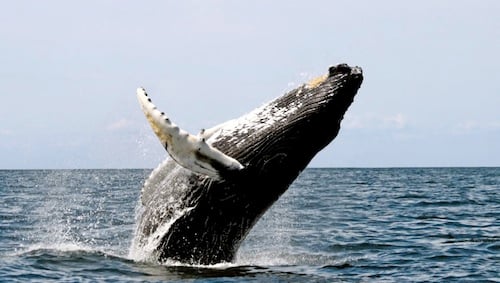 The Hawaiian Islands Humpback Whale National Marine Sanctuary's third and final volunteer-centered whale-spotting effort for the 2011-12 season, Ocean Count, is slated for Sat., March 31.
Both Hawaii residents and visitors are invited to take part in the annual Ocean Count census. This weekend's survey is slated for 8 a.m. to 12:15 p.m. on the shores of Oahu, Kauai and the Big Island.
During the last Ocean Count session, held on Feb. 25, more than 800 volunteers gathered to tally humpback sightings and note whale surface behaviors. Volunteers collected data from 58 sites, with an average of four whales sighted from Oahu and Kauai shorelines during every 15-minute count period. An average of two whales were spotted from the Big Island during the periods. Organizers attributed the lower count from that island to inclement weather.
The annual Ocean Count, which started in 2002, relies on volunteer help to estimate whale population and distribution figures in the sanctuary. The census, organized by the National Oceanic and Atmospheric Administration (NOAA), supplements scientific information. Want to take part? Registration will close two days prior to the count session. For registration details, click here.
If you join the ranks of volunteers, expect to be busy. On average, humpback surface to breathe every 10 to 15 minutes, but can remain submerged for as long as 45 minutes. Calves must rise to the surface every three to five minutes. For more information about whale behavior, click here.
According to a news release issued by NOAA, scientific studies show that the seasonal humpback whale population in Hawaii is increasing at an annual rate of about 7 percent.
Scientists estimate that there are 20,000 humpbacks in the North Pacific. An estimated 12,000 make their way to Hawaii's waters — migrating from as far away as Alaska — to mate and nurse their young, typically between September and March. (Some whales may linger here into April and even May.) Since 2006, the annual count has tracked a steady rise in the humpback whale population visiting the sanctuary.
The Hawaiian Islands Humpback Whale National Marine Sanctuary lies within the shallow (less than 600 feet), warm waters surrounding the main Hawaiian Islands, constitutes one of the world's most important humpback whale habitats. According to NOAA, humpbacks may find the Islands suitable because of warm waters, underwater visibility, variety of ocean depths, and the lack of natural predators. Mothers can be seen breaching alongside their calves and males can be seen competing with one another in fierce head-to-head battles.
For more information about the sanctuary and Ocean Count, click here.