What happened to Flumin' Da Ditch kayak tours?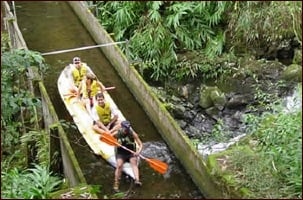 You ask. We answer.
Reader Janice Taylor of Vernon Hills, Ill., wrote asking if Flumin' Da Ditch was still doing tours on the Big Island.
The short answer: "At the moment, no."
Flumin' Da Ditch offered kayak tours down old Kohala Ditch water flumes, used originally by sugar plantations to transport freshly cut cane. The cane would be cut on higher elevation lands and tossed into the flumes, which would carry the cane downslope to sugar mills on the coast. The flumes fell out of use as large trucks became more prevalent to transport cane.
The kayak tours were a popular attraction, meandering through more than 16 miles of unsullied tropical rainforests and rivers. That is, until an October 2006 earthquake off the Big Island seriously damaged the flumes. Flumin' Da Ditch shut down operations immediately.
The good news?
A trio of tour operators is currently at work repairing the Kohala Ditch flume, hoping to open it for tours again late this year.
"It's gonna get going again," said Diane Holcomb of Hummer Safari Tours, one of the three tour operators. "It's just a matter of time."
We'll keep you posted.
Anybody out there ever flume da ditch with these folks?
UPDATE, 3/12/08: Work on restoration of the Kohala Ditch is also being completed by a number of Big Island individuals, businesses and organizations, many of them volunteering their services gratis. The Kohala Ditch Project Working Committee is projecting an October 2008 completion.