What it's really like to swim with sharks (without a cage) on Oahu's North Shore
Three miles off the coast of Haleiwa, the pelagic tours of Islandview Hawaii offer close, cage-free encounters with mano (sharks).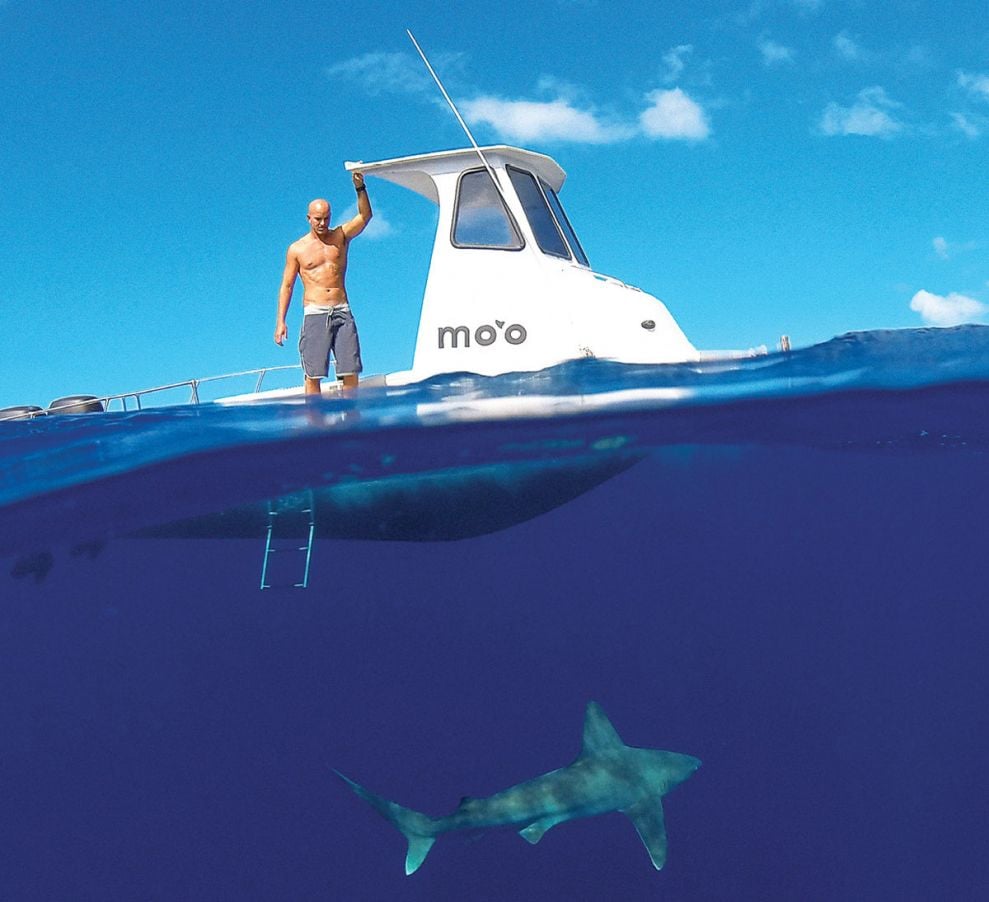 As we leave Haleiwa Harbor, my heart feels like it's beating hard enough to burst out of my chest and flop onto the deck of the Mo'o like a freshly caught mahimahi.
The ol' ticker is pulsing with nervous anticipation as I try not to think about the movie "Jaws." Or, it could just be the caffeine from the Grande Red Eye coffee I had chugged on the 50-minute early morning drive out to the North Shore that is making my heart beat so fast. The objective of this expedition I'm on with Islandview Hawaii—a Hawaiian family-owned and -operated boat tour—is to swim with the apex predators of the ocean on a 90-minute pelagic tour.
"Stay calm, stay in a group, use good etiquette, be aware of your surroundings and treat the animals with respect," says the captain of the Mo'o, Ka'iwi Berry. At 29 years old, he is one of youngest captains running tours out of Haleiwa Harbor. Despite his age, he's also one of the most experienced seamen in these waters. Born and raised on the North Shore, Berry learned everything he knows about sharks from his late grandfather, Harold Blomfield, a retired U.S. Navy deep-sea diver turned commercial fishermen and legendary seadog of Haleiwa Harbor.
"When you're splashing and screaming, you're going to draw attention to yourself," says Berry. "You're creating an issue out of nothing—out of whatever is in your head—you're creating an issue out of a beautiful situation."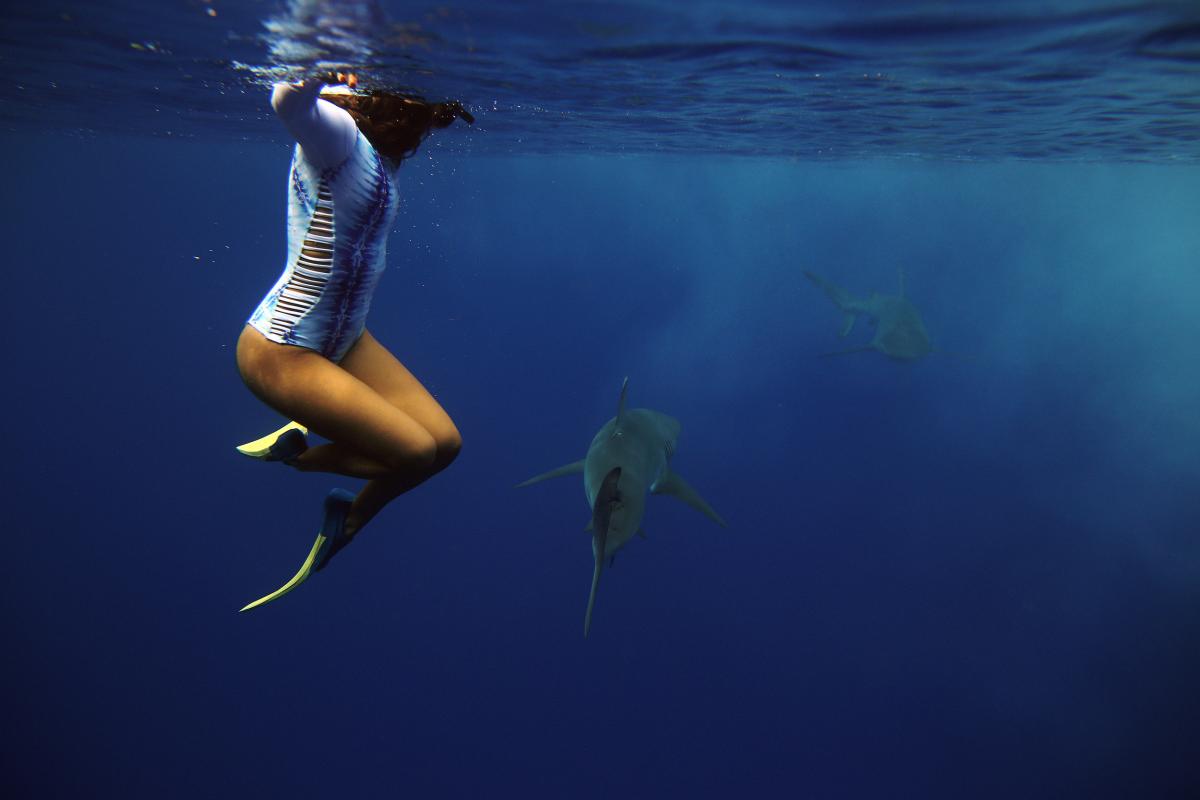 The only things I was instructed to bring on the tour were a swimsuit, a towel and a pole for a GoPro or camera. I also brought a wetsuit, bodysurfing fins, a 40-ounce Hydro Flask of water, a towel and a trucker hat, only to forget the GoPro in my rush out the door. I should've just listened to Islandview Hawai'i, because the crew has everything you need for the tour. The two crewmen of Islandview Hawaii are Ka'iwi's younger brother, Kai'ea, and their friend Evan Mock, who have masks, snorkels and fins for all guests. Ka'iwi's wife, Brooke, is a professional photographer, and is also aboard today. Brooke and I have worked together in the past and she assures me that it's going to be OK as she screws her DSLR into a water housing.
It's a quick, 20-minute ride from the harbor to a special point in the middle of the ocean that Ka'iwi finds using GPS. But, the kanaka maoli (Native Hawaiian) has been to this spot hundreds of times with his grandfather, setting crab traps, harvesting the catch and watching the sharks congregate under the boat.
Islandview Hawai'i incorporates how Berry was raised—surfing, fishing and diving—integrating his family's history and Hawaiian culture. Even if he wasn't running these tours, he would be out here; it's the way his family has lived for generations in Hale'iwa. The Mo'o is a way for Berry to perpetuate the Hawaiian culture and the knowledge that his ancestors, especially his grandfather, passed on to him. He created his business with an eye to the next generation, to keep his family's legacy surrounding the waters of Hale'iwa alive, because he "didn't want a generation to grow up without sea legs."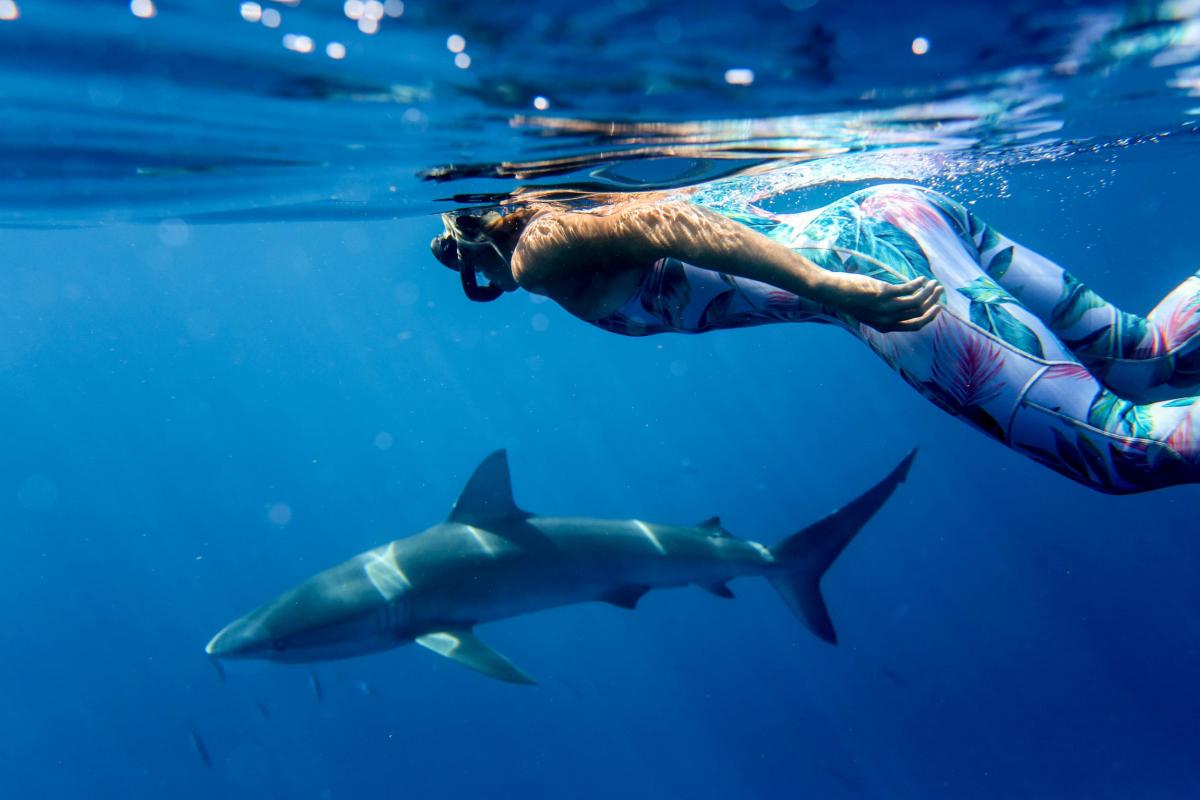 Berry and his dad purchased the Mo'o from Polynesian Voyaging Society master navigator Nainoa Thompson. The 22-foot Radon was the original escort boat of Hōkūle'a, the traditional double-hull, sailing canoe that navigates with the use of a star compass instead of Western tools. I find comfort in reflecting on this boat's history and can feel that the vessel has a lot of mana (spiritual power) in its hull.
The captain instructs Kai'ea and Evan to jump in the ocean first to see if there are any sharks. Oh, they're there all right. Relatively small sandbar sharks, ranging from 2 to 4 feet long, first appearing in a group of approximately six. Then four bigger Galápagos sharks, 5 to 7 feet in length, show up and follow the boat's motor like dogs chasing after a truck down a dirt road. Islandview Hawai'i doesn't chum, or lure the sharks with food—it's illegal for tour operators to do so. Instead, the sharks naturally follow the boat, possibly due to the long history of fishing boats in these waters.
Berry kills the motor and sends the rest of us into the water in two groups as we all attempt to slip in without any splash. We're drifting in the middle of the ocean with sharks circling us inquisitively. At a certain point, two gentlemen on the tour try to swim as close as possible to the sharks in an attempt to either get better shots with their GoPros or act macho. One of the sharks does not like this dive-bombing, and starts swimming erratically and faster, visibly agitated. The brothers Berry tell the fellas to cut it out, and for the group to tighten up again. We move together in a tight circle with our backs to each other. Berry tells us this will put the sharks at ease, and I can see the sharks' body language relax while we float in formation.
Soon the sandbar sharks calm down and start swimming normally again and remain in our line of sight. The greener and bigger Galápagos sharks, on the other hand, disappear and reappear as the boat does circles around us to keep an eye on things from the surface. On the third passing of the Galápagos sharks, I catch eyes with one of them and it begins swimming in my direction because I ended up drifting between the group and the boat. I'm regretting wearing this full-body wetsuit because I think I look like a Hawaiian monk seal (some species of sharks eat monk seals, though not Galápagos, but this is not soothing to me at the moment). The shark is gliding in my direction and there is a point where I want to swim backward as fast I can, but I remember that Berry said you need to let the shark know you're a dominant predator as well. So I float my ground, not moving backward or forward, with my shoulders pointed at the shark. It gets close enough to where I could stick out my arm and grab its snout, but it turns quickly, keeping its eye contact with me before joining its three companions following the boat.
At that moment, my fear of these creatures turns into a deep respect. Observing how they move, how they glide effortlessly through the water with minimal movement. Instead of letting my imagination wander off with visions of an eating machine, I begin to appreciate how efficiently designed these animals are and how beautiful they look in their element. My heart returns to beating normally and I notice how clear the water is.
It would be a stretch to say I was fully comfortable, but I can honestly say that by the time the 40 minutes of swimming with the sharks was up—without a cage, spear or bangstick—I wasn't scared anymore. In fact, I hope to convince my wife to join me on the next pelagic tour with Islandview Hawai'i, because I truly would like to swim with sharks again for fun with a loved one.
---
Islandview Hawaii pelagic tours leaves Hale'iwa Harbor daily at 8 a.m., 10 a.m. and noon, and runs 90 minutes long. Cost is $150 per person. 66-105 Haleiwa Rd., Haleiwa, Oahu, (808) 343-6004, islandview-hawaii-qv1i.squarespace.com.
This article, "Swimming With Sharks," was originally published in the March/April 2016 issue of HAWAII Magazine.