What to know about driving Maui's other way to Hana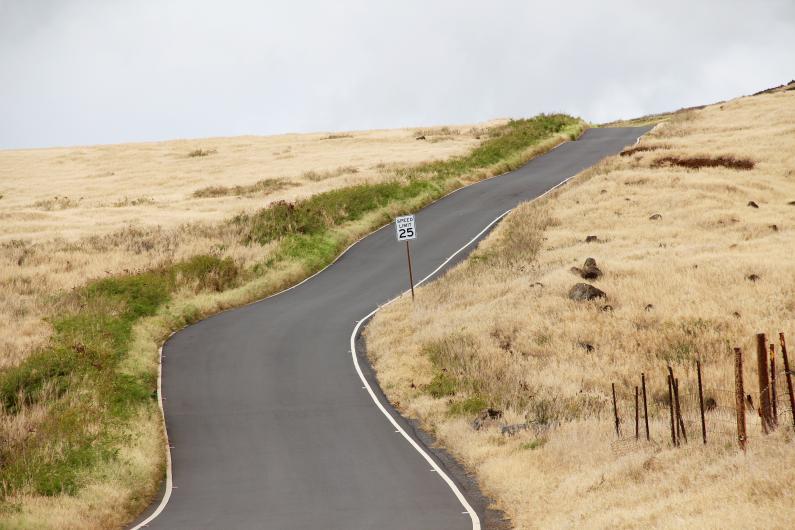 The Road to Hana is the biggest tourist attraction in Maui and rightfully so, but it's not the only way to get there. If you want to take the road less traveled and steer away from traffic and crowded stops, do it the way locals do — backwards! Start in Kula and follow the road southwest on Piilani Highway (Hwy 31) toward Kaupo, which leads you east around the backside of Haleakala.
Here's what to expect:
You'll get to start your day in the charming Upcountry region of Maui.


It's lined with stops to kick off your morning such as Grandma's Coffee House in Kula for breakfast, coffee and the best coffee cake you've ever tasted. It sits just about 100 feet from the start of the other road to Hana. When you reach the fork in the road just past Keokea Park in Kula, take Highway 37 to the right.
The roads will still be winding and treacherous at times … but empty.


If you're worried about missing the nausea-inducing turns of the traditional route to Hana, fear not. There are plenty of sharp curves and blind turns to keep you on your toes. Barren roads curve through several climate zones from Kula to Hana.

You'll find yourself into a totally different landscape.

The lush jungle will be replaced with barren volcanic scenery with views of the backside of Haleakala. The massive canyons reaching from Haleakala out to the ocean are every bit as impressive.
On a clear day, Hawaii Island is visible.


Hawaii's largest island sits just 26 miles off the eastern coast of Maui. On a really clear day, it isn't just visible—it actually looks close enough to touch.
There are several places to stop for food you wouldn't visit otherwise.


Though a segment of the road is desolate, the rest of the trip has a roadside hamburger stand, a couple general stores, and even a winery. A highlight is the Ulupalakua Ranch Store offers grilled entrees and a gift store with local, handmade goods. Yes, there are restrooms too.
The road hugs the coastline for most of the way.


Sometimes there is just an eroded guardrail and 20 feet separating you from the incoming waves. The road sits literally right off the ocean. Be sure to honk around blind corners, the way locals know to do.
The road is at times unpaved.


Under most conditions, all types of vehicles can easily drive this route. Driving this road doesn't require four-wheel drive (though you should verify that it won't void your agreement with your rental car company regardless). The signs may be ominous, but just use common sense and avoid driving in heavy rain.
You'll arrive at Pools of Oheo (also called Seven Sacred Pools) and other popular swimming spots before the crowds do.


There aren't many things better than getting a usually crowded swimming hole all to yourself. Believe it or not, this photo was taken on a Saturday morning!
Sometimes the road less travelled does make a difference. In this case, the difference comes in the form of no crowds and drastic, volcanic views of Maui. It takes about the same amount of time as the traditional route. Best of all, if you drive in a circle, you'll still get to see all the beauty of the regular way on your return (black sand beaches, towering bamboo and roadside waterfalls), but you'll have it all to yourself.