What visitors and agents need to know about Hawaii Island's Kilauea volcano
Hawaii is open for business—and beautiful as always.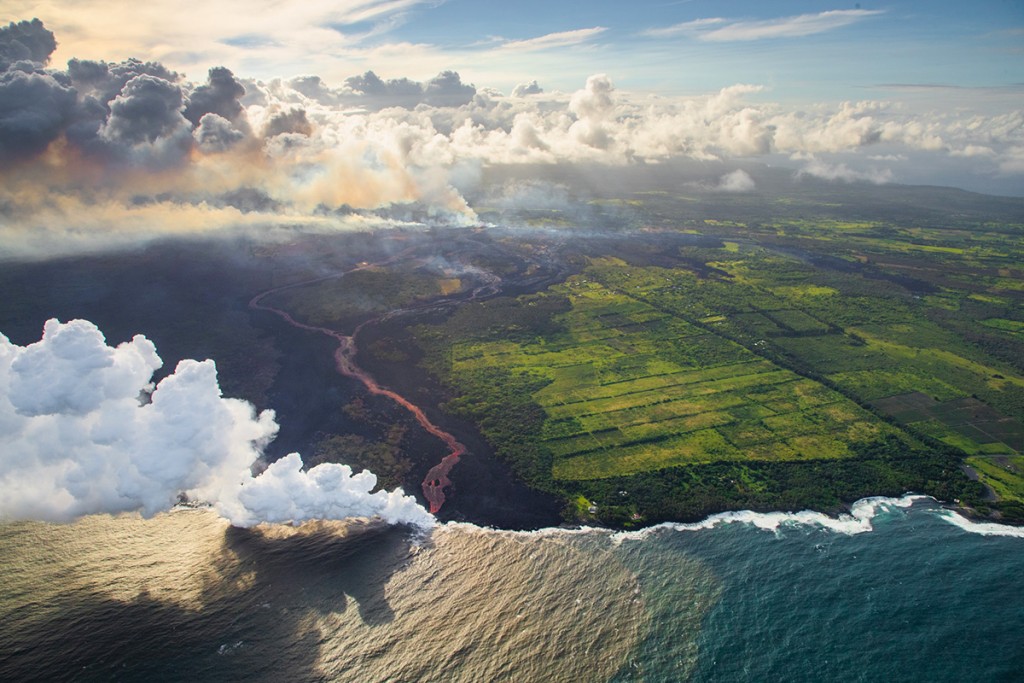 From my cottage at Puakea Ranch, near the northern tip of the island of Hawaii, I can see a rainbow arching through the pale blue sky over the bright green hills, the wind gently rippling the deep blue ocean below. Native white hibiscus with jaunty pink stamens and fragrant white plumeria blossom all around me, while saffron finches flutter through swaying palm trees.
Some, including me, would call this paradise. But if I check my social media or news alerts, apparently I'm in hell.
A constant stream of videos and photos depict the Island of Hawaii (also known as the Big Island) as an inferno of fountaining lava, burning homes, billowing toxic clouds and raining ash. News reports that omit geographic and scientific context, and lead with fear-mongering headlines, imply no limit to the erupting Kilauea volcano's range, or reign, of destruction.
The problem is those images actually reflect only 1 percent of the island's 4,028 square miles, including a small portion of its southeastern corner known as Lower Puna and the summit of Kilauea, both of which are now closed to visitors. The roughly 2,000 people who sadly have had to evacuate their homes in two Lower Puna neighborhoods also number about 1 percent of Hawaii Island's total population.
So the relentless fire-and-brimstone coverage doesn't just miss the big picture, it creates a vividly distorted one that has understandably, if unnecessarily, frightened away prospective visitors to the island. By focusing on the negative impacts of a natural disaster confined to a remote area, social and news media are actually spreading financial hardship across the island and the state as cruise lines stop calling and reservations start falling.
This needlessly prevents many people from experiencing their own slice of paradise at one of the most exciting times to do so. As a travel writer and guidebook author who has visited Hawaii many times over the last 20 years, I feel it's my kuleana (responsibility) to clear up as many misperceptions as I can. What follows is more of what travelers and their agents need to know:
All of Hawaii's Islands Are Volcanoes
Guess what? If you've been to Hawaii since 1983, you've experienced a volcanic eruption and lived to tell the tale.
All of the main islands of Hawaii were formed by shield volcanoes, which built up from the sea floor as magma slowly oozed from the earth's oceanic crust between 700,000 and 5 million years ago. They do not explode like pyroclastic flow volcanoes such as Mount St. Helens or Vesuvius.
Of the six major islands, spread across 300 miles of ocean, Oahu, Kauai, Molokai, Lanai and the West Maui mountains owe their shape to extinct volcanoes. In East Maui, majestic Haleakala volcano is considered active, although it last erupted between 1480 and 1600. On Hawaii Island, home to five land-based volcanoes and one seamount 19 miles offshore and 3,189 feet underwater, only Kohala on the northwest portion of the island is considered extinct.
The four remaining volcanoes are technically active. The last lava flow from towering Maunakea was some 4,500 years ago while Hualalai, which rises behind Kailua-Kona, produced its most recent flow in 1801, one of a series of eruptions whose lava eventually created the moonlike environment surrounding Kona International Airport. Massive volcano Maunaloa ("long mountain") last erupted in 1984, with lava stopping several miles upslope of Hilo.
Despite what recent media reports suggest, Kilauea volcano did not suddenly spring into action in May. It has been erupting from a remote vent in its East Rift Zone – which descends into Lower Puna – since 1983. Most of Kilauea's lava flows in the 35 years since then have occurred in off-limits areas of Hawaii Volcanoes National Park and forest reserves. But in 2014, over a period of seven months, one flow came close to cutting off road access to Lower Puna. In 2016, lava from the same vent, Puu Oo, slowly spilled across an unpaved portion of the park's Chain of Craters Road and into the sea to the delight of hikers, mountain bikers, lava boat and helicopter tour passengers who kept a safe distance from the spectacle.
It's Easy to Avoid Lava, Laze, Ash and Vog
To read many reports, you'd think these hazards of a volcanic eruption were everywhere, unexpected and unprecedented on Hawaii Island. But that's simply not true, as the daily updates of the U.S. Geological Survey's Hawaiian Volcano Observatory, and state and local air quality monitoring, both show. The recent fissures that have created pools and fountains of lava first began as cracks in Kilauea's Lower East Rift Zone, appearing after a series of mostly small earthquakes that led the observatory to warn residents of possible eruptions.
For safety reasons, visitors are not allowed into the area where lava is flowing. Consequently, they are also not in danger of inhaling toxic laze, which forms when lava hits seawater. "It's really only around the ocean entry that you will get super high concentrations of gases, so laze is not something that anybody should be worrying about," said USGS volcanologist Wendy Stovall.
Similarly, the spread of ashfall from eruptions at the summit of Kilauea, which some experts predict may last only a few more weeks based on similar activity in 1924, is limited to Volcano Village and isolated areas southwest of Kilauea. For those wanting to explore southern attractions such as Kau Coffee Mill in Pahala or Punaluu Black Sand Beach, "having a little bit of ash fall onto the ground or vehicle is not something that's going to keep you from driving," according to Stovall.
Vog, an atmospheric haze formed by elevated levels of sulphur dioxide from volcanic emissions, has been an occasional presence on parts of Hawaii Island since 1983 and whenever volcanoes were erupting before that.
"Vog is like smog in Los Angeles," notes Gary Marrow, co-owner of KapohoKine Adventures, which offers a variety of volcano, zipline and other excursions from Hilo and Kona. "If you look right now at the air quality in Beijing or Tokyo, the cruise lines are still going there, and it's way worse than anything ever here on the Big Island."
Although vog can be irritating, particularly to those with sensitive respiratory systems, its intensity varies with wind patterns and emissions. Prevailing trade winds push vog toward Kona, but only stronger emissions creep toward the Kohala Coast, home to some of the island's most popular resorts. Visitors can always find at least one part of the island where skies are crystal clear on any given day. So, if vog is an irritant where you are, jump in a rental car and head to North Kohala, the cowboy town of Waimea or the lush Hamakua Coast for clearer skies.
Nearly All Visitor Attractions Remain Open and Safe
Although the Kilauea summit area of Hawaii Volcanoes National Park remains closed "out of an abundance of caution," according to park spokeswoman Jessica Ferracane, there's still plenty to do on the island of Hawaii, from active pursuits such as ziplining, snorkeling, surfing, horseback riding and hiking to indulgent pastimes such as shopping and dining.
Hilo and the east side of Hawaii Island also offer opportunities for great road trips, according to Rob Pacheco, co-owner of Hawaii Forest and Trail, another of the island's premier excursion operators. "There are great museums, including the Imiloa Astronomy Center, Lyman Museum, Pacific Tsunami Museum, Mokupapapa Discovery Center, plus the shopping and food scene is all really interesting in Hilo. … You also have waterfalls, the Wailuku River, Onomea Scenic Drive, Akaka Falls and the little plantation towns along the Old Mamalahoa Highway."
At Hawaii Volcanoes National Park, rangers have expanded hours and programs at the park's Kahuku Unit, a 116,000-acre preserve on the slopes of Maunaloa, an hour south of the Kilauea summit. Praising its "gorgeous" ohia forest, which is currently in bloom, Ferracane says visitors can learn a lot about the 1868 eruptions that formed the area. "In their time the flows were destructive, but you can see how they are also life in Hawaii, and how the forest has just thrived so magnificently since. It's a testament to how quickly life springs back and requires volcanoes to live here."
Hawaiians Celebrate Pele as Creation
Although everyone sympathizes with those who have lost homes in the current eruption ­– whose location is not far from similar eruptions that claimed homes in 1990, 1960 and 1955 – Native Hawaiians also celebrate the creation aspect of the natural force or deity they call Pele.
According to kumu hula and cultural practitioner Micah Kamohoalii of Waimea, "We look at Pele, or the pele, meaning the lava, as creation. It's godly forces happening in front of us. It's like watching somebody give birth – you are completely enthralled with watching a life force being born out of something that's very profound. To me, and most of our native people, that's what's happening with this eruption. To see the birth of more land, the creation of something new, is very exciting."
In his view, there may be no better time to visit the Island of Hawaii.
Says Kamohoalii, "How many can say they saw creation happen? It's not like the world is ending on Hawaii Island. The world is beginning."
Former San Francisco Chronicle Travel Editor and Frommer's Hawaii co-author Jeanne Cooper writes frequently about the Hawaiian Islands for the Chronicle, magazines and websites.