Where in Hawaii was "Diamond Head" with Charlton Heston filmed?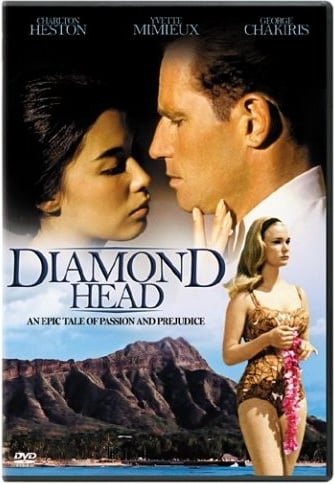 HAWAII Magazine reader Katherine Spahr emails:
We recently watched the movie Diamond Head with Charlton Heston. Can you tell us which island it was filmed on?
You ask, we answer.
In 1959, Columbia Pictures paid Honolulu Star-Bulletin reporter Peter Gilman $100,000 (nearly $750,000 in today's dollars) for the film rights to Such Sweet Thunder, his best-selling novel about power, politics and interracial romance in Hawaii.
The 1963 movie, renamed Diamond Head, was supposed to star Clark Gable, but Gable died before filming could start. The part went to Charlton Heston, fresh from winning an Oscar for Ben Hur. Heston's character, a pineapple planter and senatorial hopeful, is still nicknamed "King," which was Gable's Hollywood nickname.
You'd think a film called Diamond Head would be filmed on Oahu. After all, the movie poster features a view of Diamond Head Crater from Waikiki Beach, though your attention maybe distracted by the image of a young Yvette Mimieux superimposed over it.
A little of the movie was, in fact, filmed on Oahu, with the Royal Hawaiian Hotel figuring in several scenes.
We talked to the expert, Bob Jasper of Movie Tours Hawaii, who clued us in. The bulk of the scenes in
Diamond Head
were filmed on Kauai.
The principal photography was done at Kipu Ranch, not all that far from Kauai's capital city Lihue. (Kipu Ranch is private property, though it does now offer ATV tours, since it boasts some spectacular views.)


However, the mansion where Charlton Heston's character, Richard "King" Howland, resides is a historic plantation manager's house now owned by Kauai's land and agricultural company, Grove Farm.
Jasper sent us some pictures of the house. As you can see in the close up, it's in bad shape, though plans are being made to renovate it as a golf club house.
Where was most of it filmed? See the next page.