Where to eat at Waikiki's International Market Place
These restaurant offerings have you covered for breakfast, lunch, happy hour and dinner.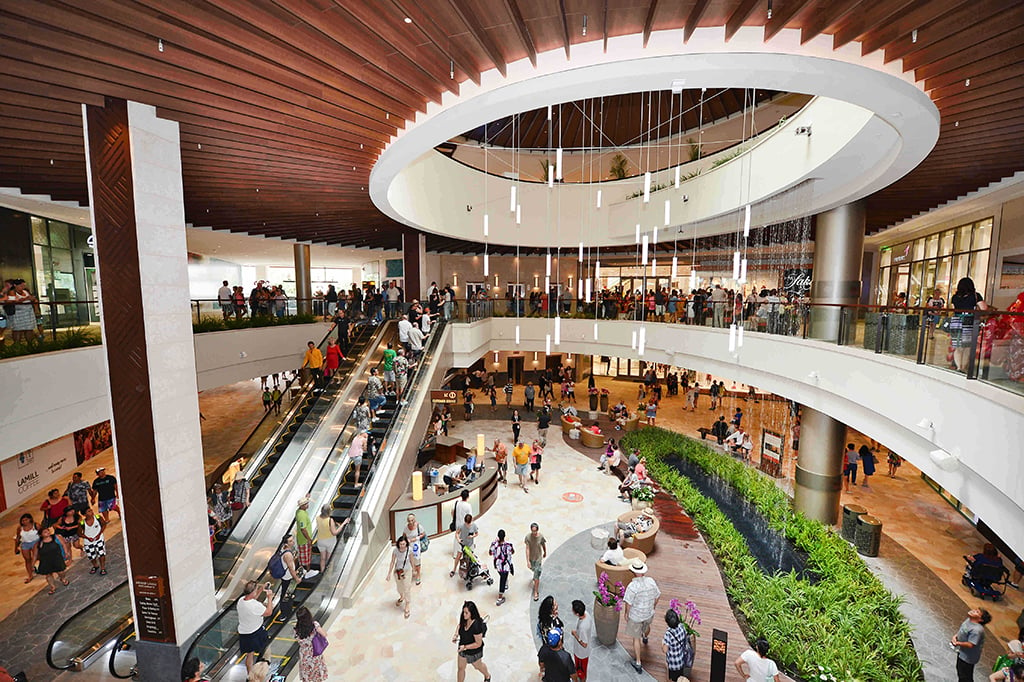 Since its massive renovation in 2016, the International Market Place, which dominates the center of Waikiki, has a totally new face. Change isn't all bad, though. In place of the old food court, we got the third-floor Grand Lanai, a world-class collection of restaurants by some of the most esteemed names in the culinary biz, like Stripsteak celebrity chef Michael Mina, a dim sum teahouse by the Michelin-starred Yauatcha chain, and Hawaii Regional Cuisine pioneer Roy Yamaguchi's latest high-profile establishment, Eating House 1849.
In addition to the dinner spots, there are new options for breakfast, lunch and happy hour in the International Market Place that are definitely worth a visit.
FOR BREAKFAST & COFFEE
Kona Coffee Purveyors + b. patisserie
For a pleasant wakeup call, try the fresh-roasted Kona coffee or a fancy espresso-based beverage. Pair it with one of b. patisserie's signature Kouign Amann French pastries, a multi-layered, flaky treat filled with butter and chewy sweetness. Also, try the affogato, a cold scoop of gelato in a hot shot of espresso.
6 a.m. to 10 p.m., Level 1 near Saks Fifth Avenue, facing Kuhio Ave., (808) 450-2364.
FOR LUNCH
Flour & Barley Brick Oven Pizza
Aside from having some amazing pies, Flour & Barley's rustic-but-clean atmosphere makes it an ideal lunch spot. The custom brick-oven pizza and craft cocktails and beer are high quality without breaking the bank, and the balcony view of Waikiki is impressive. Try the Farm House (mozzarella, smoked bacon, cotto ham, fennel sausage and roasted onion all topped with an egg), or The Parma (mozzarella, parmesan, ricotta, prosciutto and arugula with balsamic glaze). There are also sandwiches, salads and entrée plates on the lunch menu.
11 a.m. to 11 p.m., Level 3 Grand Lanai, (808) 892-2993
Goma Tei Ramen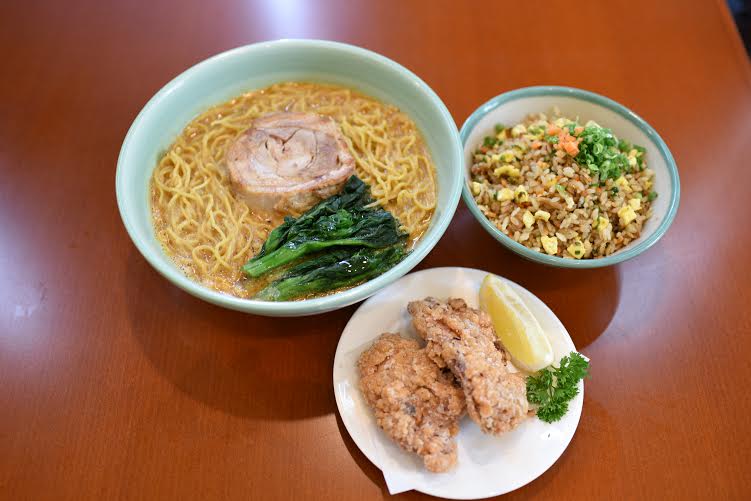 Dive into a satisfying, savory bowl of Goma Tei's signature tan-tan (spicy sesame) ramen, or order favorites like fat, juicy gyoza or cold chicken tatsutaage and mapo tofu to satisfy your lunch cravings. One of several Goma Tei locations in Hawaii, the International Market Place branch offers the same great flavors, large portions and reasonable pricing as the other restaurants.
10:30 a.m. to 10 p.m., Level 3 Grand Lanai, (808) 664-0363.
FOR PAU HANA (HAPPY HOUR)
Eating House 1849 by Roy Yamaguchi
While this could also be a dinner destination, we prefer this beautiful spot with a spacious island-style bar and classy tropical wood open-air interior for an early evening pau hana because of the complimentary edamame (boiled green soybeans), good selection of local beers, custom cocktails and large pupu (small plate) menu. Yes, there's a happy hour discount that is $2 off the list price for selected items. Try the perfectly-fried gyoza, the tender, succulent shortribs, or the "Asian buffalo sauce" crispy chicken wings.
11 a.m. to 10 p.m., Level 3 Grand Lanai, (808) 924-1849.
FOR DINNER
Kona Grill
Good for groups (or if you're not sure what your friends/family/date likes to eat), Kona Grill's diverse menu covers everything from sushi and fresh fish plates to modern American entrees, pasta, Chinese stir-fry, and, more importantly, does it well. Try the signature macadamia nut-encrusted chicken, the miso-sake sea bass or the lemon-garlic shrimp penne. The cocktail menu is just as extensive and includes some lovely signature cocktails like the strawberry basil lemonade and pineapple honey mojito, including sake, beer, wine and spirits.
11 a.m. to 11 p.m., Level 3 Grand Lanai, (808) 756-959.
Stripsteak Waikiki
Celebrity chef and James Beard award-winner Michael Mina's modern twist on the classic American steakhouse boasts, not surprisingly, some of the best steak in Waikiki. Start your meal with complimentary gourmet French fries, and then take your pick of ultra-fresh sushi and seafood or incredible custom-cooked graded Wagyu beef or USDA prime cuts with local-fusion accompaniments like shiitake chimichurri and miso-foie gras butter, with an expertly-crafted classic cocktail on the side.
Michael Mina fans, do try the small plates crafted with local flavors unique to the Waikiki location, like the smoked Kurobuta pork belly topped with a tempura oyster, lobster tacos with Maui Gold pineapple and avocado cream and the Tokyo Tots, tater tots topped with nori, bonito flakes and yuzu sauce. The prices might be prohibitive to regular visits, but if you're looking to splurge for a special occasion, this is one steakhouse that really delivers.
11:30 a.m. to 10 p.m., Level 3 Grand Lanai, (808) 800-3094.
Yauatcha
Good for either lunch or dinner, we've suggested this upscale Chinese dim sum tea house for dinner because the full effect of the atmospheric signature blue lighting and ambient décor is best experienced after dusk. If you're looking for a lighter meal than steak or traditional preparations, come to Yauatcha for exquisitely prepared ala carte dim sum dishes, like the venison puff, the crispy duck roll or the Chinese chive flower dumpling. If you're feeling adventurous, try the Taste of Yauatcha prix fixe menu for $58 that gives you a good sample of several signature items.
In addition to the dim sum and other plates, Yauatcha boasts many different types of gourmet teas, potent cocktails and an even more exquisite dessert menu with expertly crafted offerings like the tropical dome or raspberry délice (delight) that are almost too beautiful to eat.
11 a.m. to 10 p.m., Level 3 Grand Lanai, (808) 739-9318.