Where to experience Kauai by horseback
There's nothing quite like exploring Kauai like a paniolo, or Hawaiian cowboy.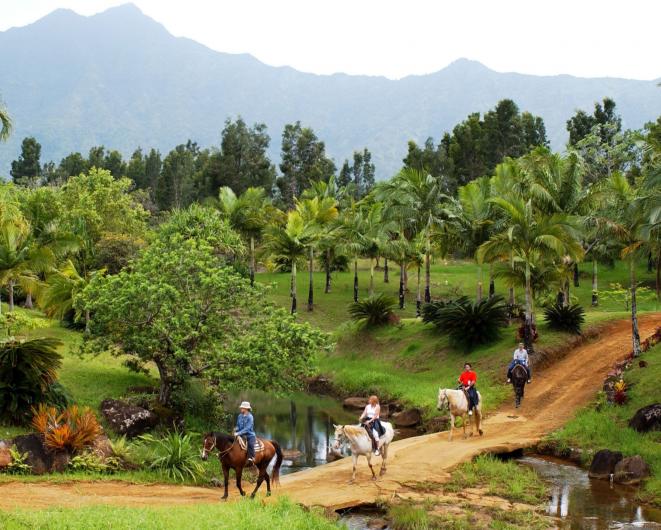 In Hawaii, the cattle ranching tradition has deep roots.
A century before their counterparts in the American West started roping and riding, paniolos—the term for Hawaiian cowboys—were getting schooled in horsemanship by Mexican vaqueros hired by Hawaiian royalty. Small-scale working ranches are still thriving across the islands today, and there are many festivals and parades celebrating Hawaiian cowboy culture. For all these reasons and more, there's nothing quite like exploring Kauai on horseback.
Read on for our roundup of the companies offering equine tours of the Garden Isle's lush, tropical landscape.
Silver Falls Ranch
Tucked along Kamookoa Ridge, near the former sugarcane plantation town of Kilauea, Silver Falls Ranch's horseback riding tours take you into a verdant inland valley accented by waterfalls, swimming holes, seasonal tropical fruits and hibiscus blossoms. This north shore tour company offers three different trail rides, each differing in duration, activities and price. The Hawaiian Discovery Ride ($90) takes you on a tranquil, 90-minute tour of the valley, which is full of natural waterways lined with exotic flora. The Silver Falls Tour ($119) includes two hours of riding in the valley as well as an 80-acre garden where more than 150 species of palm trees thrive. In the garden, you'll take in breathtaking, up-close views of the 2,800-foot Makaleha mountain range as well as the peaceful Pohakuhonu stream. For those who want to dismount the horse in order to experience some of the aforementioned natural features on foot, there's the Tropical Trail Adventure ($139), which lasts three hours and includes a picnic and plenty of time to swim at the waterfall that lends the ranch its name.
All tours require riders to be at least 7 years of age, though special accommodations can be made for younger children. Private rides and special occasion gatherings are also available. All levels of riders are welcome. silverfallsranch.com
Princeville Ranch Adventures
This private ranch on the north shore situated on 2,500 acres is one of the oldest continually working cattle ranches in the nation. Established during the reign of Kamehameha III, cattle roamed here—and still do—decades before the American West developed its now-famous cowboy culture. In addition to providing the island with grass-fed, hormone-free beef, today the ranch also offers wide open pasture rides, as opposed to nose-to-tail trail riding, with three unique tours to choose from. The Paniolo Ride ($99) includes two hours of riding through wild grass pastures, where you might be lucky enough to ride through a herd of cows and calves. On the Waterfall Picnic Ride ($135), which lasts 3.5 hours, you'll split your time between pasture riding and swimming, exploring and picnicking at an 80-foot waterfall, accessible by a short, steep hike. The Ride 'n' Glide tour ($145) includes 90 minutes of pasture riding as well as 90 minutes of zip-lining high above the tropical canopy.
Every tour includes horsemanship lessons and a knowledgeable guide who will school you on the ranch's impressive history. Riders must be at least 8 years of age, except for the Ride 'n' Glide tour, for which participants must be at least 10. Private rides are also available. princevilleranch.com.
CJM Country Stables
Saddling up for one of CJM's signature south shore horseback riding tours of the legendary Mahaulepu wilderness is a one-of-a-kind experience. The stables (whose initials stand for "Come Join Me!") offers two trail rides, each complete with panoramic views of Poipu's secluded valleys and beaches. The Mahalepu Beach Ride ($110) is a two-hour journey through agricultural ranch land. Along the way, you'll cross over a sandbar and stream alongside one of the island's most spectacular beaches. The Secret Beach Picnic Ride ($140), includes two hours of exploring on horseback, plus an hour off the horse so that you can relax, explore the beaches and enjoy a picnic lunch.
Riders must be 8 years of age to participate. Private rides are also available. cjmstables.com.