Where to find great saimin on Maui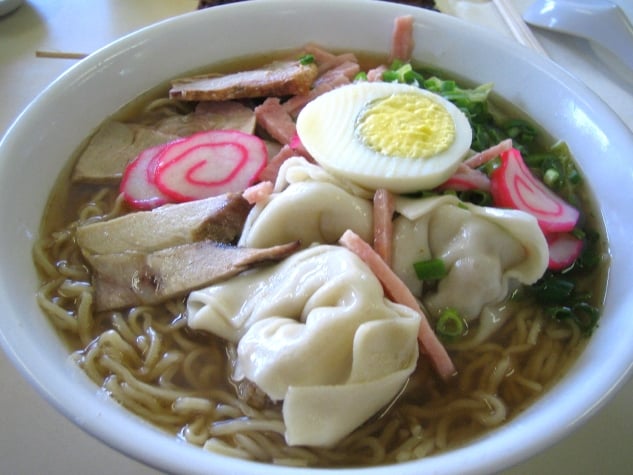 HAWAII Magazine reader Leanna Connelly emailed us from Green Valley, Arizona:
I know of a couple places on Kauai, but PLEASE tell me where I can find great saimin on Maui. Mahalo.

You ask, we answer.
With one major exception—which we will get to in a moment—we didn't know where to get great saimin on Maui.
We asked no less a personage than the dining editor of the Maui News, Carla Tracy, who said that with the decline of the old mom-and-pop outlets on the island, she wasn't sure you could find great saimin on Maui. She got hers at the health food store and doctored it herself.
But not wanting to let Leanna down, we did a lot of checking and came up with four possibilities:
Suda Seafood Deli, 30 Manao Kala St, Kihei, (808) 875-6600. The landmark Suda Store closed in Kihei in 2003. The good news: It's been reopened by the same family at a new, nearby location. The saimin is well-reputed, but many insist the noodles to eat here are chow fun.
Treats & Sweets, 1824 Oihana St., Wailuku, (808) 244-4170. Treats & Sweets used to be a Dairy Queen and still looks like one. Word is that Dairy Queen headquarters didn't want them selling local food, like saimin, so they simply quit being a Dairy Queen and kept supplying Maui folks with what they liked to eat.

House of Saimin, Lahaina Center, 900 Front St., Lahaina, (808) 667-7572. The one thing everybody always says about House of Saimin is that it's open until 3 a.m.—so if you need a late-night saimin fix, you know where to go. In addition, people like the haupia pie.
Waikapu on 30, 1486 Honoapiilani Hwy., Wailuku, (808) 242-1130. In the little town of Waikapu on Highway 30 (hence the name), you'll find this local favorite, which also sells island-style foods, from shoyu chicken to laulau. If you are standing by the cash register when an ambulance or fire truck sirens by, you get a coupon for a free hot dog.
All this bring us to the great exception, Sam Sato's.
If you are looking for a classic soup bowl of saimin, you can get it at Sam Sato's, but what's famous here is the only-on-Maui delicacy, "dry" saimin.
Maui folks swear by this place. Yvonne Biegel and Jessica Ferracane, authors of 50 Thrifty Maui Restaurants, recommend it highly, noting that the signature dry saimin is "the best remedy for a hangover that we've ever experienced." (Having hit the town with these two estimable ladies, we've occasionally needed a hangover cure ourselves.)
Hangover or not, dry saimin is far better—and less dry—than it sounds. It does take a little explanation.
Fortunately, last January HAWAII Magazine's Sherie Char wrote up her first-person account, which you can read by clicking here.
If you know Maui saimin and have advice for Leanna, please comment here or on our HAWAII Magazine Facebook page.