Where to listen to Hawaiian music this summer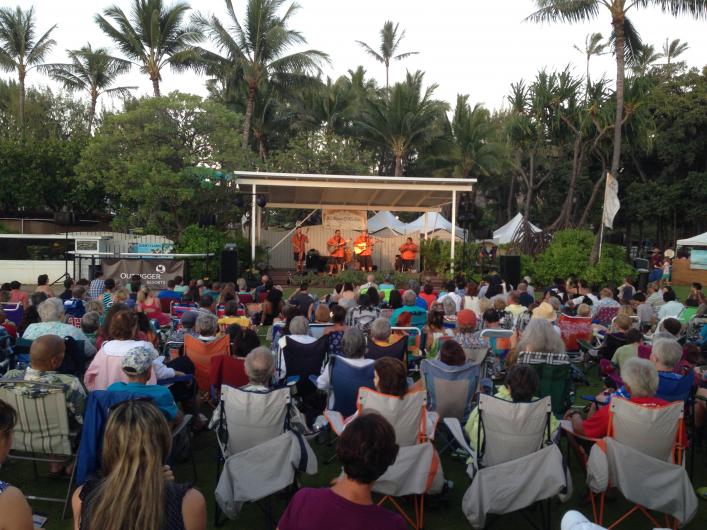 Summer afternoons are meant for lounging outdoors and listening to Hawaiian music at sunset, while eating ono (delicious) food and sipping on a tropical drink. Here are some events happening this summer to help you in your quest to live that dream.
HAWAII ISLAND
An Evening with Cyril Pahinui and Friends
Friday, June 26
Slack key master Cyril Pahinui is joined by musicians Sonny Lim, Jeff Au Hoy, Peter Wook Moon and Kunia Galdeira at this concert featuring instrumental Hawaiian music. The event will also include a live, signed-guitar auction. All proceeds benefit The Cultural Center of Hamakua.
$25 general, $50 gold circle. Doors open at 6 p.m., show begins at 7:30 p.m. Honokaa Peoples Theater, 45-3574 Mamane St., Honokaa, Hawaii Island, lazarbearproductions.com.
KAUAI
McMaster Slack Key Concerts
Fridays and Sundays
Doug and Sandy McMaster were voted as the best live show in Hawaii by our readers in 2014, and we couldn't agree more. Twice a week, they treat guests to a Hawaiian slack key and ukulele concert as a way to continue the old traditions of Hawaii.
$20 adults, $15 keiki/kupuna. Shows are Friday at 4 p.m. and Sunday at 3 p.m. Hanalei Family Community Center, 5-5299 Kuhio Highway, Hanalei, Kauai, mcmasterslackkey.com.
OAHU
Ke Kani O Ke Kai Summer Concert Series
Every other Thursday, June 25 to August 6
Situated on the lawn of the Waikiki Aquarium and fronting Kaimana Beach in Waikiki, this concert feels like a backyard kanikapila (jam session) with friends. The entertainment lineup is the best of the best of Hawaiian music entertainers including Sean Naauao, Kawika Kahiapo and Jake Shimabukuro. Food and drinks by A Place to Eat, Da Spot, Haili's and Kona Brewing Co. and HASR Wine Co. will be available for purchase. Be sure to get your tickets fast, because these Thursday concerts sell out.
$50 adults, $20 children (ages 5-12) and free for children 4 and under. Doors open at 5:30 p.m., concert begins at 7 p.m. Waikiki Aquarium, 2777 Kalakaua Ave., Honolulu, Oahu, 808-923-9741, waikikiaquarium.org/kkokk.
Kani Ka Pila Grille
Nightly
This poolside bar and grill at the Outrigger Reef is a local favorite, and one of Waikiki's hidden gems. Authentic Hawaiian music is played nightly by artists ranging from award-winning to up-and-coming. Check the hotel's website or call ahead to get the week's lineup, which may include popular musicians Ben and Maila, Robi Kahakalau, Hookena, Nathan Aweau, Mailani Makainai, Hoku Zuttermeister, Cyril Pahinui, Christian Yrizarry, Ka Hehena and the Kaala Boys.
Sunday through Tuesday 6 to 9 p.m., Wednesday through Saturday 3 to 5 p.m. and 6 to 9 p.m. Outrigger Reef, 2169 Kalia Rd., Honolulu, Oahu, 808-923-3111. For more information, visit its website.
Duke's Waikiki
Nightly
Little needs to be said about this popular Waikiki restaurant and bar that's always lively and brimming with people. Its Sunday performances with Henry Kapono are a visitor favorite and surely not to be missed, but also check out the restaurant's calendar of events for other big-name Hawaiian musicians who make occasional appearances, like artists Kapena and Maunalua. They'll wow you with their musical talent just the same.
Outrigger Waikiki Beach Resort, 2335 Kalakaua Ave., Honolulu, Oahu, 922-2268, dukeswaikiki.com.
MAUI
24th Annual Ki Hoalu Festival
Sunday, June 28
Bring your beach towels, cameras and an empty stomach to this popular music festival at the Maui Cultural Center. The best of Hawaii's ki hoalu (slack key) guitarists come together to showcase the wonderful sounds of this Hawaii-originated form of music. There will be plenty of food available for purchase, including kalua pork and cabbage, fried ahi belly, manapua, hot dogs and burgers.
Free. Gates open at 12:30 p.m., performances begin at 1 p.m. Maui Arts and Cultural Center, A&B Amphitheater, One Cameron Way, Kahului, Maui, 808-242-7469, mauiarts.org/ki_hoalu_festival.
Na Hoku Hou Award Winners Concert
Saturday, July 11
Winners from the Hawaii Association of Recording Arts' Na Hoku Hanohano Awards (Hawaii's version of the Grammy Awards) will perform at this annual concert on Maui. Listen to the best of Hawaiian music, from traditional to contemporary.
Maui Arts and Cultural Center, Yokouchi Pavilion, One Cameron Way, Kahului, Maui, 808-242-7469. For more information, visit mauiarts.org/na_hoku_hou.