Where to scuba dive on Maui's south side
Dive into the waters at these five spots and you'll see Maui in a whole different way.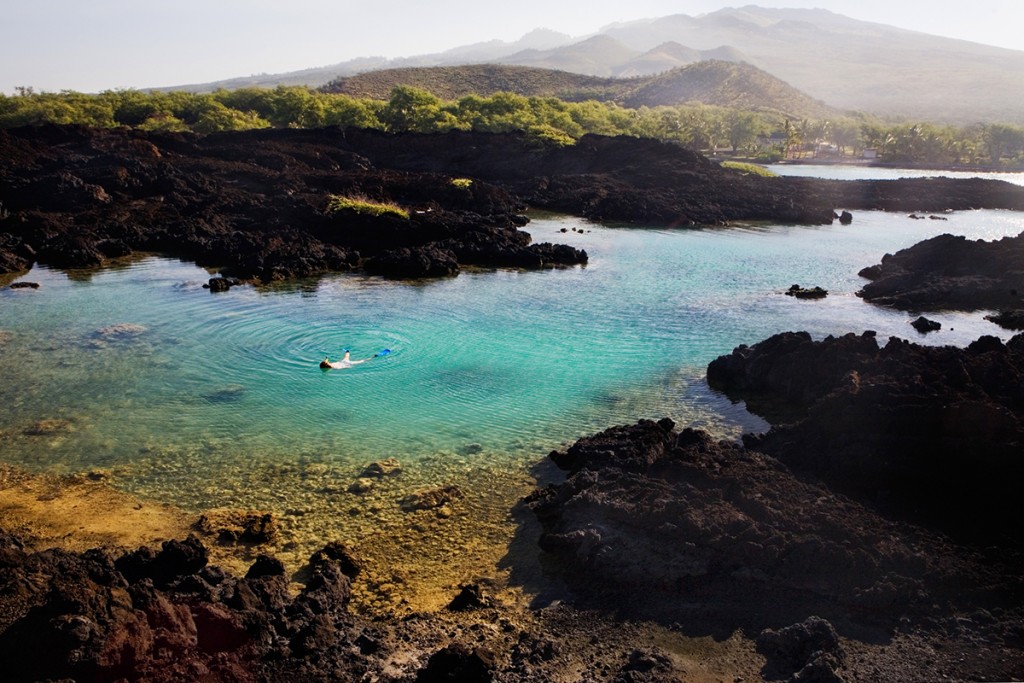 Scuba divers visiting Maui may already be privy to Molokini Crater and Honolua Bay, but Maui's south side shouldn't be overlooked. From Kihei to Makena, there are plenty of dive spots to choose from off its miles of sandy beaches that allow easy accessibility into the water and conditions that work well for all skill levels.
Here's a look at five locations where you'll encounter reef, lava rocks and caves to explore.
Makena Landing/Five Caves
This south side venue is popular for night and daytime divers because of its easy shoreline entry, nearby shower and bathrooms, and high probability of seeing marine life. You're likely to come across sea turtles resting in the nearby caves, and rumor has it the occasional whitetip shark is spotted during early morning dives here. You can access this location by driving along Highway 31 until you reach Makena Road. Turn right and you'll see the beach. Entrance to the dive site is a simple walk, but be prepared to swim a bit to get to the coral and caves located on the right, near the rocky point of the bay. The maximum depth is about 30 to 40 feet. Click here to view the location.
Keoneoio Bay
Attracting divers and snorkelers who enjoy exploring a remote location protected from development, Keoneoio Bay, also known as La Perouse Bay, is located at the end of the 1,238-acre Ahihi-Kinau Natural Area Reserve, Hawaii's first natural reserve and home to Haleakala's last eruption. Portions of this part of the island are closed off to the public in order to protect the area's reefs, anchialine pools and native vegetation. The bay, however, is located at the end of the reserve and is open to the public. Divers might see plenty of tropical fish and, fingers crossed, a dolphin pod if conditions are right. Follow this link for directions. Just remember to respect the wildlife and be careful with your entry; the area is rocky. Note: There are no facilities on site and La Perouse Bay is best to dive during the winter months.
Palauea Beach
Also known as White Rock, Palauea Beach is a wonderful dive off a sandy beach that is typically not crowded, thanks to its somewhat discrete location. Positioned near the Wailea resorts off Makena Road in a residential neighborhood south of Polo Beach, it has reef and rock formations that house various marine life. Swim out towards the outer edges of the beach and enjoy a dive of about 45 feet. There are no showers, but last we checked, there is a port-a-potty.
Wailea Beach
A beautiful place to see tropical fish, such as eels and surgeonfish, that is ideal for beginner and intermediate divers, as the entry is easy and the depth ranges from 20 to 40 feet. Parking, showers and bathrooms are available for public use. Head towards the Grand Wailea and follow the signs to Wailea Beach. Enter the water and head towards the rocky area on the left. Morning dives are best here.
St. Anthony's Wreck
Unlike the other shoreline dives previously mentioned, this dive is accessible by boat or by taking an underwater scooter. Located about a half-mile off the coast of Wailea, St. Anthony's Wreck was intentionally sunk to about 60 feet in 1997 as an artificial reef, and today it attracts everything from trumpet fish to octopus. You'll need to book a dive with a local scuba shop to see this 65-foot-long sunken ship. It is known as Maui's only official artificial reef. Bring a flashlight to enhance visibility.