Where to watch and swim with dolphins in Hawaii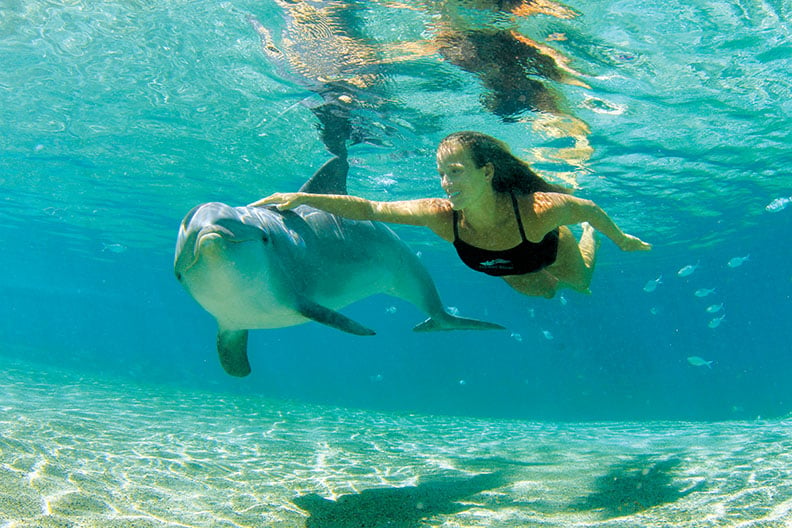 Hawaii's waters are home to colorful and tropical marine life—one of them being the dolphin. Want to watch them from a boat or jump in the water and go for a swim with them? Pack your swimwear and gear, and don't forget your camera. Here are some tours around the island with dolphin encounters:
Dolphin Watching
Lanai Dolphin Adventure
Departing from Lahaina Harbor on Maui, the Explorer Super Raft takes you cruising toward the island of Lanai. Just off the shores, dolphins are often encountered. $99 adults, $79 kids 5–12. Lahaina, Maui, (808) 661-5550, mauiadventurecruises.com.
Star of Honolulu Wild Dolphin Watch
All ages are welcome to watch dolphins in their natural habitat from the panoramic deck aboard this cruise. Two hours are spent on the water with narration and a video presentation. And, from now until the end of September, children ages 3–11 get on for free, per paying adult. $66 adults. Departs from Waianae Boat Harbor, 85-491 Farrington Hwy., Waianae, (808) 983-7827, starofhonolulu.com.
Body Glove Snorkeling & Dolphin Cruise
Dolphin-watch along the Kona coastline aboard this cruise. Continental breakfast buffet and a barbecue lunch are provided. Plus they'll make a stop for you to snorkel in the water. $128 adults, $88 kids 6–17, Ilima Court, 75-5629 Kuakini Hwy., Kailua-Kona, Hawaii Island, (800) 551-8911, bodyglovehawaii.com.
Swimming with dolphins
Dolphin SwimAdventure at Sea Life Park
This 45-minute tour, offered by Oahu's Sea Life Park, puts you right in the water with a dolphin as it swims in circles and does a few stunts. The program teaches you about a dolphin's daily life, and gets you a dolphin kiss and a belly ride on a dolphin, making it a fun program for adults and kids. Park admission is included with this program—just be sure to pack swimwear, a towel and use only biodegradable sunscreen to protect the dolphins and the environment. Approved sunscreen is available for purchase in the park's gift shop. $184.99 at Sea Life Park, 41-202 Kalanianaole Hwy., Waimanalo, Oahu, (808) 259-2500, sealifeparkhawaii.com.
Kona Dolphin Swim Adventure
If you want to swim with dolphins in their natural environment but don't want to go alone, let Dolphin Discoveries guide you. This four-hour tour is respectful and mindful of not disturbing Hawaiian Spinner Dolphins or Spotted dolphins. This experience will give you plenty of photo-ops. Snorkels, a light lunch with fresh fruit and drinks are included with the cost. Just bring a towel and sunscreen. $135 per person. Departs from Keauhou Bay boat ramp, Kona, (808) 322-8000, dolphindiscoveries.com.
Dolphin Quest's Encounter Deluxe at Hilton Waikoloa Village Hotel & Resort
Ages 5 and up are welcome to play, feed and swim with dolphins in a small, intimate group of no more than six people and a trainer. Get to know the dolphins in shallow water, then strap on your snorkel mask and go swimming with them. Photos of your encounter will be available for purchase and a video can be ordered. $260. Hilton Waikoloa Hotel and Resort, 425 Waikoloa Beach Drive, Waikoloa, (800) 248-3316, dolphinquest.com.