Whole lotta Spam love in Waikiki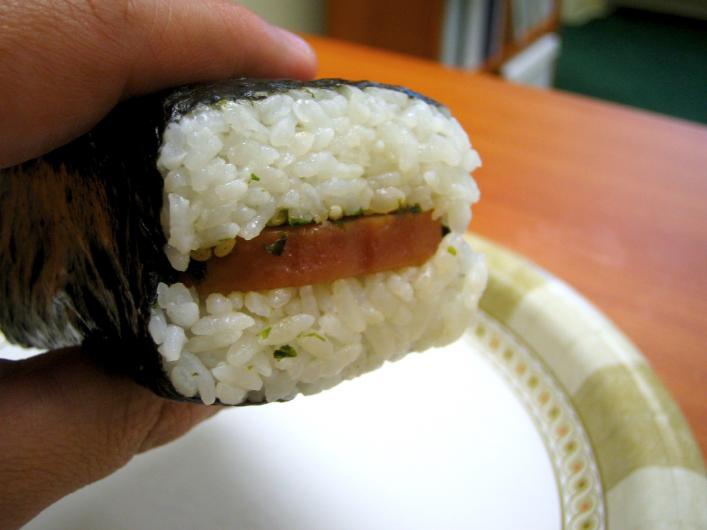 You may have heard that many of us here in Hawaii eat Spam.
Fried Spam, eggs and rice for breakfast. A Spam musubi before lunch. A spam musubi FOR lunch.
Guilty as charged.
In a state where every McDonald's restaurant has a Spam breakfast platter on the menu, is it any wonder we put aside a day each year to celebrate our obsession with the canned pink luncheon meat from Austin, Minnesota?
Hawaii's largest Spam festival, the Waikiki Spam Jam, makes its sixth-annual appearance Saturday, from 4 to 10 p.m. A good-sized portion of Waikiki's main drag, Kalakaua Avenue, will shut down for the street festival. There'll be a couple of entertainment stages. Merchandise booths will sell Spam T-shirts, sunglasses, dolls, straw hats and other paraphernalia. The winner of a Mr.-or-Ms. Spam beauty contest will get a year's supply of salty pork goodness.
And yes, Virginia, a dozen or so Honolulu restaurants are setting up food booths to sell Spam-enhanced culinary creations to the famished multitudes bound to show up.
You might ask, "Derek, I'm staying in Waikiki this weekend, should I go?" To that, I might answer, "If you're not a vegan or on a low-cholesterol diet … why not?"
Spam folklore has it that Hawaii residents were introduced to the stuff during World War II when fresh meat was hard to come by in our isolated archipelago. Apparently, it was love at first bite. These days, it's said we consume 7 percent of all Spam sold in the United States annually, and 16 times more Spam per capita than any other state. Pretty scary for a state with just a half-percent of the U.S. population.
Spam cookbooks abound, giving credence to fans who wax lyrical about the canned meat product's limitless culinary applications. But most local folks—present company included—dig it most in a Spam musubi: a tasty, extremely portable snack consisting of a marinated slice of fried Spam snuggled in a block of sticky rice wrapped with dried seaweed.
(That's a Spam musubi I enjoyed this morning, in the top photo.)
We've got more information on this weekend's Waikiki Spam Jam here. But if you need a good laugh or proof that Spam-maker Hormel Food Corporation has a sense of humor about its much-maligned "mystery meat," click here, and toss a query at the all-knowing "Book of Spam."
And click here for a "How to Make a Spam Musubi" video we found on YouTube.