Why are the Waikiki Beach torches not lit anymore?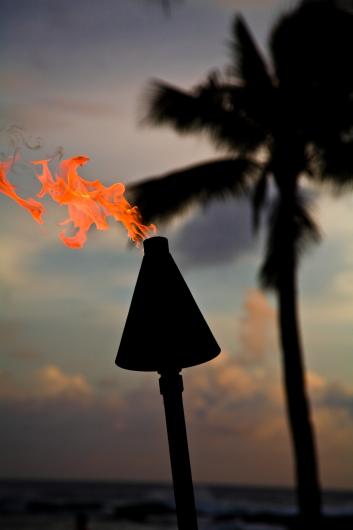 HAWAII Magazine reader Bonnie Burchett e-mailed us with a question about the disappearance of a Waikiki evening tradition she enjoyed:
Why don't they light the torches in the evening on Waikiki Beach anymore?
You ask, we answer.
There's good news for Bonnie and everyone else that enjoyed this Waikiki sunset ritual: The torches will be lit once again!
First some background. Each night on Waikiki's Kuhio Beach, the city sponsors a sunset hula show. Free, open to the public and a terrific showcase for hula's many styles, it always draws a large crowd. Until recently, the program had also included the dramatic lighting of a series of gas torches lining Waikiki's main drag, Kalakaua Avenue.
Clutching a hand-held torch, a pareau-clad male would run from the hula mound on one end of Kuhio Beach to the Kapalua Pier on the beach's other end, lighting all of the gas torches along the way.
Bonnie's question in hand, we called the Waikiki Improvement Association who informed us that the torches have indeed been snuffed for more than a year, due to problems with the gas lines.
Now, here comes the good news. The association also told us that the city and The Gas Company finished repairing the lines this month.
Honolulu Parks & Recreations Dept. director Lester Chang said that torch lightings should hopefully resume within the next couple of weeks. Visitors can expect the torches to be ablaze from about 6:30 p.m. to 10 p.m. nightly, tying in, once again, with the Kuhio Beach hula show.
Hint, if you've never been to Waikiki: Your visit won't truly be complete without a torch-lit evening stroll along Kalakaua Avenue all the way to Kapahulu Pier and then back up Kuhio Beach—this time with your toes in the sand and surf, and the lights of Waikiki in view.
Trust us.