Why Hanalei is One of Hawaiʻi's Best Towns
From taro doughnuts to the best beach for snorkeling, Hanalei on Kaua'i's north shore isn't just for lovers.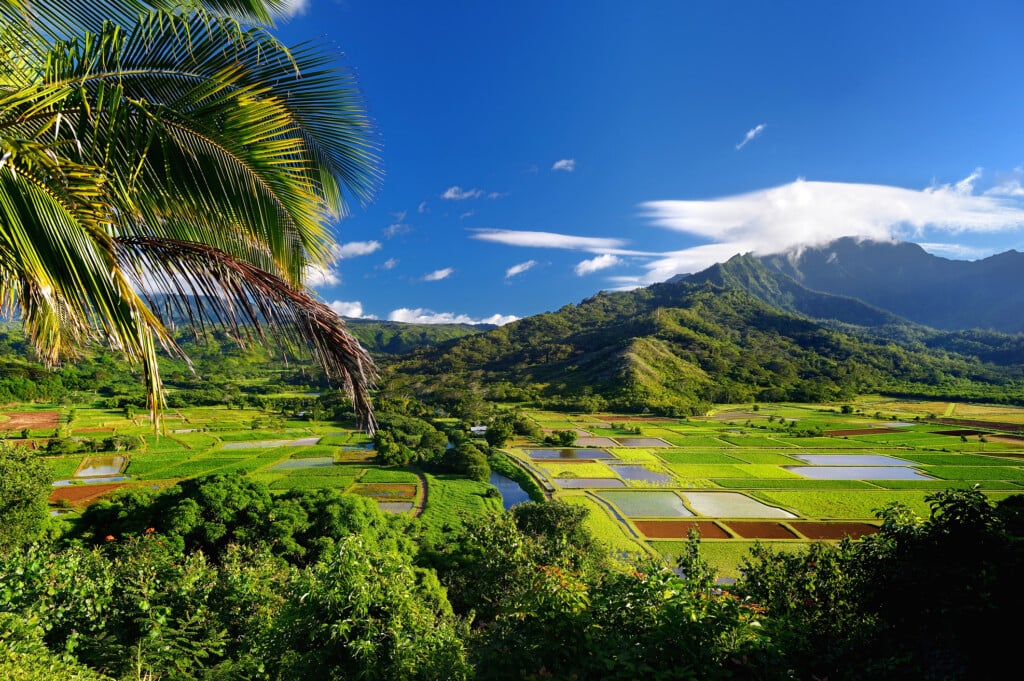 Once you cross the historic one-lane steel bridge over Hanalei River, you can feel it, the magic of this rural town on the north shore of Kaua'i. It's laid-back in the best way. No big resorts, no chain restaurants, no stoplights. It's just you, a two-lane road and endless ways to unwind and relax.
This is Hanalei, the peaceful town that has lured wanderlust travelers for decades. It's been the backdrop of movies like the 1958 musical "South Pacific" and the 2011 film "The Descendants." It has been immortalized in songs like "Hanalei Moon" by Maui songwriter Bob Nelson and "Hanalei" by the Red Hot Chili Peppers. And it's one of the most beloved towns in all of the Hawaiian Islands—for visitors and residents alike. It's one of the few places in Hawai'i where you feel like you've stepped back in time, to simpler days when time was measured by the placement of the sun in the sky.
In ancient Hawai'i, Hanalei was a well-populated, thriving village that boasted bountiful harvests of taro, bananas, breadfruit, sweet potato and coconuts. Hawaiian ali'i (royalty) including King Kamehameha IV and King Kalākaua loved this place, too. In the early 1900s, former sugarcane plantation workers grew rice on the coastal plain of Hanalei. (The Ho'opulapula Haraguchi rice mill in Hanalei is the only remaining rice mill in Hawai'i; it stopped production in 1960 and is now an agrarian museum.)
Today, taro fields are still abundant here—in fact, two-thirds of all the taro grown in the state is farmed in Hanalei—and the town boasts some of the best beaches, restaurants and cafés on the island. It's home to the pristine Limahuli Valley, one of the most biodiverse valleys in Hawai'i; you can visit the 17-acre Limahuli Garden and walk to the top of Whale Trail with stunning views of the ocean and the iconic Mount Makana (aka Bali Hai). Walk on the grounds of the historic Wai'oli Hui'ia Church, a Hanalei landmark that was originally built in 1834. Or nab a hard-to-get table at Bar Acuda, one of the best restaurants in Hawai'i with tapas-style dining inspired by European comfort food.
Hanalei's quaint vibe doesn't mean there's not much to do. You could spend your entire vacation here—and still want to come back.
Mākua Beach
About 6 miles from Hanalei Bay is one of the best snorkeling spots on Kaua'i. The reefs off Mākua Beach are teeming with marine life, from colorful reef fish like kala (unicorn fish) and weke (goatfish) to the endangered Hawaiian green sea turtle. (The beach is more commonly known as Tunnels because of its labyrinth of underwater lava tubes—and also for its hollow waves that form barrels resembling tunnels.) On calm days novice snorkelers can venture over underwater canyons near the inner reef, which is protected from the surf; more experienced divers can explore the much larger outer reef. Snorkeling here is best during summer months, when conditions are calmer. Check with lifeguards before getting into the water. Past the 8 Mile Marker on Kūhiō Highway.
Holey Grail Donuts
Hanalei is the original location of Holey Grail, which started serving hand-fried taro doughnuts from a small red burger trailer in 2018. Since then, it has expanded to locations on O'ahu and in Los Angeles—skateboard legend Tony Hawk is now an investor—and has garnered a loyal cult following with its plant-based doughnuts fried in coconut oil and flavored with locally grown ingredients like liliko'i (passion fruit), chocolate, vanilla, strawberry guavas and pitaya (dragon fruit). The ingredients for these doughnuts are nearly all locally sourced on Kaua'i, including the taro, which is from Keālia Farms. holeygraildonuts.com.
Hanalei Bay and Pier
You can't visit Hanalei without stopping at Hanalei Bay and its historic pier. The dreamy white-sand beach is nearly 2 miles long, with lush mountains and waterfalls as a backdrop. It's a great place to swim, surf, fish or just lounge. The concrete pier, which extends 340 feet into the bay, was originally built of wood in 1892. Walk down the pier and get an even better view of the bay—and you'll understand why it's considered one of the most beautiful beaches in all the Islands.
Tahiti Nui
Sure, you can get a mai tai anywhere in the Islands. But there's something about sipping one at Tahiti Nui—or "The Nui," as it's known to locals—that's extra special. Maybe it's the fun, Tiki bar atmosphere. Maybe it's the live Hawaiian music. Maybe it's the fact that you're on vacation in a bar that has thatched walls and serves one of the best mai tais—the recipe for which is a guarded secret—in Hawai'i. It first opened as a small diner in 1962, run by "Auntie" Louise Teupootehereii Hauata Marston, a descendant of Tahitian royalty. Today, this family-run restaurant is a favorite of locals and visitors, lured by coconut shrimp, 'ahi poke chips and kālua pig cooked in an imu (traditional Hawaiian earthen oven). 5-5134 Kūhiō Highway, (808) 826-6277, thenui.com.
'Ōkolehao Trail
Mauka (toward the mountain) from the famous Hanalei Bridge is the start of the 'Ōkolehao Trail, a fairly short, uphill trek to overlooks of Hanalei. It takes about 20 minutes to get to the first lookout, where many hikers turn around. A little farther, though, is a bench with a second overlook and a spectacular view of Hanalei Bay. The whole trail is about 5 miles round-trip and takes a couple of hours, depending on your pace. The first part of the trail through dense forest can be extremely slippery, so be careful and check the weather before you head out.
Hanalei Poke
Once a popular food truck—featured on Food Network's "Diners, Drive-Ins and Dives"—Hanalei Poke is now an equally popular brick-and-mortar in Hanalei known for its super-fresh fish and made-to-order poke bowls and salads. There's almost always a line, but the wait is worth it. The Hanalei Special is one of the shop's most popular, with cubes of raw fish topped with chile pepper-soy sauce, chile oil, mango, avocado, furikake and 'inamona (roasted kukui nut). The Keālia is a slightly spicier version with a spicy sesame sauce, mango, watermelon, avocado, mint, cilantro, 'inamona and macadamia nuts. Bowls here aren't cheap—they start at $19—so consider it a vacation splurge. 5-5190 Kūhiō Highway, (808) 320-8525, @hanaleipoke.
Chocolat Hanalei
It's easy to walk past this teeny-tiny shop on Kūhiō Highway—but don't. Chocolat Hanalei is a must for any chocolate lover. This three-generation family business is both farm and chocolatier. Owners Jack and Irmgard Mitchell started Chocolat Hanalei in 2015, planting 300 cacao trees from seeds on their property in Wainiha Valley. Its Powerhouse Bars are made entirely from the cacao the family grows on its farm. The other products—barks, truffles, dipped fruits—feature a blend of high-quality chocolates. The company doesn't ship its products, so this is the only place you can get them. 5-5190 Kūhiō Highway, chocolatehanalei.com.
This story was originally published in our 2023 Winter issue. Buy a copy here.