Win Jack Johnson's guitar, Kokua Festival stuff at charity auction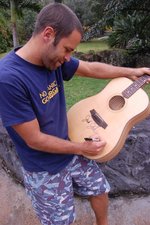 Jack Johnson's annual Kokua Festival benefit concerts are taking a break this year, but his non-profit, Kokua Hawaii Foundation, is holding its inaugural benefit auction, starting today.
Collectible items from the festival's former performers are being auctioned off for charity. Up for grabs? Johnson's autographed guitar, Willie Nelson's sneakers and tickets to attend Eddie Vedder's concert in Hawaii.
There's even a pair of tickets to see the Dave Matthews Band and a Koolau handcrafted ukulele autographed by Johnson.
Kokua Hawaii Foundation supports environmental education in Hawaii's schools and communities. So, of course, it's starting the auction on Earth Day.
Bidding continues through May 1. All proceeds support Kokua Hawaii Foundation's programs. Click here to see the entire auction list. Good luck.