Works by Hawaii film directors to be screened at First Friday Maoli Film Festival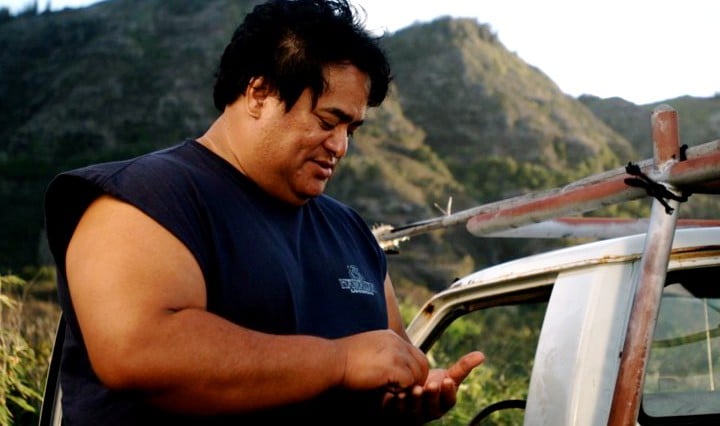 A one-night film festival, showcasing six short films by Hawaii directors, is slated for Fri., May 6 at Kumu Kahua Theatre in Honolulu's downtown area.
The First Friday Maoli Film Festival will include two official Sundance Film Festival selections.
In January, Ty Sanga's Stones, which is set in ancient Hawaii, became the first all-Hawaiian language film to screen at the Sundance festival. Chief, which tells the story of a Samoan chief and probes present-day identity issues, was an official selection at the 2008 Sundance festival.
The films will be shown in two screenings, with three films — Stones, Piko and Chief — at 6:30 p.m., and three — Papa Mau, Blue Tarp City and Lychee Thieves —at 8:30 p.m. Theatre doors will open at 6 p.m. Kumu Kahua Theatre is located at the corner of downtown Honolulu's Merchant and Bethel streets
Screenings of Papa Mau, Anthony Naalehu's documentary about Micronesian navigator Mau Pialug, sold out at last year's Hawaii International Film Festival. Pialug served as master navigator on the first voyage of the Polynesian double-hulled voyaging canoe Hokulea in 1976.
Lychee Thieves (pictured, above and below) explores the humorous, and sometimes contentious, interactions among the culturally and ethnically diverse people of Hawaii.
The Maoli Film Festival is a fundraiser for Kumu Kahua Theatre, which is dedicated to producing for the stage works by Hawaii writers and about Hawaii's culture. Tickets are $10 for each screening.
Theatre board member Mark Kalahele said in a statement issued by Kumu Kahua: "For May's First Friday, we wanted to do something to honor MAMo (Maoli Arts Month) and that would fit with their theme and our mission."
Maoli Arts Month is a community-based effort that pays tribute to the Native Hawaiian arts community with various events during May. (Maoli is the Hawaiian term for native or indigenous.) The sixth annual month-long celebration, now under way, is organized by the nonprofit PAI Foundation, which works to preserve and perpetuate Hawaiian cultural traditions.

First Friday is a monthly art gallery walk and block party of sorts held in the downtown Honolulu Chinatown Arts District. The main events are typically set between 5 p.m. and 9 p.m. in the area's theatres, art galleries, boutiques, cafes and restaurants.
For more information, visit websites, for Kumu Kahua Theatre, Maoli Arts Month, and First Friday events.