World's largest long-distance outrigger canoe race set for Saturday on Kona Coast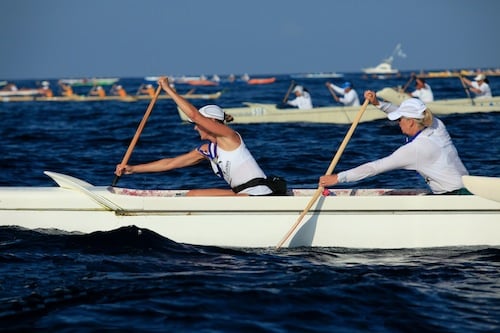 This holiday weekend, more than 2,000 outrigger canoe paddlers from around the world will assemble in the Big Island's Kona area to compete in the 2012 Queen Liliuokalani Long Distance Outrigger Canoe Races.
Crews from Australia, Canada, Hong Kong, Japan, New Zealand, Tahiti, United Kingdom and the United States will take part in the races, which will get under way on Saturday morning (Sept. 1) with the event's signature 18-mile race along the Kona Coast. The racing will wrap up on Mon., Sept 3.
Billed as the "world's largest long distance outrigger canoe race," the event was launched in 1972 to serve as tune-up race to prep paddlers for the grueling distance races from the island of Molokai to Oahu (more than 38 miles). The women's race is called Na Wahine O Ke Kai. The men's race, which serves as the world championship for outrigger canoe racing, is the Molokai Hoe.
Named in honor of the last reigning monarch of Hawaii, Queen Liliuokalani, and, initially, the first race fell on the Queen's birthday, Sept. 2.
Over the years, the race has grown from a one-day event to three days of racing, with the first day being the strenuous single-hull canoe races, which cover the miles between Kailua and Honaunau, followed by double hull and one-person canoe races on Sunday. On Monday, the "Alii Challenge," a northward paddle from Kailua-Kona to Kona Village.
Held each year on Labor Day Weekend, the event also features a Saturday evening torchlight paddlers parade, which will begin at Hale Halawai (a historic church in the Kona District), wind through Historic Kailua Village and end on Kailua Pier. The public is invited to line up along Alii Drive and cheer for the crews. For more information about Queen Liliuokalani Long Distance Outrigger Canoe Races, click here.