World's oldest known wild bird hatches chick in in Northwestern Hawaiian Islands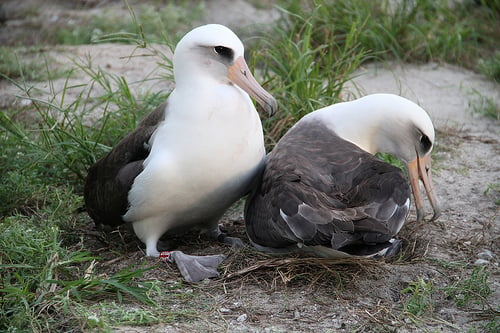 Earlier this month, a Laysan albatross known as "Wisdom" — believed to be at least 62 years old and the world's oldest known wild bird – hatched a chick in Northwestern Hawaiian Islands for the sixth consecutive year.
In a news release about the hatchling, Bruce Peterjohn, chief of the North American Bird Banding Program at the USGS Patuxent Wildlife Research Center in Maryland, said: "As Wisdom rewrites the record books, she provides new insights into the remarkable biology of seabirds."
On Feb. 3, the apparently healthy chick was reportedly observed on Midway Atoll National Wildlife Refuge by a wildlife biologist. Wisdom was first banded in 1956, when she was incubating an egg in the same area of the refuge. She was at least five years old at the time.
Wisdom (pictured above – left – with mate) has likely raised at least 30 to 35 chicks, according to wildlife biologists. Albatross lay only one egg a year, but it takes much of a year to incubate and raise the chick. After consecutive years in which they have successfully raised and fledged a chick, the parents sometimes take a year off from parenting. Wisdom reportedly nested in 2006 and then every year since 2008.
Sue Schulmeister, manager of the Midway refuge, which is included in the Papahanaumokuakea Marine National Monument, said: "Wisdom is one is one of those incredible seabirds that has provided the world valuable information about the longevity of these beautiful creatures and reinforces the importance of breeding adults in the population. This information helps us measure the health of our oceans that sustain albatross."
Wisdom has likely logged about 50,000 miles a year as an adult, which means that she has flown at least 2 million to 3 million miles since she was first banded. Put another way, that's four to six trips from the Earth to the Moon and back again, with plenty of miles to spare.
Nineteen of 21 species of albatross are threatened with extinction, according to the International Union for the Conservation of Nature.
Threats include longline fishing, in which birds are inadvertently hooked and drowned (though conservation groups working with fishermen are lowering the number of annual deaths from this cause); marine debris, which is ingested by adults and fed to chicks, often leading to starvation; invasive species such as rats and wild cats, which prey on eggs, chicks, and nesting adults; and on Midway, lead poisoning of chicks from lead-based paint used in previous decades.
The Midway refuge hosts the world's largest albatross colony, which is monitored by Fish and Wildlife Service staff and volunteers. For more information about the Midway refuge, click here. Elsewhere, Kaena Point Natural Area Reserve, managed by the State of Hawaii Department of Land and Natural Resources, hosts the only nesting Laysan albatross colony on Oahu and offers hikers the opportunity to observe the seabirds and their chicks from a distance.
For more information about Papahanaumokuakea monument —the largest single area dedicated to conservation in the United States — click here.