World's top windsurfers converging on Maui waves for JP Aloha Classic competition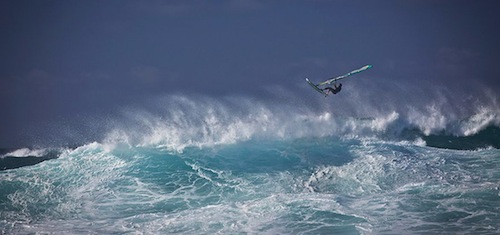 The wait for the winds officially begins tomorrow.
That's when the 14-day holding period begins for the American Windsurfing Tour's and Professional Windsurfers Association Tour's JP Aloha Classic in waters off Hookipa Beach Park on the island's north shore. The competition is one of the sport's most prestigious, annually attracting elite windsurfers from around the world to Hookipa.
The Hookipa area is considered one of the best windsurfing spots in the world, with large, well-shaped wave breaks and consistently strong winds when conditions for the sport are at their peak. (The word hookipa is Hawaiian for "hospitality.") Competition at the JP Aloha Classic is open to professional and amateur riders, and annually attracts a full roster of both. Competition is limited to 100 entrants.
For spectators angling to catch all of the action, Hookipa Beach Park offers multiple shoreline vantage points to check out JP Aloha Classic competitors on the waves. The main disadvantage? Parking is at a minimum and area vehicular traffic at a maximum whenever the surf at Hookipa is kicking.
The contest window for this year's JP Aloha Classic is Oct. 24 through Nov. 6. Competition is held on up to 11 days throughout this two-week holding period, with daily contests dependent on appropriate weather and wave conditions. If you're on Maui during the holding period and want to know if the competition is on before heading out to Hookipa, the American Windsurfing Tour will update schedules and forecasts throughout the competition on the JP Aloha Classic website.
If weather conditions meet with the approval of Aloha Classic organizers, daily competition begins as early as 10 a.m.
Can't be on Maui? You can also watch daily competition live online on the JP Aloha Classic website.