You can ice skate right across the beach on Oahu now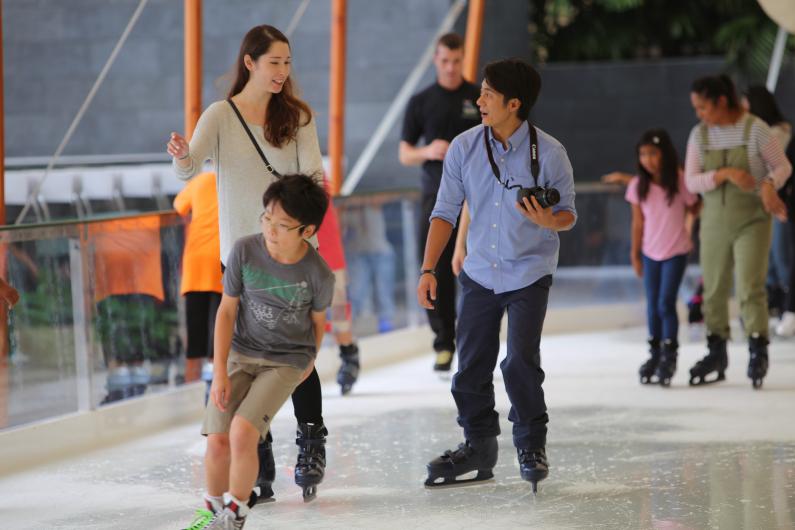 This is what "winter" looks like in Hawaii: an open-air ice skating rink just a five-minute walk from a warm sandy beach.
Ward Village opened the seasonal outdoor experience just after Thanksgiving and it runs through Christmas until January 10, 2016 with tickets that include skate rentals priced at $15 per person for 90 minutes of skating.
It's located at the Ward Village Information Center Courtyard (the former IBM Building) on the growing block of businesses where Ala Moana Boulevard, Queen Street and Auahi Street intersect, across from the new Nordstrom Rack and T.J. Maxx. Once you find it and get all laced up, around and around you'll go.
Besides ice skating, the Ward Village area also has a few holiday events and special activities like photos with Santa at his Beach House by the movie theater and a Honolulu City Lights Trolley Tour.
The coolest event though sounds like the "Frozen Sing-Along Edition" on December 18 where the rink will screen the movie while you and the kids sing and ice skate along to one of the most popular Disney movies in recent memory.
Oh, and they also have a little cafe set up by Kope Coffee that's serving up coffee, hot cocoa, and this intense s'more situation.
So, gather the kids, the beanies and mittens, and don't forget the swimsuits for the beach across the street right after.
The Ward Village Ice Rink is open daily and operates under the following hours:
Now through Dec. 11: Mon.-Sat., 10 a.m.-9 p.m.; Sun. 10 a.m. to 6 p.m.
Dec. 12-23 (Extended Mall Hours): Mon.-Sun., 9 a.m. to 10 p.m.
Dec. 24: 9 a.m. to 6 p.m.
Dec. 25: Closed
Dec. 26-30: Mon.-Sat., 10 a.m. to 9 p.m.; Sun. 10 a.m. to 6 p.m.
Dec. 31-Jan. 1: 10 a.m. to 6 p.m.