Your 2018 guide to Hawaii's marathons, triathlons, swim races and more
Hawaii's wide range of climates and stunning but rugged geology mean there's a challenge for everyone out there, whether you call yourself a runner, cyclist, swimmer, paddler or all of the above.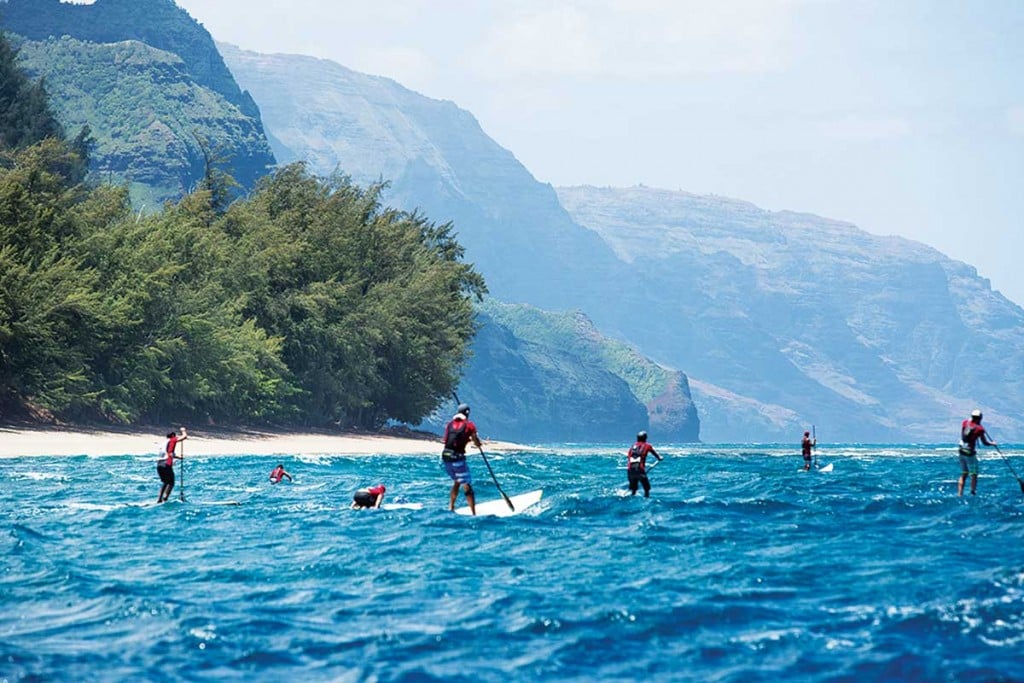 Hawaii is famously home to one of the world's toughest triathlons, but you don't have to be a professional to test your limits. We recommend the following events for the most adventurous visitor, or for those that want to experience a local event and cheer people on.
Maui Oceanfront Marathon
Jan 14
Run from Wailea to Lahaina for the full, or choose the half-marathon, 15K, 10K or 5K. Prepare to be distracted by the whales as you run along the coast in this small-town race with a community vibe. Recommended for beginner to advanced. $69–$130, Lahaina, Maui, mauioceanfrontmarathon.com.
Lavaman Triathlon
March 25
People come from all over for this 1,500-meter swim off the coast of Waikoloa, followed by a 25-mile ride on the storied Queen Kaahumanu Highway, and ending with a 6.2-mile run through lava fields along the ocean. It's sold out for 2018, but bookmark it for next year. Recommended for intermediate to advanced. $300, Waikoloa, Hawaii Island, lavamantriathlon.com.
Hawaii Pacific Health Women's 10K and 5K
May 6
Women have been turning out for this run for 40 years. Last year, more than 1,500 women tackled the 10K course, which takes you around Diamond Head and Kapiolani Park. Recommended for beginner to advanced. $20–$25, Waikiki, Oahu, hawaiipacifichealth.org/womens10k.
Haena to Hanalei Run
June 2
Support the Hanalei Canoe Club in this 8-mile run on one of the most beautiful courses in Hawaii. The point-to-point race starts on Kauai's north shore in Haena and finishes at Hanalei Pier—a great place to jump right in and cool off when you're done. For beginners, there's also a 5K run or walk, and a 1-mile youth run. Recommended for beginner to advanced. $10–$50, Hanalei, Kauai, hanaleicanoeclub.org.
North Shore Swim Series
Series starts June 9
There's no better way to experience the North Shore of Oahu in summer than to swim in this beloved community event. This five-swim race series starts in June and continues into August, building from 1 mile to 2.3 miles. Recommended for beginner to advanced. $45 per individual race for early entry, $70 day of race; or $175 for all races postmarked by May 31, Haleiwa, Oahu, northshoreswimseries.com.
Cycle to the Sun
June 30
Ride to the top of Haleakala, climbing 10,000 feet in just over 36 miles with grades of up to 18 percent. For the experienced rider, you'll cover most of Hawaii's ecosystems and finish at the summit of the dormant volcano. Recommended for advanced. $225, Paia, Maui, cycletothesun.com.
Hanalei Bay Swim Challenge
July 8
Swim the sandy-bottomed, crystal clear Hanalei Bay in one of the World Open Water Swim Race's Top 100 events; 1,000- and 3,000-meter options are available, and there's even a fin division. Recommended for beginner to advanced. $50 for adults; $15 for kids 12 years and under, Hanalei, Kauai, hanaleibayswimchallenge.com.
Tinman Triathlon
July 22
The people's race, an almost-Olympic distance triathlon that starts and ends in Waikiki, and has been a tradition for 37 years. The swim, bike and run takes you around Diamond Head and out to Hawaii Kai. Recommended for intermediate to advanced. Waikiki, Oahu, tinmanhawaii.com.
Napali Coast Paddleboard Race
Aug. 5 (tentative)
A stunning 17-mile course along Kauai's Napali Coastline, this challenging race is known as one of the best downwind paddling runs in the world, with deep water and great tradewinds. Contestants can enter with one- or six-man canoes or paddleboards. Recommended for advanced. Haena, Kauai, napalirace.com.
Volcano Rain Forest Runs
August 18
These loop races have something for everyone: a 5K, 10K and a half-marathon, taking you through a native rain forest on quiet country roads. Children are also encouraged to participate for free in the keiki 100- and 200-yard dashes. Recommended for beginner to advanced. $35–$95, Volcano, Hawaii Island, volcanorainforestruns.com.
Maui Channel Swim
Sept. 2
Logistics now, bragging rights forever. This six-person relay race requires that you find a boat and teammates because you'll be starting on the island of Lanai and finishing on Maui, approximately 9.9 miles away. Recommended for intermediate to advanced. $1,200, Kaanapali, Maui, mauichannelswim.com.
Kauai Marathon
Sept. 2
Full and half-marathon options are available at this run from sunny Poipu through the famous tree tunnel and along rolling hills to the coast. Hula dancing and taiko drummers will keep you hyped up as you race along the course. Recommended for beginner to advanced. $95–$225, Poipu, Kauai, thekauaimarathon.com.
The Hana Relay
Sept. 8

This race, which is limited to 100 teams each year, is a six-person relay with 18 separate 2- to 4-mile legs. The course crosses over 56 bridges, countless waterfalls and spectacular coastline views. It sells out fast, so prepare to register on the same day it opens. Recommended for intermediate to advanced. $450 per team, Hana, Maui, virr.com.
Kukio Blue Water Swim
Sept. 22
Kukio is a hidden gem known for its idyllic waters. This 1.2-mile swim starts at Kua Bay and finishes at Kukio; and sells out each year, so register when it opens in August. A tip: The long-sleeved Patagonia shirt is the perfect souvenir, too. Recommended for intermediate to advanced. $45 for adults, $25 for children 12 and under, Kona, Hawaii, kukioevents.com.
Ironman World Championships
Oct. 13

More than 2,000 of the world's fittest, most committed athletes come to Kona each year for the Ironman, now in its 40th year. The race consists of three legs: The swim leg (2.4 mi./3.86 km), a 112-mile (180.25 km) bike ride across the lava desert to Hawi and back, and a marathon (26 miles 385 yards, 42.195 km). Entry is by qualification only, Kona, Hawaii Island, ironman.com.
Race to the Base Triathlon
Oct. 21 (tentative)
This 1,500-meter swim, 27-mile bike and 10K run is the only event that lets you ride a bike over Oahu's H-3 freeway; the Koolau Mountain views are stunning. Recommended for intermediate to advanced. $75–$180, Kaneohe, Oahu, racetothebaseh3t.com.
Xterra World Championships
Oct. 28
The off-road world championship triathlon at Kapalua starts and ends on the Ritz-Carlton grounds, with entrants traveling 20 miles by mountain bike, 6.5 miles by trail run and 1 mile by rough water swim. Recommended for advanced. Entry by qualification only, Kapalua, Maui, xterraplanet.com/worlds.
Honolulu Marathon
Dec. 9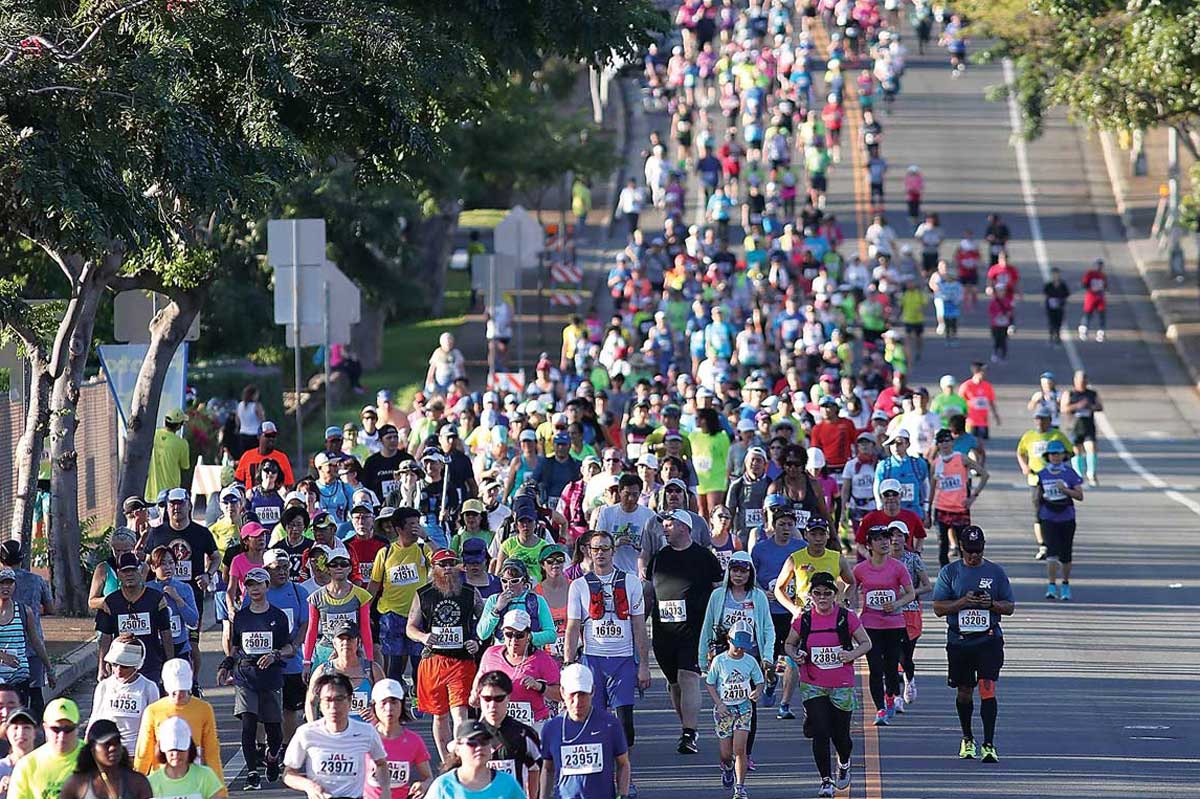 From first-timers to world-class professionals, this famous marathon, which goes through downtown Honolulu, Waikiki, and past Diamond Head to finish at Kapiolani Park, attracts approximately 25,000 runners from all over the world, making it the fourth largest marathon in the country. There's no time limit, so the finish line remains open until the last runner crosses. Though the majority of the course is flat, there are a couple of hills that challenge even the toughest runners. Recommended for beginner to advanced. Honolulu, Oahu, honolulumarathon.org.