Your guide to Duke's Ocean Fest in Waikiki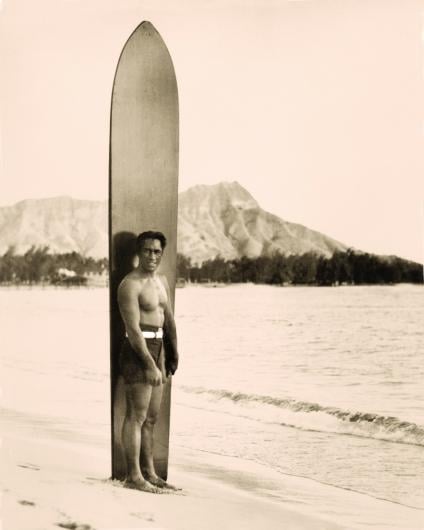 Duke's Ocean Fest hosts 20 events from Saturday, August 22 through Sunday, August 30 in honor of Duke Kahanamoku and includes many athletic events that Kahanamoku loved. This year is even more special because it coincides with The Duke's 125th birthday (Monday, Aug. 24). Kahanamoku is perhaps the most-beloved Waikiki beach boy of all time and these series of ocean-related events pay tribute to his legacy as an Olympic swimmer, father of modern surfing and ambassador of aloha.
It would be exhausting to try to attend all of the activities of Duke's Ocean Fest, so we compiled this guide to events you shouldn't miss. They're all open to the public, free and offer a super cool to way to experience Waikiki.
The Opening (Saturday, Aug. 22)
Waikiki SUP Paddle Fest
Date: Sat., Aug. 22-Sun. Aug. 23
Time: 8 a.m.-5 p.m.
Location: Kuhio Beach, Kalakaua Ave. and Uluniu Ave.
In the 1960s, John "Pops" Ah Choy invented Stand-Up Paddle (SUP) surfing to catch waves with a canoe paddle on a surfboard as a way to surf without further hurting his ailing knees. His son, Leroy, was a Waikiki beach boy and started mimicking his father's style of surfing with a paddle in order to get closer to visitors while they were surfing to take pictures. Today, Nelson Ahina, 21, perpetuates The Duke and Ah Choy's legacy as a beach boy at the Royal Hawaiian Hotel, teaching surf lessons and life guarding the pool. Ahina is one of the most-versatile competitive surfers in Hawaii, and rides a SUP every morning before work.
"Every morning before work, I take my paddleboard out at 6 a.m. in the morning, and I got an hour, so I take my fishing pole and I try to catch fish out there. And if there are waves, I end up catching a wave out there," says Ahina. "You can do a lot with a paddleboard in Waikiki besides surfing."
Since Waikiki is the birthplace of SUP then it's only fitting to watch some of the best surfers in Hawaii, like Ahina, compete in the SUP Paddle Fest
Opening Ceremony
Date: Sat., Aug. 22
Time: 5 p.m.
Location: Duke's Statue, Kalakaua Ave.
Join Ahina, his fellow Ocean Fest competitors, contest officials and spectators for the event's opening ceremony at the Duke Kahanamoku statue. It will be adorned with lei as the sun sets, which makes for excellent photos. This is a time of reflection and appreciation for The Duke.
"I actually really look up to Duke Kahanamoku like an idol; most surfers would idolize a younger surfer like Andy Irons and Kelly Slater that they look up to, but I really like the legends, like The Duke," says Ahina. "It's the craziest thing because people always joke around and call me the 'Mini-Duke,' so if I'm close to what he was I'm super proud of that, and it's an awesome feeling."
Happy 125th Birthday, Duke!
Duke Paoa Kahanamoku Sunrise Birthday Lei Draping
Date: Mon., Aug. 24
Time: 7 a.m.
Location: Duke's Statue, Kalakaua Ave.
If you can't make it to the opening ceremony on Saturday, then go to the lei-draping of the statue on Monday morning, which is The Duke's 125th birthday. Get there a little before 7 a.m. and bring your own lei if you'd like to take part in the festivities. Also, don't forget to tag #HAWAIILOVESDUKE in your photos to take part in our own @HawaiiMagazine Instagram contest. You'll be entered to win a $100 gift card to Duke's Waikiki restaurant if you do.
Duke's Waikiki Kane and Wahine Longboard Pro/Am
Date: Sun., Aug. 23-Tues., Aug. 25
Time: 8 a.m.-6 p.m.
Location: Kuhio Beach/Queens Surf, Kalakaua Ave. and Uluniu Ave.
Queens Surf is one of the most iconic, longboard surfing spots in the world and you'll be able to see the best pro surfers in Hawaii competing against each other in the Duke's Waikiki Kane & Wahine Longboard Pro/Am. From Sunday through Tuesday, there will be intense competition as surfers hang ten on the nose of their boards.
"The Duke's Ocean Fest is a big event for me because I didn't win too many events in the past two to three years so this is a chance to regain some confidence for me," says Ahina. "The Pro/Am division is really stepping up as far as competitor's aggressiveness and being smart in a heat … it's about knowing the wave."
Midweek Marvels
Waikiki Tandem Pro
Date: Thurs., Aug. 27
Time: 8 a.m.-6 p.m.
Location: Kuhio Beach/Queens Surf
Watch burly men carry, spin and flip agile women as they both ride waves in this event. Think circus acrobatics, just in the ocean and requiring a lot more balance.
Going to the Dogs SurFur ComPETition
Date: Wed., Aug. 26
Time: 9:30 a.m
Location: Kuhio Beach/Queens Surf
Furry friends and their owners will compete for top three best rides, tandem wave and best dressed—so you know there will be a bunch of adorable moments.
Papa Hee Nalu Alaia Surf Contest
Date: Thurs., Aug. 27
Time: 8 a.m.-6 p.m.
Location: Kuhio Beach/Queens Surf
Hee nalu is the Hawaiian word for "surfing" that literally means "wave sliding" in English. Watch modern-day surfers slide the traditional, Hawaiian finless surfboards on this Throw Back Thursday.
The Last Weekend of Summer
Hawaiian Airlines Legends Surf Classic
Date: Fri., Aug. 28-Sat., Aug. 29
Time: 7 a.m.-5 p.m.
Location: Kuhio Beach/Queens Surf
Companies like Hawaiian Airlines and Duke's Waikiki form a team with their employees with one surfing legend and a couple of professional watermen or waterwomen. Teams surf heats together so there is no jockeying for waves and everyone leaves the water with a giant grin. This is a really cool opportunity to meet and greet the legends of surfing from the '70s and '80s.
Matson Menehune Surf Fest, presented by Na Kama Kai
Date: Sunday, August 30
Time: 7 a.m.-5 p.m.
Location: Kuhio Beach/Queens Surf
The legacy of Duke Kahanamoku is perpetuated to the next generation of wave-riders through the Matson Menehune Surf Fest, presented by Na Kama Kai. Menehune are a legendary race of small people that were known to build fishponds, roads and temples at night in Hawaiian culture. In Hawaii and some parts of the U.S., kid surfers are known as menehune, and the last event of Duke's Ocean Fest will feature a kid's surf contest. Na[CH1] Kama Kai is a 501(c)3, non-profit organization that holds monthly free beach day and ocean clinic for 75-100 kids on Oahu. CEO of Na Kama Kai and former world longboard champion, Duane DeSoto, that this kid's contest is not only an opportunity to give menehune surfers experience in surf contest, but also to educate them on the legacy of Duke Kahanamoku.
"One of the most important things to realize about the Duke's Ocean Fest is the fact that Duke Kahanamoku left an incredible legacy behind," says DeSoto,. "Within that legacy, generation after generation have taken what he left behind and have become the watermen and women we know today. The menehune contest is the roots and beginning for our future watermen and women, and it's our opportunity to instill, not only contest values, but instill the knowledge of Duke, instill what Duke Kahanamoku really means more than just a statue on the beach. He was a person of aloha and that was very important to him to always spread that aloha, which we can all be reminded of. Instead of getting angry in the ocean, that creed of aloha should come to mind and remind us to be kind to visitors and our fellow surfers."