Your Guide to Hawaiʻi 2022 Halloween Events
From candy crawls to block parties, here are some of the best events happening in Hawaiʻi this Halloween.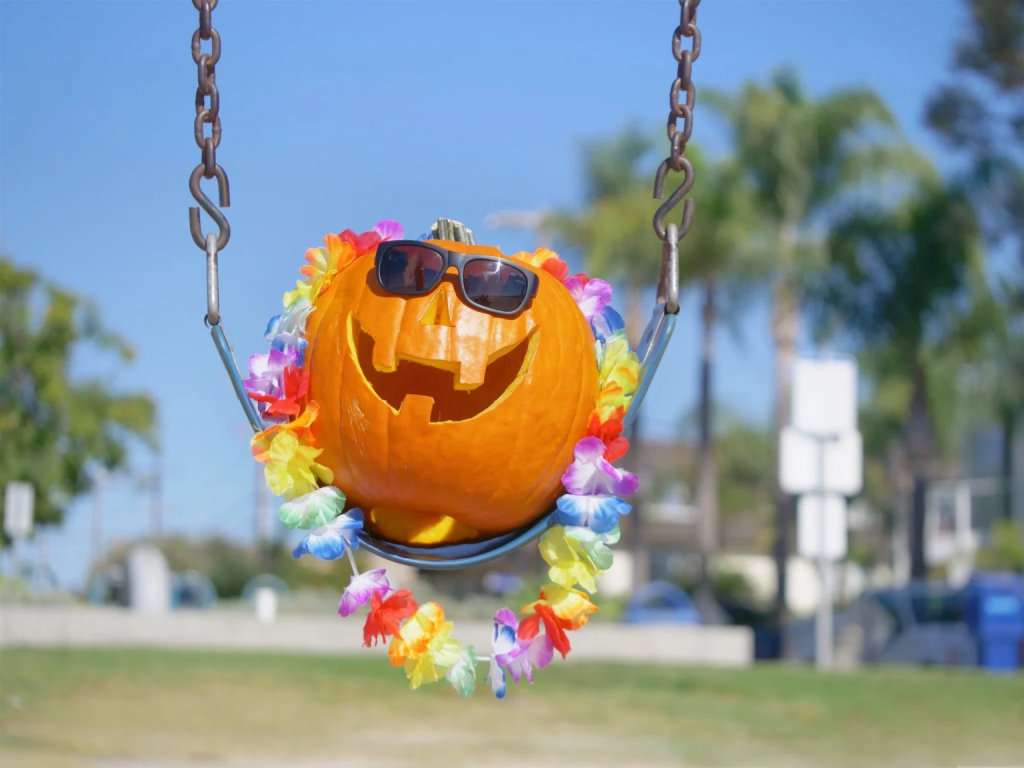 With Halloween just around the corner, those annual spooktacular events are back. From haunted houses to trick-or-treating festivities and free pumpkin patches, there's more than enough to do this Halloween in Hawaiʻi, and we've included a few events from around the Islands that will surely have you screaming in fright and delight.
OʻAHU
Hallowbaloo
Saturday, Oct. 29 from 5-11 p.m.
Back in action after three-year hiatus, Hallowbaloo is an art and music festival that completely transforms Downtown Honolulu into a spooktacular scene. There'll be DJs on set, live music, a drag show, a costume contest and more.
For more information, visit hallowbaloo.com. 
Mysteries of Hawaiʻi Ghost Tours
Oct. 24 to Oct. 31
Lopaka Kapanui is tuned in to the paranormal here in Hawaiʻi, and he's been doing his Mysteries of Hawaiʻi tours for years. And every Halloween, he takes things up a notch by offering tours almost every day of the week leading up to All Hallows' Eve. From learning about the night marchers of Waikīkī to the old ghost tales of Downtown Honolulu, Kapanui has enough chicken skin stories to last you all Halloween.
For more information, visit mysteries-of-hawaii.com. 
Waimānalo Country Farms
Oct.1 to Oct.31
Fun for the whole family, Waimānalo Country Farms' Fall Harvest Festival is a great way to enjoy the lead-up to Halloween without all of the spookiness. Instead, you can take your keiki (kids) and loved ones on tractor rides, visit a sunflower field, see the farms' friendly animals and have a pumpkin patch photo-op.
For more information, visit waimanalocountryfarms.com. 
Haunted Plantation
Oct. 14 to Oct. 31
Listed as one of the top ten scariest haunted houses in the U.S. on Eventbrite, the Haunted Plantation is not for the faint of heart. Terrifying monsters will get real, real close to you and your group as you navigate through an actual haunted village. With over 60 actors and actresses standing by to give you the fright of your life, this attraction will have you screaming—from fear and fun—from start to finish.
For more information, visit hawaiihauntedplantation.com. 
MAUI
Halloween Skele-bration at Maui Mall Village
Saturday, Oct. 29 from 4-6 p.m.
Maui Mall Village's annual Halloween Skele-bration is back. Throughout the evening, family and friends can come dressed in their most creative or scary Halloween costumes, dance to spooky songs and take selfies at the Halloween-themed photo station. The entire ʻohana can also enter a costume contest and trick-or-treat at the mall's participating merchants.
For more information, visit mauimallvillage.com/events/halloween-skele-bration.
Spooktacular Halloween at Lahaina Cannery
Saturday, Oct. 29 from 3-8 p.m.
Lahaina Cannery welcomes all to its annual Spooktacular Halloween event. At the free, family-friendly festivity, you'll find twisty balloon creations, keiki crafts and trick-or-treating. The wicked Cruella De Vil will also be around, so you'll want to be on the lookout to snap a photo. Keiki and family can also enter the event's annual costume contest. Prizes are awarded in age group divisions as well as the family category. And this contest has high stakes. A grand prize of two roundtrip tickets on Alaska Airlines will be awarded to the overall winner.
For more information, visit lahainacannerymall.com/spooktacular-family-fun.
Halloween Keiki Parade on Front Street
Monday, Oct. 31 from 4-7 p.m.
The 43rd Annual Halloween Keiki Parade on Front Street finally returns this year. It's the first time the parade has been held since 2019. Once again, keiki are invited to showcase their best costume, walk down Lahaina's famed Front Street and grab goodies along the way. The Maui County mayor will kick off the parade like in previous years, leading the Lahainaluna Marching Band and Maui Shriners Clubs.
However, representatives from the Lahaina Restoration Foundation noted that Front Street will only be closed for the keiki parade and will reopen immediately after. Lahaina town, famous for its rowdy Halloween festivities, will not be hosting any additional holiday events. Various bars and restaurants have their own plans, but there will not be an organized street party this year.
Halloween 2022 at Down the Hatch
Monday, Oct. 31, from 8-11:59 p.m.
Although Lahaina's notorious Halloween street party is on hold this year, you can certainly find the wild festivities right off Front Street at Down the Hatch. The bar is pulling out all the stops with a creepy carnival-themed party where you can enjoy a live band, "scareoke" and a deadly dancehall.
For more information, visit dthmaui.com/new-events/halloween-2022.
Halloween Pet Parade at South Maui Gardens
Monday, Oct. 31, from 5-7 p.m.
Kick off Halloween at South Maui Gardens in Kīhei for a pet parade and keiki costume contest. The plant nursery will have live music, trick-or-treating, local food trucks, games and prizes.
For more information, visit instagram.com/southmauigardens.
Holo Holo Halloween at Queen Kaʻahumanu Center
Monday, Oct. 31 from 5-7 p.m.
Holoholo to Queen Kaʻahumanu Center for spooky festivities this Halloween. Make sure to come dressed in your best costume to enter the mall's annual contest and enjoy an evening of trick-or-treating.
For more information, visit queenkaahumanucenter.com/event/holo-holo-halloween.
KAUAʻI
Wilcox Health Annual Halloween Keiki Parade
Monday, Oct. 31 at 12 p.m.
A yearly tradition for over 15 years, attending the Wilcox Health Annual Halloween Keiki Parade is an adorable way to spend your Halloween afternoon. The parade is followed by trick-or-treating, a fun-first costume contest and refreshments.
For more information, visit Wilcox Health's Facebook page.
The First Annual Halloween Ball at the Kauai Beach Resort
Saturday, Oct. 29 from 8 p.m. to 11:59 p.m.
Party it up at the Kauaʻi Beach Resort this Halloween at the property's first-ever Halloween Ball. Put on the in hotel's Jasmine Room, guests can dress up as much as they want for this epic one-night event.
For more information, visit thepartykauai.com. 
HAWAIʻI ISLAND
Candy Crawl 2022
Saturday, Oct. 29 from 4 to 6 p.m.
Keiki will love this one. Keauhou Shopping Center's version of trick-or-treating, kiddos can fill up their candy bags in a fast and fun environment as stores give out candy to costumed youngsters. The Flannel Fest—an all-ages live music event—will follow the Candy Crawl and is a great way for parents to get in on the fun too.
For more information, visit check out the event's Eventbrite page here. 
Holoholo-Ween Fall Fest & Pumpkin Patch
Saturday, Oct. 29 and Sunday, Oct. 30
A real Big Island fall festival, the Holoholo-Ween Fall Fest is a great place to check out a real pumpkin patch with the whole family at Hawai'i Green Earth's farm in Paʻauilo on the east side of Hawai'i Island. There's also a cane grass maze, selfie stations, farm animals and more.
For more information, visit holoholoween.com.