Your Guide to Kīhei, Maui
On Maui's lively South Shore, shop, eat and enjoy picturesque beaches.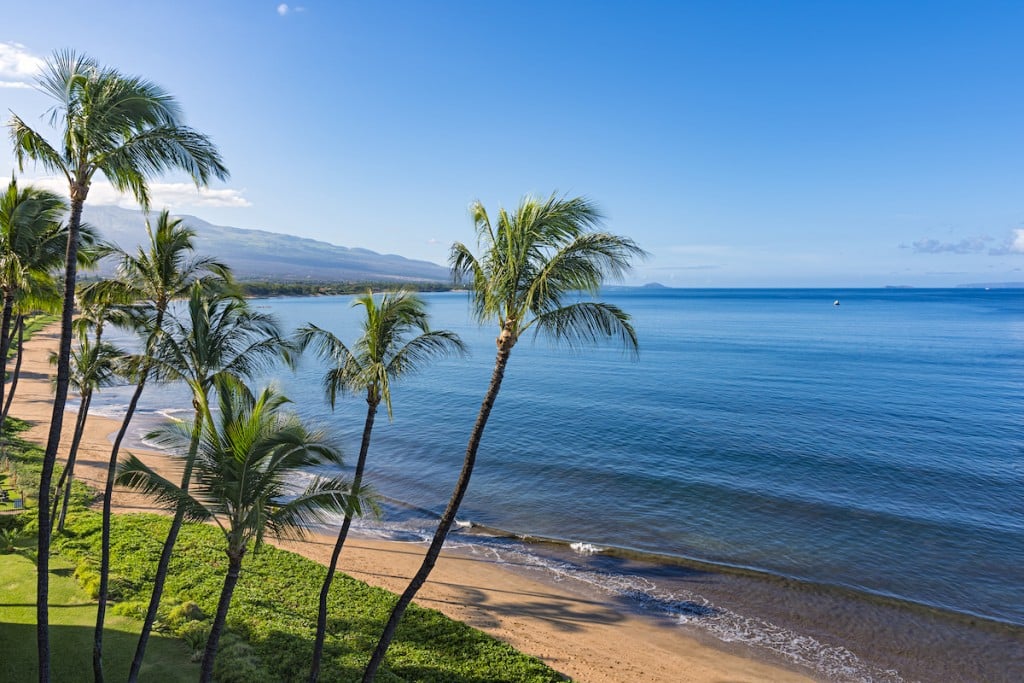 Alongside miles of sandy beaches, Kīhei is where the sea meets the town. Filled with vibrant shops, charming cafés, delicious restaurants and craft breweries, this sunny beachside town on Maui's southwest coast is popular among both visitors and residents. It's about 20 minutes from the airport, where you'll find condominiums, small hotels and cottages that will fit your accommodation needs. From almost anywhere in Kīhei, take in the clear views of Kahoʻolawe, Lānaʻi and Molokini, a crescent-shaped islet (with great snorkeling, FYI). There are plenty of sunny beaches to snorkel, surf, kayak and just relax on Maui's south shore, too. Use our guide to create a memorable day in Kīhei.
Kīhei Caffe
View this post on Instagram
Seize the day with a hearty breakfast at Kīhei Caffe. Enjoy their outdoor seating, located right across from Kalama Beach Park, and take in the exciting sights of the town. Kīhei Caffe is a charming Hawaiian-style diner with classics like Belgium waffles, eggs Benedict as well as a kālua pork loco moco and a Surfer Dude Sandwich (three eggs, two pieces of bacon, tomato, avocado and cheddar cheese on a brioche bun). Make sure to return for lunch to try their burgers, grilled fish sandwiches and salads. 1945 S. Kīhei Road, Kīhei, (808) 879-2230
Kīhei Kalama Village
View this post on Instagram
Walk off breakfast and make your way to the Kīhei Kalama Village. Wander through aisles of local vendors to find the perfect keepsake or gift to take home, like a seashell necklace, ocean-scented candle or tiki souvenir. Also at the shopping plaza, stop in boutiques like Mahina, a local favorite for stylish women's clothing. If you're hungry, Local Boys Shave Ice (above) is great for a cold, sweet treat, or get authentic barbecue from Fat Daddy's Smokehouse. (The cornbread is a must!) 1941 S Kīhei Road, Kīhei
Surf with Maui Waveriders
View this post on Instagram
Maui attracts the best surfers in the world because of the amazing waves. Don't worry, even complete beginners can experience the thrill of riding waves. Learn to surf with Maui Waveriders, a family-owned business located directly across from Kalama Beach. It offers surf and SUP (stand-up paddleboard) lessons starting at $95 per person, as well as board rentals starting at $25 for the day. 2021 S. Kīhei Road, Kīhei (808) 875-4761
Maui ʻOno Donuts
View this post on Instagram
While in Kīhei, don't miss out on Maui ʻOno Donuts in the Kukui Mall. These vegan cake dougnuts are served warm and fresh. The cake texture stays soft and moist, which is perfectly paired with crunchy toppings like Oreos and macadamia nuts. Can't decide on a doughnut? Order the baker's choice box for a surprise assortment of five doughnuts. Make sure to order ahead; these cakey treats sell out. 1819 S. Kīhei Road, Kīhei (808) 650-0609
Keawakapu Beach
From dawn until dusk, it's easy to spend the entire day at Keawakapu Beach. Clear waters make the beach ideal for snorkeling around the coral reef, exploring the bright underwater world. You'll likely spot a honu (Hawaiʻi green sea turtle) or Hawaiʻi's most famous fish, the humuhumunukunukuāpuaʻa. After a full day on the south shore of Maui, enjoy the breathtaking sunset here.