Your Guide to Kōloa Town on Kauaʻi
The past and present meet in Hawaiʻi's oldest plantation town.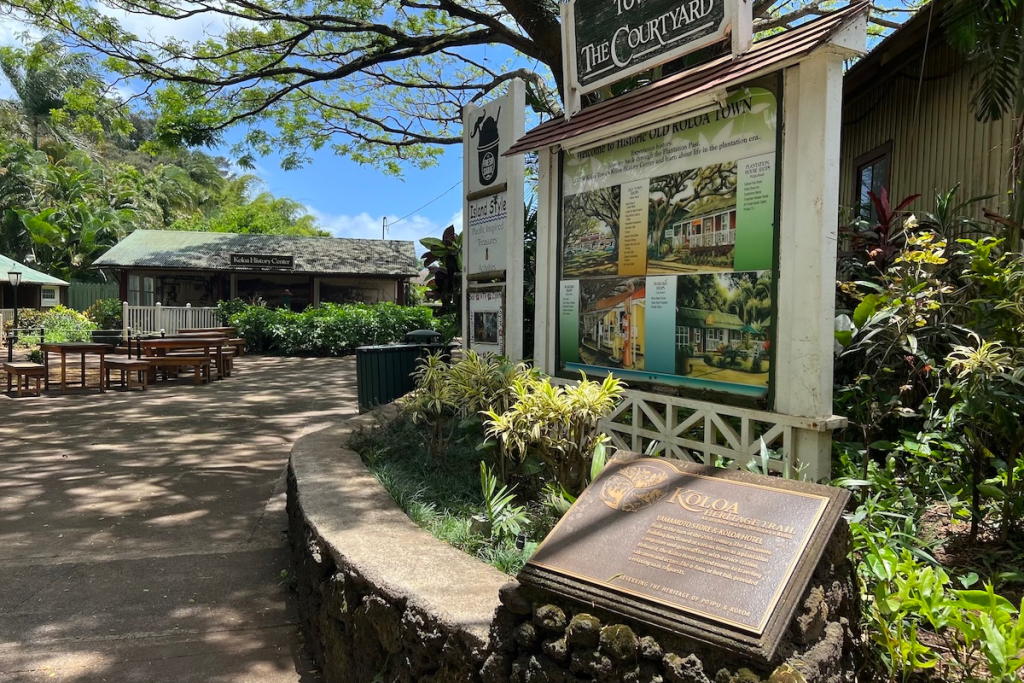 You won't notice the old sugar mill right away as you drive through and exit the eucalyptus tree-lined tunnel of Maluhia Road, a shady canopy that's like a portal to a historic sugar town. Instead, you'll see a gathering of food trucks on a grassy field catering to locals and visitors alike with plates of dim sum, tacos, ramen, burgers and smoked brisket. Sit down at the tables scattered throughout the area and listen to the wind sift through the monkeypod tree branches and you'll notice the ruins—a stone chimney—and bits of bricks here and there, that's the last bit of the Hawai'i's first-ever sugar mill. Off to the side is a somewhat enclosed and inverted monument that houses a bronze tableau of the diverse ethnic groups that worked at the Ladd & Co. sugar mill.
View this post on Instagram
Up until 1841, Kōloa was a sugar town, and like this mixture of cuisines, the town once bustled with plantation owners, workers and merchants from Britain, Japan, China, Puerto Rico and the Philippines. Sugar was their livelihood and the sweet boom lasted for decades until it became more profitable for plantation owners to sell their agricultural land for development. Miraculously, some of the distant past survives—across the way you'll see the old quaint town itself, plantation-era buildings that have been there since the early 1800s that once housed pool halls, union halls, bathhouses, barbers and butchers. The carpentry of yore is now lined with the ephemeral advertising signs of today creating unique juxtapositions. Ironically, these structures built in the western false front architectural style were never meant to last. These square-topped buildings, with parapets hiding their humbler slanted roofs, were built with cheaper materials, as business pioneers were reluctant to invest much in a town in its infancy. All of the expenses went to the front façade to advertise their businesses, meanwhile, the rear and sides of the buildings were done less ornately.
We highly recommend visiting Old Kōloa Town, a 15-minute drive from Līhuʻe Airport, and browsing the old buildings—with new tenants—at your leisure.
Kōloa Pizza Kitchen & Bar
View this post on Instagram
The Asahi Soda Building was once the site of taro processing site. It then became a liquor store until prohibition went into effect. The owners then pivoted to a soda and ice shop. Today, it's the Kōloa Pizza Kitchen & Bar, a breezy, open-air restaurant that serves some of the best pizza on the island. Open 9 a.m. to 11 p.m. Thursday through Monday, 5408 Kōloa Road, (808) 378-2239, koloapizzakitchen.com
Brianne & Co
.
Also in the same building is Brianne & Co. Local shop owner/metal worker/jewelry maker Brianne Light takes inspiration from the ocean, using sea glass and shells along with other locally sourced materials to create a wide variety of handcrafted jewelry. Open 11 a.m. to 5 p.m. Monday through Saturday, 5426 Kōloa Road,, (808) 647-4408, brianneandco.com
Kenji Burger
View this post on Instagram
The Kawamoto Building was once Kōloa's only clinic for plantation workers, and who knows what the clinic's Dr. Yoshizawa would have made of the decadent burger joint that inhabits the dispensary today. Kenji Burger serves 100% grass-fed Kaua'i beef and lathers on several toppings. Lay in the bacon, and fried egg, and make it a double if you want. There is no doctor in this house. (Kenji Burger has a second location in Kapaʻa.) Open 11 a.m. to 9 p.m. Wednesday through Monday, 5404 Kōloa Road, (808) 431-4770, kenjiburger.com
The Fresh Shave
View this post on Instagram
The Koloa Hotel was once one of Kaua'i's first hotels, an inexpensive space for traveling salespeople from O'ahu. Today it houses The Fresh Shave. No, it's not a barbershop, although the handlebar mustache logo may suggest otherwise. You won't miss the large mound of finely shaved ice saturated with vibrant syrups capping the branded paper containers. Shave ice is one of Hawai'i's most iconic treats. Here, it's done with care, swapping out high fructose corn syrups for all-natural, seasonal and organic ingredients. Open noon to 5 p.m. Wednesday through Saturday, 5356 Kōloa Road, (808) 631-2222, thefreshshave.com
The Fish Eye Kauaʻi Art Gallery
The Kahalewai Building, once a military bakery during World War II, now showcases fine art by local artists and photographers. The Fish Eye Kaua'i Art Gallery offers underwater photography and awe-inspiring natural landscapes. If a sea turtle or monk seal makes its way onshore for a nap, lifeguards will create a perimeter to keep beachgoers at bay. Scuba Tom, on the other hand, captures these majestic creatures up close and in their habitat. This may be the closest you can see them. Open 10 a.m. to 5 p.m. daily, 5408 Kōloa Road, (808) 631-9645, fisheyekauai.com
Lēʻahi Health, Righteous Roots, South Shore Bikinis
View this post on Instagram
The Okumura Building, a narrow, two-story plantation building, was once the home of Matsuichi Okumura and his family. They ran a general store downstairs and took care of the pineapple workers nearby, often delivering goods to their homes and extending them credit when they struggled. The space is now split into three shops. Lēʻahi Health is a vegan organic health food take-out counter. Next door is Righteous Roots, a smoke shop specializing in creative tobacco glassware. And, upstairs in the old Okumura living space is South Shore Bikinis, the perfect stop on the way to Poʻipū Beach. 3450 Poʻipū Road
And, there's so much more. Kōloa is a town that's been lovingly preserved. It's a slice of history. There's even an annual summer celebration called Kōloa Plantation Days, a 10-day series of cultural events, activities and a parade. Swing by!