Your Guide to Outdoor Yoga in Hawaiʻi  
Practice sun salutations under balmy skies, the crane pose on water and the downward dog with a goat by your side.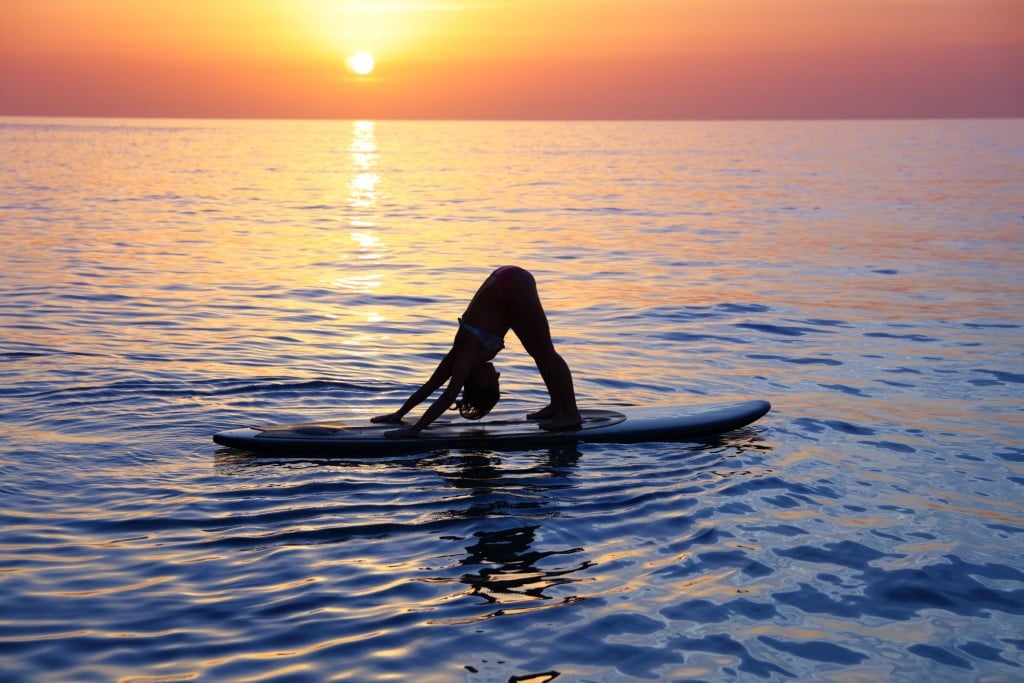 Hawaiʻi is a dream destination for yogis of all levels, with some of the most serene locations to meditate, breathe deeply and say om. From the sand to the water, these outdoor yoga experiences will leave you feeling tranquil long after class.   
Check studio websites for class schedules, reservations and Covid-19 guidelines.   
Oʻahu 
Haleʻiwa Float Yoga    
Test your balance, engage your core and challenge your focus on a stand-up paddleboard with Haleʻiwa Float Yoga. If you fall, it's a soft landing into the water! The class begins slowly to allow participants to acclimate to the floating surface. It then moves into a dynamic flow, with pose variations for all skill levels. The class finishes with restorative postures that lead to a sweet and well-deserved savasana (corpse pose).    
Yoga Floats    
View this post on Instagram
Once the sun sets and the hustle of Honolulu calms, Yoga Float's' Light Up the Night class begins. It's a slow yoga flow for participants, who can take in the beauty of the iridescent ocean and bright city skyline. The one-of-a-kind class comes complete with glowing stand-up paddleboards.  
Yoga Under the Palms    
In the heart of Kailua Town, Yoga Under the Palms offers classes for all skill levels on a tranquil rooftop lānai. After class, be sure to check out Plant Based Paradise, the yoga studio's vegan café, to grab a refreshing smoothie or a hearty salad or sandwich.    
Maui 
Maui Goat Yoga 
View this post on Instagram
In Kula, you can marvel at the panoramic views of the island while in tree pose or get distracted by adorable miniature goats. Or both. Maui Goat Yoga helps guests disconnect from their busy lives by mixing yoga with playful goats and breathtaking scenery. During the 45-minute classes, the goats roam free, looking for treats or warm bodies to snuggle next to. And each class is followed by a 30-minute goat happy hour. Curious? Check it out for yourself. 
Maui SUP Yoga  
Connect mind, body and soul with nature while floating in Maui's pristine waters. On the island's west side, Maui SUP Yoga challenges physical and mental strength: Here, the natural rhythm of the waves guides your breath and tests your balance.    
Maui Yoga Shala   
Located in Pāʻia, Maui Yoga Shala hosts yoga classes as well as lively dance classes including samba and hip-hop. All classes are outdoors, either on the studio's enchanting garden lānai or at the beach. Early birds can begin the day with sunrise yoga on the beach; there's also a sunset session for those who miss the morning class. And don't forget the charming outdoor café and fruit stand at the Pāʻia studio.    
Hawaiʻi Island 
Hawaiʻi Beach Yoga  
View this post on Instagram
Listen to the crashing waves, breathe in the salty ocean air and feel energized by the sun at Hawaiʻi Beach Yoga in Kailua-Kona. The classes are entirely donation-based: Instructors here believe that quality yoga classes should be accessible to all. Discover the benefits of yoga in a picturesque setting surrounded by a delightful community and led by an uplifting teacher.    
Balancing Monkey Yoga  
Over in Hilo, get into a yoga flow or hold a Pilates pose at Balancing Monkey Yoga. Classes are held in a beautiful open-air space at the Hilo Beach House Inn. Workshops are also conducted, along with weekly Zoom classes.   
Kauaʻi
Kauaʻi SUP Yoga  
View this post on Instagram
Experienced yoga instructor Mary Susan has been practicing yoga for more than 30 years. She leads Kauaʻi SUP Yoga on the Wailua River. All levels are welcomed and encouraged. Her classes are focused on body alignment and she blends Iyengar and Ashtanga styles for a slow and introspective flow.    
Kauaʻi Yoga on the Beach    
At Kauaʻi Yoga on the Beach, classes underscore the healing and revitalizing aspects of nature and yoga, which can only be enjoyed outside. Daily classes are offered at Kauaʻi Shores Hotel, and at the Kauaʻi Beach Resort on Tuesdays, Thursdays, Saturdays and Sundays.