Your guide to Pearl Harbor Commemoration events
This year's focus and theme fosters reflection, remembrance and understanding through a series of more than 50 events.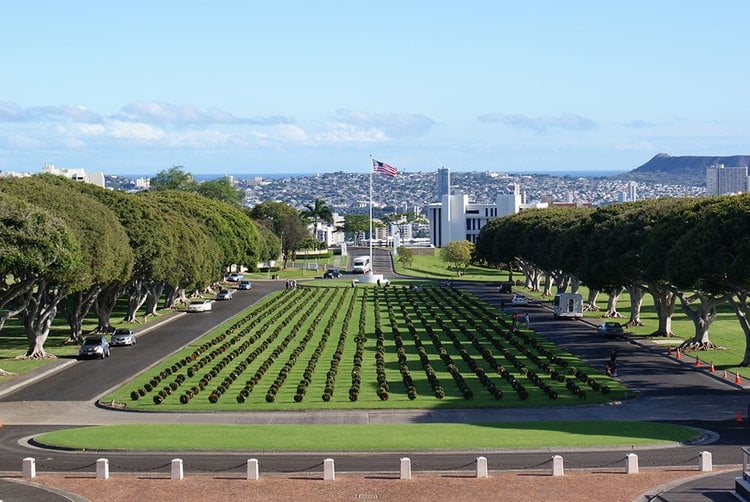 This December 7, 2016 marks the 75th anniversary of the attacks on Pearl Harbor. For the historic event, about two weeks of commemorations will take place here on Oahu to honor the last living survivors from that fateful morning and those who lost their lives.
"A key focus of the commemoration of the 75th anniversary of the attack on Pearl Harbor will be a brighter future in our relationship with Japan and the celebration of 71 years of peace between us," the Pearl Harbor 75th Commemoration committee's website writes.
This year's focus and theme fosters reflection, remembrance and understanding through a series of more than 50 events happening through Sunday, December 11 including film screenings (some at the beach), music concerts and memorial processions, many of which are free and open to the public.
Here are a number of highlights to start planning on:
Movies on Waikiki Beach
All events begin at 5:30 p.m. with live music and food and beverage concessions. Screenings starts at 7:30 p.m. Free and open to the public. Each screening is themed around various branches of the military.
"12 O' Clock High" Friday, 12/2 • The 1949 Academy Award-winning American war film starring Gregory Peck, depicting aircrews in the U.S. Army's Eighth Air Force who flew daylight bombing missions against Nazi Germany and occupied France during the early days of American involvement in World War II.
"Run Silent, Run Deep" Sunday, 12/4 • This 1958 American black-and-white film starring Clark Gable and Burt Lancaster is based around a World War II submarine warfare story in the Pacific Ocean, and an obsession with a Japanese destroyer that has sunk three U.S. submarines in the Bungo Straits. This movie deals with themes of vengeance, endurance, courage, loyalty, and honor and how these can be tested during wartime. The film also features Jack Warden as well as the film debut of Don Rickles.
"From Here to Eternity" and Gary Sinise & The Lt. Dan Band Concert Monday, 12/5 • This 1953 drama, with eight Academy Awards deals with the tribulations of three U.S. Army soldiers played by Burt Lancaster, Montgomery Clift and Frank Sinatra who were stationed in Hawaii in the months leading up to the attack on Pearl Harbor. Deborah Kerr and Donna Reed portray the women in their lives. This film was selected in 2002 for preservation in the National Film Registry by the Library of Congress as being "culturally, historically, or aesthetically significant."
"Sands of Iwo Jima" Thursday,12/8 • Starring John Wayne, this Academy Award-nominated 1949 war film portrays Wayne as the tough-as-nails career U.S. Marine Sergeant John Stryker, known for his rigorous combat troop training. The film follows a group of marines from training to the brutal Battle of Iwo Jima during World War II, but also depicts Sergeant Stryker's softer side during a brief leave in Honolulu.
"The Finest Hours" Friday, 12/9 • Starring Chris Pine, Casey Affleck, Ben Foster and Eric Bana. On Feb. 18, 1952, a massive storm splits the SS Pendleton in two, trapping more than 30 sailors inside the tanker's sinking stern. Engineer Ray Sybert bravely takes charge to organize a strategy for his fellow survivors.
Music
From Friday, 12/2 through Tuesday, 12/6, visit the Pearl Harbor Visitor Center Lanai for free band performances by the 25th Infantry, Military Band, Royal Hawaiian Band, U.S. Pacific Fleet and U.S. Marine Corps Forces Pacific from 8:45 to 10 a.m.
"Hawaii Remembers" Block Party Sunday, 12/4 • At the Home of the Brave Museum & Brewseum, gather at this free party with live music from Kapena, food and drink for sale and an open house of the museum (public tours beginning at 4 p.m.), brewseum and Kakaako Foundry Museum. 909 Waimanu Street, $6 parking available at Neal Blaisdell Center.
Garth Brooks with Trisha Yearwood Thursday, 12/8 & Saturday, 12/10 • A concert from a country icon and his first Hawaii performance. Brooks will be performing unplugged with special guest, Yearwood, in a very intimate, acoustic performance, similar to his Vegas shows at the Wynn. Thursday, 8 p.m., Saturday (two shows), 6:30 p.m., 10 p.m., $69, Neal Blaisdell Arena, 777 Ward Ave., (866) 448-7849, ticketmaster.com/garthbrooks.
Memorials
Fighting Two Wars: Japanese American Veterans Tribute Monday, 12/5 • Honor the World War II veterans of the 100th Infantry Battalion, 442nd Regimental Combat Team, Military Intelligence Service and 1399th Engineer Construction Battalion—units made up primarily of Americans of Japanese ancestry. The attack on Pearl Harbor incited racial hysteria against Japanese Americans and the forcible evacuation and imprisonment of thousands, yet these veterans answered the call of duty with service and sacrifice. Free and discounted tickets available to Pearl Harbor Survivors, WWII veterans and their families, Hawaii Convention Center, 1801 Kalakaua Ave., Honolulu, (877) 589-5592.
On the 75th anniversary, Wednesday, 12/7, all day reflection ceremonies take place from 7:45 a.m. through 7:30 p.m. starting with the National Pearl Harbor Remembrance Day Commemoration at Kilo Pier (a live-streaming event). The Annual Wreath Presentation from the Marine Corps Base Hawaii will begin the processions (8 p.m.) followed by a Freedom Bell Ringing at the USS Bowfin Submarine Museum & Park, an hour-long 75th Anniversary Pearl Harbor Mass Band Performance at the Battleship Missouri Memorial at noon, and a USS Oklahoma Memorial Ceremony at the site on Ford Island. All events mentioned here are free and open to the public.
Pearl Harbor Memorial Parade and Public Ceremony Wednesday, 12/7 • Support, salute and honor the remaining Pearl Harbor Survivors as the Grand Marshals of this parade, which also recognizes all veterans, active duty military members and their families. Beginning at Ft. DeRussy through Kapiolani Park along Kalakaua Avenue through Waikiki. The History Chanell is this year's presenting sponsor. Free, open to the public, 4:30–7:30 p.m., Kalakaua Ave., Waikiki, pearlharborparade.org.
A Salute to Doris "Dorie" Miller: The Heroic Reflection of Bravery & Service Thursday, 12/8 • An event to honor the first African-American to be awarded the Navy Cross, at the time the third highest medal awarded by the U.S. Navy, at the Hawaii memorial for this WWII hero. Free, open to the public, 1:30–2:30 p.m., Doris Miller Housing, 3007 Curtis Dr., Honolulu.
---
Check out the full schedule of events here.