Your Guide to the 2019 Sony Open in Hawaii
Everything you need to know before heading to this year's Sony Open at the Waialae Country Club on Oahu.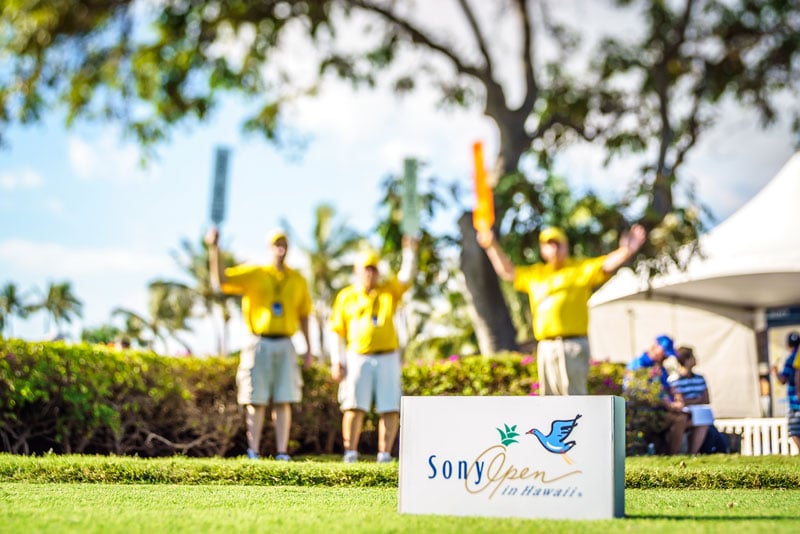 Every January, the world's greatest golf professionals come to the Waialae Country Club on Oahu to play in the Sony Open in Hawaii, the state's largest charity golf event. Since 1999, the tournament has raised over $18 million for more than 350 local nonprofits. Through tournament host Friends of Hawaii Charities and the longtime support of the Harry and Jeanette Weinberg Foundation, the Sony Open now donates over $1 million to more than 150 organizations every year.
[video:https://www.instagram.com/p/Bd21x3MAJX4/?utm_source=ig_web_copy_link align:center]
This year the Sony Open will take place from Monday, Jan. 7 through Sunday, Jan. 13. We've compiled a useful guide so you can navigate the event like a pro.
Ticket Prices + Schedule
Monday, Jan. 7 and Tuesday, Jan. 8 are free admission days.
Monday, Jan. 7: Witness the tournament blessing at the 10th tee at 9:30 a.m. before enjoying the Sony Dream Cup Pro-Am and Monday Pro-Am.
Tuesday, Jan. 8: Catch professional practice rounds all day and the Hawaii Tourism Authority Pro-Junior Challenge (Holes 10, 11, 18) at 3:30 p.m.
The Official Pro-Am will take place on Wednesday, Jan. 9. The professional tournament rounds of the Sony Open will be from Thursday, Jan. 10 through Sunday, Jan. 13.
Good Any Day Ticket ($20): Valid one day from Jan. 9 to 13. You can purchase these tickets ahead of time online here or at any First Hawaiian Bank branch.
Season Badge ($60): Valid Jan. 9 to 13. Click here to purchase a badge.
You can also purchase daily tickets (Jan. 9 to 13) at Waialae Country Club for $25 each.
Children 12 and under are free when accompanied by an adult ticket holder.
Be a VIP
Sweet 16 Chalet VIP Hospitality Pass ($185 on Jan. 10 and 11, $200 on Jan. 12 and 13): Valid one day between Jan. 10 and 13. Located at Waialae's signature 16th hole, the Sweet 16 Chalet presents a unique dining experience by official caterer Hy's Steak House. The VIP pass includes tournament admission and one-day access to the chalet with food, two glasses of wine or beer, and complimentary soft drinks. Click here to purchase a pass.
For the Military
All military members and their dependents receive complimentary admission by presenting a valid military ID. Veterans can also order free admission tickets through the Veterans Tickets Foundation. Click here to request tickets for veterans.
The Birdies for the Brave Patriots' Outpost presented by Pasha Hawaii is a hospitality tent located on the 18th fairway. Active duty and retired military members and their families can partake in complimentary food and beverages.
Click here to learn more about the various military outreach activities at the Sony Open.
Televised Broadcast
If you can't make it to Waialae, the Sony Open will be televised on the Golf Channel, Jan. 10 to 12 from 2 to 5:30 p.m. HST, and Jan. 13 from 1 to 5 p.m. HST.
Players
The purse for the 2019 Sony Open is $6.4 million. Last year's champion, Patton Kizzire, earned $1,116,000; this year's winner will receive $1,152,000.
Players have until noon HST Friday, Jan. 4 to officially commit to playing in the tournament. The PGA Tour will publish the list online soon thereafter.
Keep your eyes peeled for Maryknoll sophomore Peter Jung, who will compete against PGA professionals as the 2019 Governor's Cup Amateur Team Sony Open qualifier.
Tips for Attending
Pack light, bringing only essential items. Large bags and backpacks will not be allowed.
Protect yourself from the sun. It can get hot and humid on the course, so consider applying sunscreen and wearing protective clothing and a hat. You can also bring an umbrella (without the sleeve) for additional shade.
Collapsible chairs (without chair bags) and seat cushions that do not have pockets or require a carrying case are allowed.
No outside food and beverages are allowed. Visit the Spectator Village presented by Mark & Lona near the 11th hole to check out various food vendors.
Selfie sticks, banners and posters are prohibited.
Bring a Sharpie and golf ball for autographs! You just might run into your favorite pro.
Technology Use
Keep your mobile device on silent at all times.
Don't place or answer calls outside of the designated Cell Phone Zones.
Data use (e.g. texting, email) is permitted anywhere on the course except when QUIET PLEASE paddles are raised.
Cameras are not allowed during tournament week (Jan. 10 to 13). Taking audio or video with your mobile device during this time is also prohibited.
Livestreaming is absolutely prohibited.
Click here for a full list of Sony Open admission guidelines.
Transportation
There is no public parking at Waialae Country Club. But there are many transportation options available to ensure that you make it to the greens in time.
Free spectator parking is available at Hunakai Park (Monday through Sunday) on Hunakai Street and at Kahala Community Park (Thursday through Sunday) at Pueo Street near Moa Street. A complimentary shuttle will run from designated areas to the intersection of Kealaolu and Kahala avenues, minutes away from the tournament main gate.
Waikiki Trolley shuttle service provided by E Noa Tours ($3/one-way trip): The trolley will offer round-trip services from Waikiki to Waialae Country Club. Shuttle locations include Hilton Hawaiian Village, Sheraton Waikiki and Waikiki Beach.
Monday, Jan. 7 to Thursday, Jan. 10: 7 a.m. to 7 p.m.
Friday, Jan. 11: 7 a.m. to 7:30 p.m.
Saturday, Jan. 12 and Sunday, Jan. 13: 8:30 a.m. to 7:30 p.m.
If you're biking to Waialae Country Club, bike valet provided by the Hawaii Bicycling League will be available at Waialae Beach Park Access Road from Jan. 10 to 13.
Click here for more information on parking and shuttle services at the Sony Open.
Click here for more information on the 2019 Sony Open.