Your Kauai Summer Guide: How to Eat, Shop and Explore Kauai Like a Local
Here are the spectacular sights, unique shops and delicious eats of the Garden Isle through the proud eyes of local residents who call Kauai home.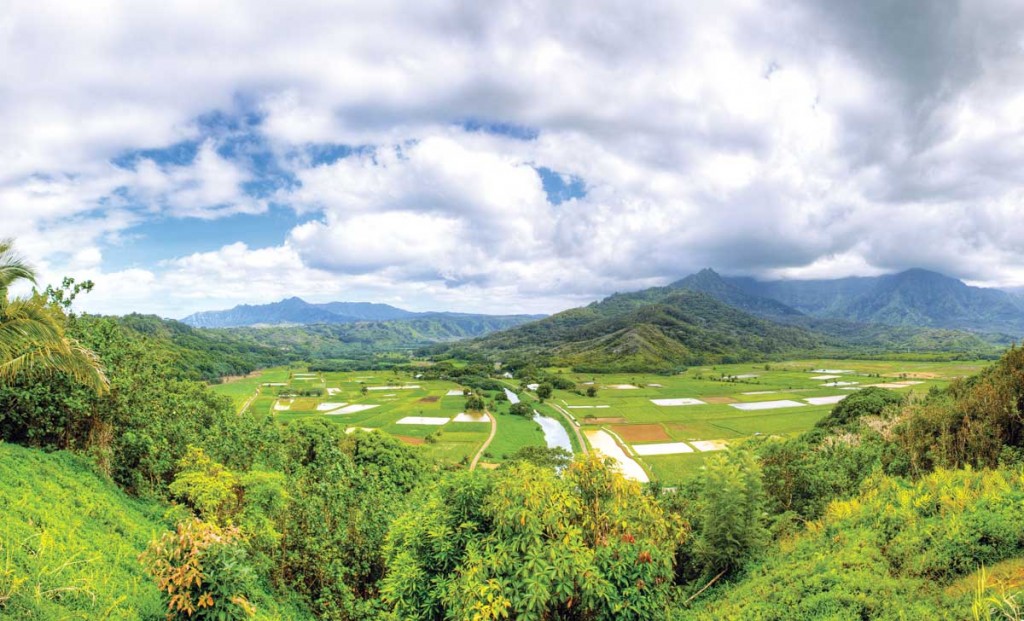 Just in time for summer, we bring you our favorite places to see, eat and shop, which were curated with the help of our Kauai friends and readers.
We urge you to explore the island's hidden gems while you're there for your next family get-together or weekend staycation, and experience the unique qualities of the community and the lush dreamscape of the beautiful island of Kauai.
Explore Kauai like you've never done before
Tour the Napali Coast 
If hiking 11 miles from Kee Beach to Kalalau Valley doesn't appeal to you, then buy some Dramamine and ginger chews and see the breathtaking beauty of the Napali Coast by boat—you won't regret it. There are many tours to choose from, but we recommend Kauai Z Tourz for a 25-foot Zodiac raft adventure, or Liko Kauai Cruises, a Native Hawaiian-owned-and-operated company, for a tour on its comfortable 49-foot powered catamaran. See the incredible beaches, sea caves and majestic Kalalau Valley; listen to its captains share moolelo (stories) and point out historic landmarks along the shoreline; and watch as humpback whales, spinner dolphins, Hawaiian monk seals and honu (turtles) pop up in the ocean around you. Wear a swimsuit so you can take a dip in the water on the way back, and don't forget sunscreen. Reservations can be made by phone.
Kauai Z Tourz
3417 E. Poipu Road, Koloa
(808) 742-7422
Monday through Friday 9 a.m. to 6 p.m.;
Saturday and Sunday 11 a.m. to 3 p.m.
kauaiztours.com
Liko Kauai Cruises
4516 Alawai Road, Waimea
(808) 338-0333
Daily 8 a.m. to 8 p.m.
liko-kauai.com
Hui o Laka Kokee 
Kauai is known for its beautiful beaches and lush valleys, but its mountain range is just as wondrous. Nonprofit Hui o Laka Kokee offers a great access point into the mauka (mountain) side of the island, including Kokee State Park and Waimea Canyon, and operates Kokee Natural History Museum. For a unique, historic view of the mountains, volunteers and park researchers can stay at the Kokee Civilian Conservation Corps camp, which was built in 1935 and restored after the damage left behind by Hurricane Iwa in 1982. In order to request an overnight stay at one of the 11 campsite buildings, one person in your group must be a member of Hui o Laka Kokee. Camping at the top of the mountain range is a memorable way to experience its beauty and history.  (808) 335-9975, kokee.org.
Polihale State Park
Grab your tents and portable barbecues, borrow your auntie's generator (if you like, bring your TV too), pack it all into your friend's four-wheel-drive truck and drive to the end of the road on the west side of Kauai. Polihale State Park is the perfect place to camp during the summertime, on a long stretch of white-sand beach that ends at the cliffs of the Napali Coast. Because it's several miles long and hard to get to unless you're prepared to drive in deep sand, it's mostly secluded. Pick a spot near Queen's Pond for swimming. Get your ohana and friends together, stay a whole week and enjoy the amazing sunsets and views.  hawaiistateparks.org
Hanalei Valley Cultural Tour
The scenic Hanalei Valley lookout over the National Wildlife Refuge is a very popular spot on Kauai, but, instead of taking photos from afar, why not tour it? The Hoopulapula Haraguchi Rice Mill offers four-hour tours of its mill and taro fields in the valley. You'll get to see the six-generation working taro farm up close, and participate in hands-on activities, while your guide points out the endangered birds and wildlife in the area.    Tours are Wednesdays at 10 a.m. $92 adults, $55 children ages 5-14. (808) 651-3399, haraguchiricemill.org.
Kauai Museum
While in Lihue, on Rice Street, make a stop at this two-story museum and learn about Kauai and Niihau's unique history and culture. Included in its exhibits are a great selection of pieces from pre-contact Hawaii to World War II. We particularly loved seeing the beautifully sculpted porcelain figurines of the Hawaiian monarchy (who knew these existed?), and the unique artwork from Niihau that shows off the island's craftsmanship, like the ipu pawehe (gourd containers) decorated with geometric designs, and an example of the special bind technique used for its makaloa mats.  4428 Rice St., Lihue, Monday through Saturday 9 a.m. to 4 p.m., $15 general, $12 seniors 65 and over, $10 students ages 8-17, free for active military with ID, (808) 245-6931, kauaimuseum.org. 
Support Kauai's local stores, brands & artists
Puahina
We stumbled upon the comfort-conscious Puahina line years ago on the craft-fair circuit, first at the Merrie Monarch Festival and then at the Made in Hawaii Festival. Its breathable fabrics and vibrant colors are ideal for everyday women's wear, which we love,
so stopping at its bright green storefront at the bottom of Kona Road in Hanapepe is a must. Browse its tank tops, dresses or light, layered tees and jackets, and look for nature-inspired designs with lauae and palapalai ferns.   4141 Kona Road, Hanapepe, (808) 335-9771, 11 a.m. to 4 p.m., facebook.com/Puahina-at-Hanapepe. 
Talk Story Bookstore
Opened in 2004, this gem in quiet Hanapepe is an independent used-and-new bookstore with an unassuming plantation-style charm. It sells fiction, nonfiction, classic novels, olelo Hawaii (Hawaiian language) children's books, old Life magazines, sheet music, and a large selection of local literature and nonfiction books about Hawaii. Owners Ed and Cynthia Justus also scour the Islands for rare out-of-print finds, and we were particularly enamored with their collection of vintage records by classic Hawaiian singers Lena Machado, Bill Lincoln and The Kahauanu Lake Trio. With everything there is to browse, it's easy to spend hours here—we did.   3785 Hanapepe Road, Hanapepe, (808) 335-6469; Monday through Thursday and Saturday: 10 a.m. to 5 p.m. ; Friday 10 a.m. to 9:30 pm.; talkstorybookstore.com.
Aloha Xchng
The reclaimed wood doors of Aloha Xchng may seem unassuming, but the rustic beach boutique, which opened its doors in 2013, is a Kalaheo favorite. It offers everything from vintage-inspired Vissla aloha shirts to sentimental "Lucky We Live Hawaii" beach towels and witty "Lihue Vuitton" signature tees. A favorite of local residents, Aloha Xchng is a one-stop shop for fashion-forward clothing that supports Kauai's active lifestyle. 2-2535 Kaumualii Highway, Kalaheo, (808) 332-5900, Monday through Saturday 10 a.m. to 6 p.m., thealohaexchange.com.
Halelea Gallery
This vibrant boutique and art gallery showcases local artisans and Hawaii-made products. Whether it's a mixed-media Jamie Allen art piece, an Otaheite dress, an Andrew Mau stationary or Iwi Nani shell jewelry, every find is noteworthy. We can't deny a love for locally made goods, so knowing you are guaranteed to support local when you shop at Halelea makes every purchase more meaningful.
The Shops at Kukui'ula
2829 Ala Kalanikaumaka Road, Poipu
(808) 742-9525
Daily 10 a.m. to 9 p.m.
Hanalei Dolphin Center
5-5016 Kuhio Highway, Hanalei
(808) 826-0001
Daily 10 a.m. to 9 p.m.
haleleagallery.com
Eat at Kauai's unique eateries, restaurants and grab-and-go spots
Hanalei Taro and Juice Co.
On the side of Kuhio Highway in Hanalei, look for the green-and-white lunch wagon that says Hanalei Taro and Juice Co. on the side of it, because you're going to want to stop here. Order a Hawaiian plate with laulau,
kalua pig, lomi-lomi salmon and poi, or choose from its other daily specials such as roast pork or furikake-baked fish. And, don't leave without ordering one of its taro smoothies, made with Kauai honey, coconut milk, banana, soymilk and kalo (taro). You'll be craving more of these long after you leave.  5-5070 Kuhio Highway, Hanalei, (808) 826-1059, daily 11 a.m. to 3 p.m., hanaleitaro.com.
Taro Ko Chips
Part of the joy in these delightfully light taro and sweet potato crisps lies in the quest to retrieve them—from the side door of the owner's run down plantation-style home in quaint Hanapepe. Once inside, you'll find Dale Nagamine manually cranking out wafer thin chips in the open kitchen, while his childhood friend Stanley Sakoda sells them for about $5 each by the door. To make these addictive snacks, homegrown kalo and uala are sliced with a mandolin and fried to perfection, then placed in an oven for four hours to make them extra crisp. Once done, a light dust of li hing mui powder is added, mimicking the flavor of barbecue spice. Go ahead and ask for samples before you buy, and be sure to bring an extra carry-on bag just for these.  3940 Hanapepe Road, Hanapepe, (808) 335-5586, hours are "whenever the door is open," but we recommend getting there by 10 a.m. because they sell out fast.
Ko Bakery and Hula Baby
We can't resist the scones and layered cakes of Ko Bakery, or its selection of double-chocolate-chip cookies, Okinawan sweet-potato pound cakes and its sister company's Hula Baby biscotti and granola. A bite of its pineapple and coconut scone wowed us with its great-tasting, moist center. Though the bakery doesn't have its own storefront, there are many places you may purchase its products on Kauai, including at the Kauai Community Market on Saturdays, Kapaa Art Night on first Saturday, Koa Kea Resort in Poipu and the Culinary Market every Wednesday in Poipu at the Kukuiula Shopping Village.  (808) 212-9437, kobakery.com.
Dark Roost Coffee
Turn off Kaumualii Highway onto Koloa Road toward Lawai, and be ready to turn right. A cove of three trailers will appear and welcome you with unmistakable charm, including Dark Roost, a place to get your java jolt. Husband-and-wife team Jon and Stasia Estep opened their service window next to Jon's sisters' Fresh Shave trailer in March 2015 and locals can't get enough. The Esteps know coffee is personal, and thus provide a selection of brews however you please—regular, cold brew, pour over, clever or chemex—with a few tea and lemonade options as well. 3540 Koloa Road, Lawai, (808) 651-0041, Monday through Friday 6:30 a.m. to 4 p.m., darkroost.com.
Duane's Ono Char-Burger
A little red building on the side of the road in Anahola has what many locals say are some of the best burgers on Kauai, and we couldn't agree more. There's a variety of burgers on the menu, but we loved the teriyaki and pineapple Local Boy and the Avocado burgers. They were well cooked, juicy and filled with flavor—just the way we like them.  4-4350 Kuhio Highway, Anahola, (808) 822-9181, Monday through Saturday, 10 a.m. to 6 p.m., Sunday 11 a.m. to 6 p.m.
Kickshaws 
Mere steps from Dark Roost's trailer is Kickshaws, a food truck owned by another husband-and-wife duo, Seth and Paulette Peterson. Kickshaws provides an array of comfort-inspired midday bites that changes weekly. Items like hearty burgers (available in beef or lamb), spam sandwiches, cheddar chipotle waffles with pulled pork, or miso poached hot dogs, make it a carnivore's dream. But, if you prefer meatless options, fear not, it also offers healthy salad, gourmet grilled cheese with blueberry ginger spread and curried tempeh banh mi. We say, try everything. Also, look out for Kickshaws at special events like Kauai Beer Company's Truck Stop Thursday, Hanapepe Art Night on Fridays (on Hanapepe Road), and Kilauea Art Night every last Saturday.  3540 Koloa Road, Kalaheo, (808) 651-6750, Wednesday through Friday, 11 a.m. to 3 p.m., Friday 5-8 p.m. at Hanapepe Art Night, kickshaws.webs.com.
Hamura Saimin 
Few restaurants are as synonymous with Kauai as Hamura's, a beloved local saimin shop in Lihue that is usually at the top of everyone's to-do list. Its menu features local Japanese favorites such as tempura, won tons, chicken or beef skewers. The star of the show, though, is the addicting noodles, served either as fried saimin or swimming in broth, and garnished with kamaboko, char siu and cabbage. Before you leave, purchase the raw noodles (eight bundles per box) or its famed lilikoi chiffon pie, which made our list of top take-home-on-the-plane goodies, because we are not all lucky enough to live Kauai.  2956 Kress St., Lihue, (808) 245-3271, Monday through Thursday, 10 a.m. to 10:30 p.m., Friday and Saturday 10 a.m. to midnight, Sunday 10 a.m. to 9:30 p.m. 
Ono Family Restaurant
Locals and visitors steadily stream into this diner as soon as it opens and it continues to be busy until it closes, for good reason. The menu features dozens of local comfort-food dishes, like its Portuguese loco moco and ono omelets with bacon and avocado for breakfast, and mahi mahi or teri burgers and Oriental chicken stirfry for lunch. The food comes out perfectly cooked, the ingredients are surprisingly fresh, and the fried rice (which you should definitely opt for) is moist and tasty.  4-1292 Kuhio Highway, Kapaa, daily 7 a.m. to 2 p.m., (808) 822-1710.
Kauai Juice Co.
In the middle of Kapaa town, you'll find Kauai Juice Co. and its large assortment of organic and locally sourced juices. Its owner, Kristal Muhich, began brewing kombucha in 2010 after a successful Kickstarter campaign, and high demand for her cold-pressed bottles have allowed her to source produce from local farmers. The 17-ounce juices range from essential greens to immune boosts and vitamin-filled beautifying drinks. Kauai Juice Co. also offers four juice-cleanse packages to maximize effectiveness and kick-start the metabolism.
Three locations:
4-1384 Kuhio Highway, Kapaa
(808) 631-3893
Monday through Saturday 8 a.m. to 5 p.m., Sunday 9 to 4 p.m.

4270 Kilauea Road, Kilauea
(808) 631-5529
Monday through Saturday 8 a.m. to 5 p.m.
Sunday 10 to 3 p.m. 
2360 Kiahuna Plantation Dr., Koloa
(808) 631-3372
Monday through Saturday 8 a.m. to 5 p.m.
Sunday 9 a.m. to 4 p.m. 
kauaijuiceco.com
Brick Oven 
Though it has four locations across Hawaii, the first Brick Oven pizza parlor is a Kalaheo institution. The familiar red-and-white checkered tablecloths and curtains create a familiar, inviting atmosphere for gatherings with family and friends. Locals favor its lively buffet nights, where pizza and pasta line the tables and customers can pile on their favorites. It's all about the crust here—perfectly crisp on the outside and doughy on the inside, with whole wheat options as well. Our Pupu pizza (three-cheese with marinara and ranch dipping sauces) was the perfect introduction before its signature Super pizza arrived. It had a generous mix of deli meat, Portuguese sausage and veggies. If we hadn't been so full, we would have gladly tried one of its dessert pizzas: who can deny a Creamy Snickers Pizza with marshmallow cream cheese, chocolate chips, peanuts and caramel?  2-2555 Kaumualii Highway, Kalaheo, (808) 332-8561, Wednesday through Monday 11 a.m. to 9 p.m. (closed Tuesday). Buffet nights are Monday and Thursday 5 to 8 p.m., brickovenpizzahi.com.
The Eating House 1849
The latest culinary endeavor by award-winning chef Roy Yamaguchi, The Eating House 1849 is an homage to the diverse plantation community of Hawaii's earlier years. Its elevated take on multicultural dishes such as paella, kamameshi (hot pot rice bowl) and ramen are a nod to the culinary cultural comforts and its airy, rustic environment provides a laid-back ambience ideal for friendly gatherings or celebrating special occasions. We saw expertly plated dishes with slow braised short ribs, crispy fried cauliflower and Brussels sprouts as beautiful as they were delicious. And it wouldn't be a true Roy's experience without its signature chocolate soufflé—just remember the 20-minute prep time and order ahead.  2829 Ala Kalanikaumaka Road, Koloa, (808) 742-5000, open nightly for dinner 5 to 9:30 p.m., eatinghouse1849.com.