Your Walking Guide to Hanapēpē, Kauaʻi
Kauaʻi's Biggest Little Town has more than enough to do within walking distance.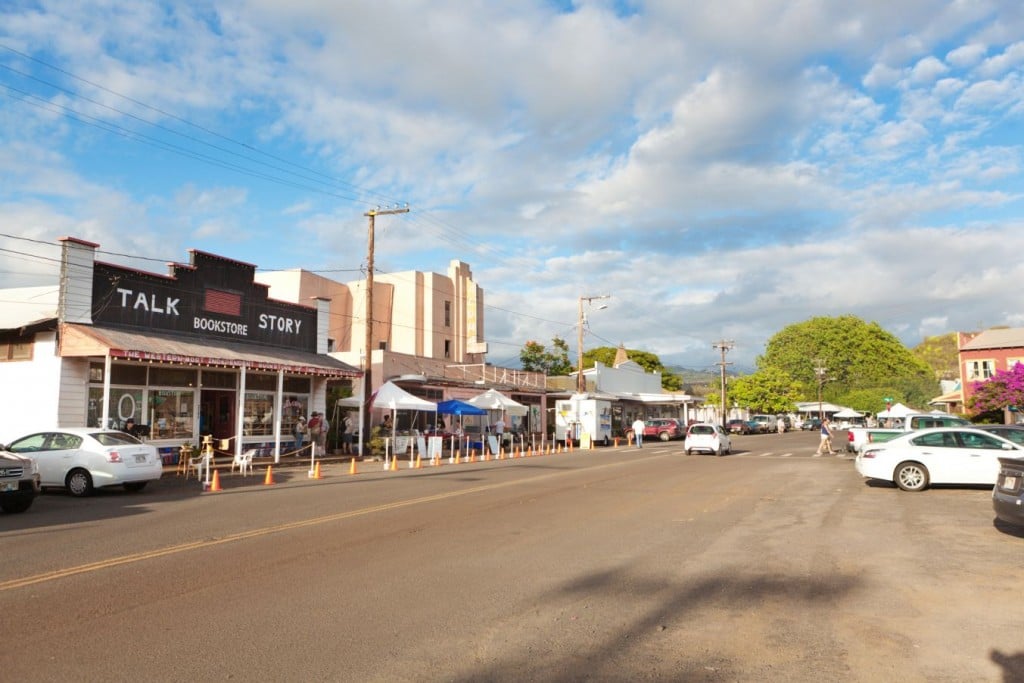 If you miss the turn, you'll miss the entire town of Hanapēpē. And, trust us, you wouldn't want to. Hard to believe but this quaint town just west of Kōloa was one of Kaua'i's busiest communities from World War I to the early 1950s. Today, Hanapēpē—affectionately known as Kaua'i's Biggest Little Town—hasn't changed much, with its colorful plantation-style buildings built in the 1930s and '40s that now house art galleries, homey eateries and charming boutiques. (And if this place looks familiar, it was the inspiration for the Disney film, "Lilo & Stitch.") There's a farmers market on Thursdays at 3 p.m. and usually a lively art walk every Friday from 5 to 9 p.m, however it has been postponed indefinitely due to COVID-19.
1. Salt Pond Beach Park
This is a small swimming beach that's protected by a reef and not typically crowded. Off Lele Road
2. Wong's Chinese Restaurant
While you can get local-style Chinese food here, this restaurant is really known for its liliko'i (passion fruit) chiffon pie. Get a slice—or an entire pie. We won't judge. 13543 Kaumuali'i Highway, (808) 335-5066 
3. Unko's Kitchen
A must-stop for breakfast or lunch. The best sellers are its beef stew and the Hunter's Special, which boasts four eggs, smoked meat, Spam, Portuguese sausage and two scoops of rice. 1-3749 Kaumuali'i Highway, (808) 335-5235  
4. Hanapēpē Swinging Bridge
Originally built in the early 1900s and restored after Hurricane Iniki in 1992, this suspension bridge has become one of the town's most popular attractions. It's still used by residents of Hanapēpē Valley to cross the river to town. 3857 Iona Road  
5. Talk Story Bookstore
This indie bookstore, which opened in 2004, boasts more than 150,000 titles in its collection of new, used and out-of-print books, in addition to Hawaiian vinyl records, sheet music, old magazines and comic books. Another perk: The owner's cat, Celeste, is adorable. 3785 Hanapēpē Road, (808) 335-6469, talkstorybookstore.com  
6. Japanese Grandma's Café
Get fresh-caught local 'ahi poke, handmade sushi rolls and other authentic Japanese fare here, including hearty bowls of ramen, shrimp tempura and karaage (fried) chicken. 3871 Hanapēpē Road, (808) 855-5016, japanesegrandma.com 
7. Blu Umi
Find modern apparel, prints by local artists and jewelry made from hard-to-find Ni'ihau and sunrise shells.  3864 Iona Road, (808) 634-0101, blu-umi.com 
8. Taro Kō Chip Factory
The best—and freshest—taro chips in the state, period. You walk right into the production kitchen to buy a bag (or three). 3940 Hanapēpē Road, (808) 335-5586