​Customize Your Experience at the Shiatsu & Massage Center in Waikīkī
Make your massage your own with the center's menu of add-ons.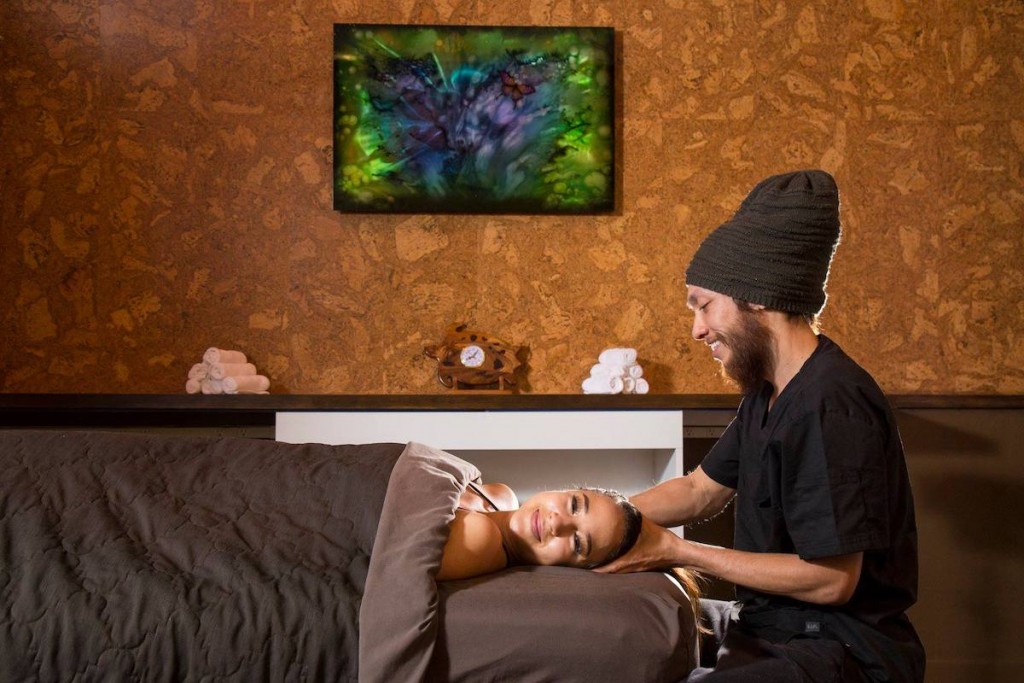 At the Shiatsu & Massage Center in the International Market Place in Waikīkī, the focus is 'imi loa, a Hawaiian phrase that means "to seek your higher purpose." For the center, that means freeing clients of the tension and stress that hold them back from pursuing their best life. It means empowering clients to be as refreshed and free as possible, motivated and ready to tackle the world's challenges and opportunities. One way of doing this is by providing a menu of add-on services that can be mixed and matched to suit each individual's needs, making each massage a custom experience.
Here are some ways to elevate your massage at the center:
CBD Gel
"CBD gel right now is becoming the next big thing," says Shiatsu & Massage Center owner Dennis Miller. One of the center's latest offerings is a Hawaiian Choice CBD topical gel. The gel is filtered to contain zero THC, and specifically crafted to address pain, inflammation and discomfort. Inside the gel is the herb arnica, and Hawaii Island-grown lemon grass and eucalyptus essential oils. The results, says Miller, are real. Even his therapists have noticed that their wrist and elbow pain dissipates after using the gel in their massage treatments.
When sourcing which CBD gel to use in his treatments, he opted to go local. Hawaiian Choice is an Oʻahu-based company with a lab in Kakaʻako, says Miller, who also uses Hawaiian Choice CBD sprays. Guests can opt to combine the topical gel with a variety of CBD oil mouth spritzes (designed to aid in either pain relief, focus or relaxation), all flavored with Hawaiʻi-grown fruits.
Masks
When Miller was researching companies for masks and facial products, he had a couple of conditions: The products had to be all-natural and free from harmful pollutants, while still being effective, and they had to be sustainable. Phytomer was the perfect match.
Specializing in products using active marine ingredients, Phytomer, a French skin care line, gathers its seaweed from Brittany, France. Why is this significant? In the area, says Miller, shipping is prohibited, resulting in less pollution in the water and cleaner, healthier plants. Phytomer also practices sustainable harvesting practices, working to replant seaweed and maintain the marine ecosystem in the area. Why seaweed? That's where things get scientific. "We evolved from the ocean, so the ionic balance in our blood is the same as seawater," Miller explains. "That's where our skin wants to be and is healthy. So, you take your seaweed and you preserve its ionic balance, and you're helping the skin come back to homeostasis."
At the center, guests can tap into this marine power by adding on Phytomer's self-heating mud mask, which helps target inflammation. This remarkable marine mud is applied to the client's skin. After a minute, you'll begin to feel the warmth of the mud activate, which then percolates across the skin throughout the session, making for a detoxifying and soothing experience.
Hot Stone
Want to take your massage up a notch? Opt for some hot stones, which can be added to a variety of the center's massage treatments. These include the lomi lomi (a traditional Hawaiian style), Relaxation (for a gentler, more soothing approach) and Perfect Balance (a just-right balance between Swedish and deep-tissue massages). The massage therapist uses the stones to massage the client's body; the warmed, flat stones are put on a towel placed over the client's skin, at strategic points. The smooth, gliding sensation of heat on these specific points will deepen the benefits and make for a heavenly experience.
For more information, call (808) 922-0171 or visit shiatsumassagecenter.com.