10+ things to do in downtown Honolulu
We could fill several lists with spots to hit up in Honolulu's beating heart, but here are 10 stand-outs.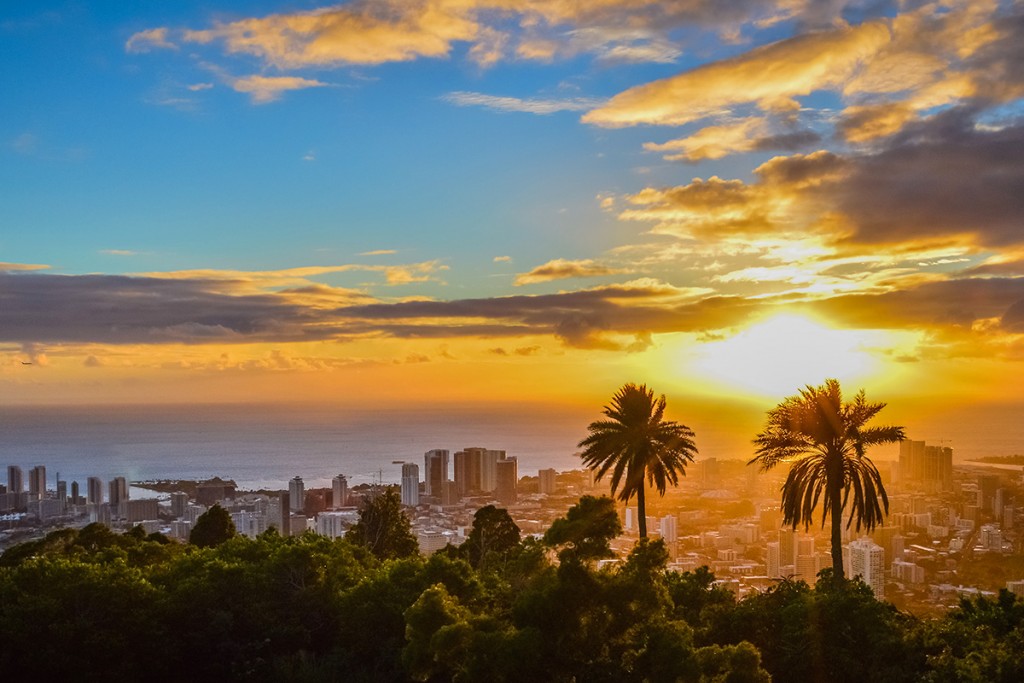 We have serious love for downtown Honolulu, which has a rich history and even richer present, thanks to the gaggles of inspired creatives and savvy entrepreneurs who are bringing their businesses and masterpieces to this little neighborhood. There are oodles and oodles of activities that didn't make this list, (Dim sum! Architecture gazing! Macarons! Amazing coffee!) but here are some top contenders to keep you exploring all day in the diverse center of Honolulu.
1. Take a chocolate making class at Madre Chocolate
Make your reservations in advance for local chocolatier Madre Chocolate's weekly workshop where you can make your very own chocolate bar by selecting from a variety of nuts, spices and flavors (think coconut, chili pepper or sea salt). In addition, enjoy a chocolate flight tasting and learn about the origins of chocolate and the bean-to-bar process in Hawaii. 8 North Pauahi St., madrechocolate.com.
2. See a show at the Hawaii Theatre
This gorgeous vintage theater's facade is a favorite photo-taking backdrop, but you'll want to take a peek inside, too. Check out what's on the screen or stage this month, or schedule a docent tour to find out more about the theater's history. 1130 Bethel St., hawaiitheatre.com.
3. Stop in for happy hour at Hukilau Honolulu
You'll find a rich happy hour scene in downtown Honolulu, aka the island's business and financial district, but we love Hukilau Honolulu in the Aston at the Executive Centre Hotel for its stellar specials, shareable bar plates and local-style comfort food with a twist. Try the cheddar cheese mandoo, fresh ahi poke, kalua pork slider and boozy "adult" slushie. 1088 Bishop St., dahukilau.com.
4. Get lost in Foster Botanical Gardens
Can you believe there's a 13.5-acre botanical garden just a stone's throw from downtown? Foster Botanical Garden is a lovely, lush getaway from the city's freneticism, bursting with vibrant flora, shady trees and stunning little nooks. 18 North Vineyard Blvd., honolulu.gov.
5. Treat yourself to a homemade ice cream cone at Wing Shave Ice and Ice Cream
Blink and you'll miss this charming little hole-in-the-wall ice cream joint on the edge of Chinatown, which has become a bit of a cult favorite. Find classic favorites like chocolate and strawberry, as well as more unusual options, such as chrysanthemum, kinako and tom kha. 1145 Maunakea St., facebook.com/wingicecreamparlor.
6. Visit Aloha Tower
It's hard to imagine a time when historic and distinct Aloha Tower was actually the tallest structure in Honolulu. Even so, it's a treat to head up to the observation deck for views of both the harbor and the city. 155 Ala Moana Blvd.
7. Concoct a unique tea creation at Teapresso
After a day of strolling the city streets on sightseeing excursions, nothing's more refreshing than the exotic milk tea creations at Teapresso in the Aston at the Executive Centre Hotel. These deliciously fun drinks take the Asian milk and boba tea craze to a whole new level, with exotic add-ins (grass jelly is actually amazing!), tons of flavors, a variety of milks and a bevy of tea styles. 1088 Bishop St., teapresso.com.
8. Shop the local shops and stores of Chinatown and beyond
Don't miss out on some of the amazing local boutiques that line the streets of Chinatown and beyond! From Chinese herbalists and Hawaiian lei stands (try Maunakea Street), to trendy local boutiques (Owens & Co. is a favorite) and curio shops (don't miss Hound & Quail), there's enough to keep shopping fanatics busy for hours.
9. Check out the art at the Hawaii Art Museum
This second-floor museum is housed in a downright gorgeous vintage building with a sweeping lawn and stunning columns. You'll see everything from sculptures to paintings, and the best part? The museum is a product of the Hawaii State Foundation on Culture and the Arts, and admission is free. 250 South Hotel St., sfca.hawaii.gov.
10. Take a tour at Iolani Palace
The only royal palace on United States soil, beautiful Iolani Palace (which had electricity before the White House) is a wonder to behold. Even more importantly, it stands for a dark time in Hawaiian history that Americans should never forget. Take a docent-led or audio tour to learn more about the overthrow of the Hawaiian monarchy and the artifacts within. 364 South King St., iolanipalace.org.
11. Expand your horizons!
Downtown Honolulu has a myriad of spots to explore, but we say: Don't limit yourself! Stray just a little farther east, and you'll hit neighborhoods like the Koreatown area of Keeaumoku, where you'll find delicious restaurants and charming, exotic establishments like the iconic Pagoda Hotel. Known for its unusual Asian-inspired architecture, bamboo bridges and calming koi-filled waterways, the whole hotel feels like it's floating on a Zen lake right in the middle of the city. 1525 Rycroft St.