10 things to know before staying at the Grand Wailea
Takeaways from a recent stay at the 2017 HAWAIʻI Magazine Readers' Choice for Best Luxury Hotel on Maui.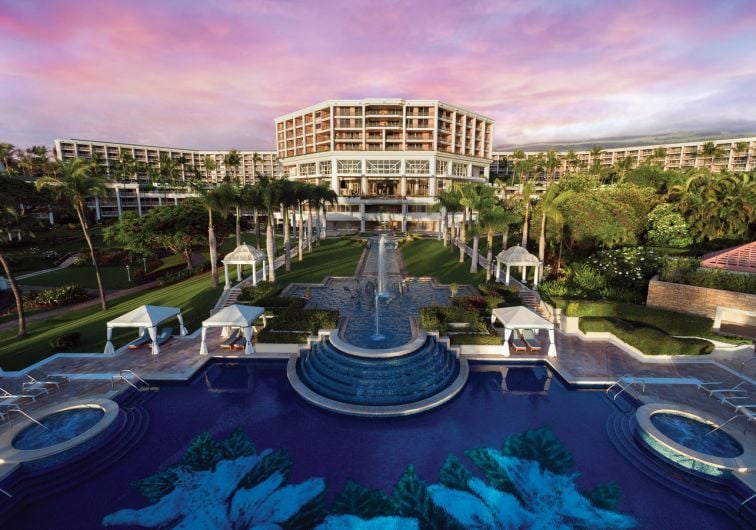 Imagine roughly 40 football fields, decked out every 10 yards with an illustrious gateway leading you toward an opulent statue, surrounded by resplendent botanicals and sun-speckled chandeliers and you have the Grand Wailea.
The 40-acre luxury property, located in the ritzy Wailea resort area of Maui, is a classical behemoth: 780 rooms, 52 suites, nine pools, a picturesque seaside chapel and the largest spa facility in all of Hawaii.
For those of you booking stays with the Grand Wailea for the first time (or since completing its recent remodel) this year, here are a handful of things to know before you go …
1. You will get lost.
What's that saying? You have to get lost to find out where you're going … I may have just made that up, but the saying crossed my mind often, particularly when trying to make my way back from Wailea Beach to my room. This almost always included an accidental detour through the resort shops—just to find the lobby. Again, the Grand Wailea is a massive property, but you'll find your bearings in it in no time.
2. It takes a while to get to the beach—but no one's complaining.
To riff off the aforementioned point about its sheer size, the Grand Wailea has gorgeous paths lined with tropical flora—some native and indigenous—and serene koi fishponds that will all eventually lead to its notable pools and wonderful Wailea Beach (promise).
3. The newly renovated Napua Tower is pretty impressive.
This wing of the hotel is considered a private tower within the Grand Wailea and with a host of amenities. It offers five categories of rooms—I stayed in the Napua Club Room, and found its 715 square feet of space, single bath and private lanai (patio), overlooking the property's gardens and the ocean, to be comfortable for a solo traveler. The highlight of Napua is its lounge services. They include a complimentary breakfast, coffee and teas, a candy and cookie bar and nightly sunset champagne for guests.
4. The art collection is museum-worthy.
Renaissance-inspired Hawaiian paintings, stained glass, bronze mermaids and hula dancers do more than just beautify this property. More than 81 works (largely originals) elevate this luxury resort to the status of a contemporary and modern art museum. Pieces by Satoru Abe, Yvonne Cheng and Fernando Botero invite you to stop and stare—admittedly, I missed an elevator or two, opposite an expressive acrylic of Hawaii's indigenous peoples, attempting to make out an artist's signature (this one was Zhou Ling).
A narrated art tour departing from the Napua Gallery occurs at 10 a.m. every Tuesday and Friday.
5. It's home to the most authentic King Kamehameha statue in Hawaii.
Most are familiar with the iconic Kamehameha Statue at Aliiolani Palace in Honolulu, Oahu—and the many replicas scattered about the Islands, one as far-flung as Washington D.C. However, the Grand Wailea owns what's coined the "most authentic" of the Kamehameha Statues, sculpted by Hawaiian artist Herb Kane. Less Roman-esque than its contemporaries, the statue is located opposite the valet at the entrance.
6. The Hawaiian cultural tour is top notch.
Much of the design inspiration and architecture for the Grand Wailea takes surprising cues from Hawaiian culture, something I wouldn't have known had I not carved out some time away from the beach umbrella to attend this weekly tour of the resort. It's only about an hour, and cultural advisor, Kainoa Horcajo, is a knowledgeable and personable guide. This is also your chance to ask any burning questions you may have about Hawaiian culture in general.
7. Kids can't get enough of the swimming pools because it's basically Disneyland.
Crisscrossing waterslides, jungle pools, a rope swing and the list goes on. Collectively they make up what's called Wailea Canyon and kids can splash around this epic era for hours on end.
Heads up, repeat guests. That lava slide you may gleefully remember is no longer this year and currently closed until resort management decides how to best update or replace it. If you're staying at the Grand from September 23 through October 16, 2017, the activity pools and upper pools will be closed for a complete refresh.
8. And, adults can't get enough of the swim-up bar in a tucked away grotto.
Mom and dad don't have to spend all their time at the poolside cabanas. From noon to 5 p.m., The Grotto Bar, a swim-up bar in an enclave of the pool area, is open to take your cocktail order.
Also, the adults-only designated Hibiscus Pool is a star in its own right—4,850 square feet and inlaid with 630,000 Mexican glass mosaic tiles.
9. You better like seafood!
Because there are quite a few ocean-sourced delicacies on the newly revamped menu at Humuhumunukunukuapuaa, the Grand Wailea's centerpiece restaurant. Plates are pricey, but the food is inspired all around—chef Mike Lofaro offers a take on risotto with ulu (breadfruit), and the salty fish and poi was personal favorite.
Also drool-worthy? Your dining table's view, positioned over a lagoon with a generous view of the Maui sunset.
10. Your personal concierge becomes your new best friend.
One of the most convenient perks of staying in the Napua Tower: instant concierge service right from your phone. I was at first surprised to receive an unsolicited text message from an unrecognizable set of digits, only to quickly be introduced to the hotel staff member checking in on my needs every morning.
This open channel proved to be much-needed in setting up last-minute shuttle services to and from the Grand Wailea and business meetings in the area—all managed with a simple text. Even after I had already checked out, on my way to my next destination on Maui, I received a final text asking if there was anything else I needed. "I'm great," I responded. "Mahalo for everything."
---
Grand Wailea, 3850 Wailea Alanui Dr., Wailea, Maui, (808) 875-1234, grandwailea.com.