11 Hawaii-themed 'Star Wars' items you won't find in another galaxy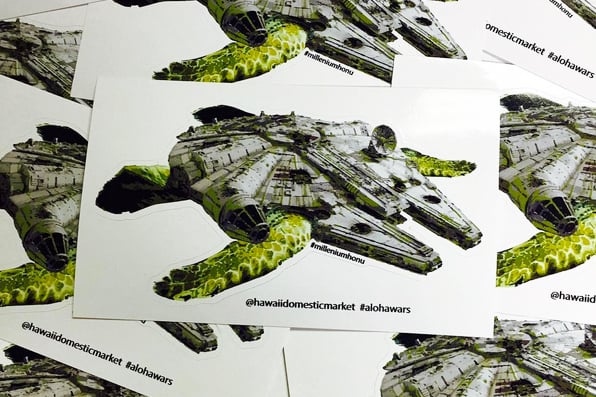 Everyone in the galaxy is buzzing—and in some cases, mimicking a star and EXPLODING with excitement—over the upcoming "Star Wars" movie. This includes Hawaii's very own, er, force of sci-fi buffs who in some cases have taken their enthusiasm to the next level with merchandise with a local spin or can only get in Hawaii.
1. This Millennium Honu sticker
Honu is Hawaiian for the green sea turtle and while they can clock speeds of up to two miles-per-hour while swimming, they go much faster when propelled this way. Hawaii Domestic Market actually made these in a bundle that includes more local interpretations like…
2. A stormtrooper with a hibiscus in its ear
Imperial Stormtroopers tend to be fairly rigid and obedient soldiers, but this #AlohaTrooper looks a little more chill. Both stickers available at hawaiidomesticmarket.com
3. Or how about this stormtrooper that can DJ
Lightsleepers, the local hip-hop radio show that regularly designs tees, brought a few of their passions together on this one. Available at in4mation at Ala Moana Center, 1450 Ala Moana Blvd, Honolulu, shop.in4mants.com, and Lightsleepers, 2009 S. King St., lightsleepers.net/wakeup
4. This epic Mauna Kea TMT-shirt
An illustrated take by SOVRGN Apparel on the current debate over Mauna Kea, the site of a literal modern-day star wars indeed. The typeface takes its inspiration from the iconic franchise font and the Thirty Meter Telescope (TMT) looms in the distance in place of the Death Star. Available via email order to sovrgnapparel@gmail.com, instagram.com/sovrgn
5. These Yoda skate shoes
When Yoda takes a vacation from the swamps of Dagobah, he apparently turns in that terrain for a forest of hibiscus. With a name that includes "aloha" in it, Vans definitely took inspiration from our Islands for this design. Available at Vans at Ala Moana Center, 1450 Ala Moana Blvd, Honolulu, vans.com
6. A Darth Vader displeased with your attitude
Having no aloha spirit is a wide open gateway to the dark side. Available at Butigroove, 1311 Kapiolani Blvd, Honolulu, alohasyndicate.com.
7. This AT-AT Da Bus tee
With the varied landscape you can find in Hawaii (*cough* pot holes *cough*), All Terrain Armored Transport makes a lot of sense for public transport. While waiting for that future to realize, you can wear it around on the regular Da Bus system. Also available at hawaiidomesticmarket.com
8. A shave ice Death Star
Hurry and take a bite of out this before The Empire does. Available from Nature Nurture Goods, avantpop-hi.com
9. These Star Wars tree house prints
Imagine if you could actually live in one of these on the forest moon of Endor? Until then, hanging these one-of-a-kind drawings up on one of your walls and fantasizing about having Ewoks as neighbors is the next best thing. Wooden Wave, a creative graphic couple based in Kakaako on Oahu, imagined up these illustrations that connect space and nature. Available at society6.com/woodenwave, woodenwaveart.com
10. An Aloha-defending Boba Fett tee
Local label Aloha Army has enlisted the most feared bounty hunter for this dope graphic. Available at in4mation at Ala Moana Center, 1450 Ala Moana Blvd, Honolulu, shop.in4mants.com
11. Or this more peaceful "Spread Aloha" message
Sci-fi's most recognizable typeface gets infused with a little local loving. Available at the HiLife Store at Waikiki Beachwalk, 227 Lewers St., Honolulu, hilifestore.com