11 of This Family's Favorite Kid-Friendly Things To Do on Oʻahu
From botanical gardens to indoor playgrounds, these activities promise fun for kids of all ages.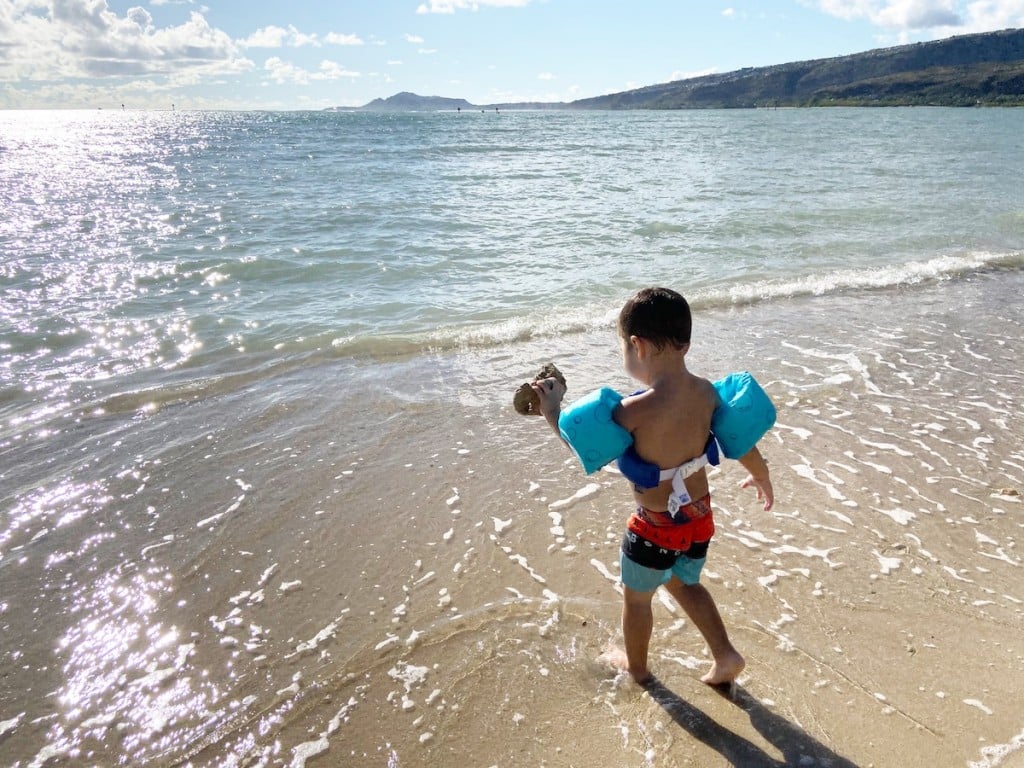 I have a 3-year-old who doesn't stop moving. Ever. So I'm always searching for activities on Oʻahu—where we live—that will occupy him long enough where I can sit for at least five minutes, maybe even check my Instagram.
Here are 11 of our favorites:
1. The Honolulu Zoo, Waikīkī
Before I had my son, I hadn't been here in decades—since I was a kid—and a lot has changed. This 42-acre zoo is a veritable playground for kids, from penguin feedings to a petting zoo to one of the best playgrounds in Honolulu. The Honolulu Zoo offers hours of uninterrupted fun for kids, even infants. For older kids, I'd recommend the zoo's Twilight Tours, which happen on Friday and Saturday after the zoo closes. 151 Kapahulu Ave., honoluluzoo.org
2. Kids City Premium Playground, Kapolei
Located about 40 minutes west of Waikīkī and in a neighborhood shopping mall, Kids City is the newest indoor playground to open on Oʻahu. It's big, bright and super clean, with various play stations, building stations, a Lego wall, an interactive art wall (above bottom), a massive ball pit with a reactive video game wall and an indoor jungle gym with slides, tunnels and more (above top). There are private areas for nursing and diaper-changing—but no restrooms on site. And since you're at the mall, there are lots of parking and restaurants nearby. Kids City can be costly—about $20 per kid—but that's cheaper than a lūʻau that he won't sit through anyway. Ka Makana Aliʻi, 91-5431 Kapolei Parkway, kidscityhawaii.com
3. Aliʻi Agriculture Farms, Wahiawā
Located in Central Oʻahu, about a 40-minute drive north from Waikīkī, this working farm offers recreational fishing that's fun for the entire ʻohana (family). There are three ponds stocked with edible fish—tilapia, catfish and grass carp—and another with prawns. For $15 you get everything you need to fish—bamboo fishing pole, bait, bucket—and you can keep whatever you catch. (Fishing for prawns are a little more expensive.) The farm also has a food truck on site to clean and cook your catch for an extra fee. Bring water and sun protection. 680 Whitmore Ave., fishingfarmshawaii.com
4. Koko Crater Botanical Garden, Hawaiʻi Kai
We're big fans of botanical gardens—Oʻahu has five—mostly because of the wide, open spaces (without vehicular traffic nearby) where kids can run free. While we tend to go to Foster Botanical Garden more often because it's a short drive from our home in Honolulu, we really enjoy the adventure of trekking through this 60-acre garden in East Honolulu, about 12 miles east of Waikīkī. There are groves of plumeria trees, a section devoted to Hawaiian plants and an area of cool cacti (above) and succulents. Plus, it's free. Just bring water and sun protection. 7491 Kokonani St., honolulu.gov/parks/hbg
SEE ALSO: A Quick Escape to Nature at Koko Crater Botanical Garden in East Honolulu
5. Kahuku Farms, Kahuku
We love farm tours, and this one is no exception. The Grand Tour, which is offered three times a week, takes you through this charming 5-acre farm on Oʻahu's North Shore. Aboard a tractor-pulled wagon, learn about all the fruits and vegetables this family-run farm grows, from papayas to bananas to lilikoʻi (passion fruit). The hour-long tour includes a sampling of its fruits. Don't skip the roadside farm café: Here, you can order tasty dishes made with ingredients grown on site, from a grilled veggie panini, fresh-fruit smoothies and—our favorite—acai bowl (above) made from the berries grown and processed on the farm. 56-800 Kamehameha Highway, kahukufarms.com
SEE ALSO: Farm Fresh: Kahuku Farms on Oʻahu
6. Keiki & Plow, Hawaiʻi Kai
This farm, hidden in a quiet residential neighborhood in Hawaiʻi Kai, is practically built for kids. The owners—parents, too—created this organic farm with families in mind. Kids can pick veggies, feed chickens and pet baby goats. There's a fun play area (above) with a dirt pit outfitted with tractor toys—my son's favorite—rope swings and a giant slide. The farm is only open for two hours on Tuesday and Friday mornings, but that's plenty enough time to enjoy the farm animals, race down the slide and pick up a basket of fresh produce that grows on the farm, including fresh eggs, butter lettuce, sweet corn, carrots and beets, when in season. 587 Pākala St., keikiandplow.com
SEE ALSO: 4 Family-Friendly Hawaiʻi Farms to Check Out on Your Next Vacation
7. Patsy T. Mink Central Oʻahu Regional Park, Waipahu
We are always on the lookout for playgrounds—and there are dozens of great ones in Honolulu. But we love an adventure—and a lot of space. About half an hour west of Honolulu is this 269-acre public park, which houses a tennis and aquatic center, a slew of baseball and softball fields, an archery range and a skateboard park. What we love are the miles of paved walkways (above) through the park that all seem to lead to colorful playground equipment. We jump on bikes—and a trike for the little one—and ride through this spacious and beautiful park. If my son needs to break out into a run, there are open fields for that, too. There are lots of parking, restrooms and water fountains. And there are eateries right across the street. 94-801 Kamehameha Highway
8. ʻAiea Loop Trail, ʻAiea
There are a handful of hiking trails on Oʻahu that are suitable for toddlers, and ʻAiea Loop Trail is one of them. While it's a bit long for a 3-year-old—it's a 4.8-mile loop—we can get in at least an hour on the trail, which is long enough to make everyone want a nap. The trailhead is located about 10 miles northwest of Waikīkī, in the 384-acre Keaīwa Heiau State Recreation Area. Older kids and teens should have no problem with this hike, which meanders through native trees and boasts views of Pearl Harbor, Lēʻahi (Diamond Head) and the Koʻolau Mountains. Bring water and insect repellent. 99-1849 ʻAiea Heights Drive
SEE ALSO: 5 Family-Friendly Trails to Explore Hawaiʻi's Natural Beauty
9. Funtastic Kidszone, ʻAiea
This 2,700-square-foot indoor playground opened in Pearlridge Center last September, offering a fun, safe and air-conditioned way to tire out your kids for less than $20. There's a separate space for kids 4 and younger with activity stations, small slides and keiki rides. In the back is the soft-padded jungle gym (above) with slides, tunnels and—my son's favorite thing in the whole world—a big trampoline. It's located in a major shopping center, so there are lots of parking and food options, but this place can get packed, especially after school. Pearlridge Center, 98-1005 Moanalua Road, pearlridgeonline.com
10. Ko ʻOlina Lagoons, Ko ʻOlina
You don't have to stay at the Aulani, A Disney Resort & Spa to enjoy one of its best amenities: its lagoon. When the resort area was built, it commissioned a series of four man-made lagoons, all with public beach access. With huge rock walls protecting the lagoons and keeping the water calm, this is the best beach on the island for small keiki. Older kids can snorkel in the lagoons; infants can play on the sand or grassy areas. Public parking, which is free, fills up quickly, so it's best to get here early. (Better yet, book a room at one of the three hotels here.) Sunsets here are truly magical.
11. Hawaiʻi Children's Discovery Center, Kakaʻako
Between Waikīkī and Downtown Honolulu is the burgeoning Kakaʻako district, with hip restaurants, boutiques and art galleries. But families flock here for one thing: the Hawaiʻi Children's Discovery Center, a 38,000-square-foot keiki museum with hands-on activities, interactive displays and lots of learning opportunities. Play dress-up, pick pineapples (above), fix a car, drive a city bus, run a post office, shop at a grocery store—there's a lot to see and do here. There are also separate—and very safe—areas for younger toddlers and infants with sensory toys. 111 ʻOhe St., discoverycenterhawaii.org