11th annual Kona Surf Film Festival on Hawaii Island this weekend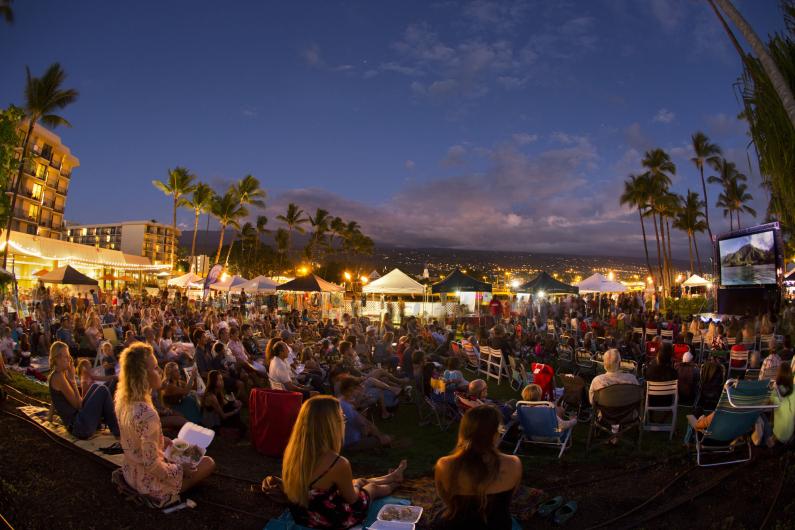 Surfs up! Want to watch experts shred some serious and guaranteed waves from the shores of Hawaii Island's Kailua-Kona this weekend?
Then don't miss the 11th annual Kona Surf Film Festival. The fest, happening this Friday and Saturday, will screen a variety of independent short and feature-length surf and surf-inspired films from around the world.
Eight hours of movies will be shown on the festival's two outdoor screens on the Courtyard Marriott King Kamehameha's Kona Beach Hotel's lawn.
It's not all films, though. Visitors to the waterside festival can also expect DJs and live music, ono grinds and drinks, art and photography installations, talk story sessions, as well as surf-themed vendors. Event founder and organizer Chad Campbell told HAWAIIMagazine.com that he expects a number of the filmmakers will be present too—though, true to the nature of the medium, he can't say exactly who might turn up until the weekend's surf forecast is released.
Campbell, a surfer and filmmaker himself, founded the festival in 2003 with his friends and family to celebrate the art and sport of surfing.
The 20 surf films at this year's festival span the gamut from three-minute shorts to an hour and 25 minute feature. Campbell says that the length of films in the festival lineup has changed over the years. Today, there are more and shorter films screening in part because the medium has become more accessible and surf-films are frequently shared over the Internet. Most of the films at this year's festival—like Enjoy, starring Oahu-raised professional surfer John John Florence, and The Land Of about a surfing trip through Thailand—are under 30 minutes in length.
This year's festival highlights include the feature-length opening film Bella Vita on Friday night, Saturday evening's surf photography slideshow with Kailua-Kona-based Sarah Lee and San Francisco-based Meg Haywood Sullivan, and a show-closing performance by beachy singer songwriter Kimberly June. To see the full festival schedule, click here.
While some seating is available, festival organizers suggest bringing a chair or blanket for the outdoor event. Don't forget a sweatshirt in case it gets chilly.
A portion of this year's festival proceeds will benefit Innovations Public Charter School and Sustainable Coastlines Hawaii.